What Used Cars are Best for Your Teen Driver?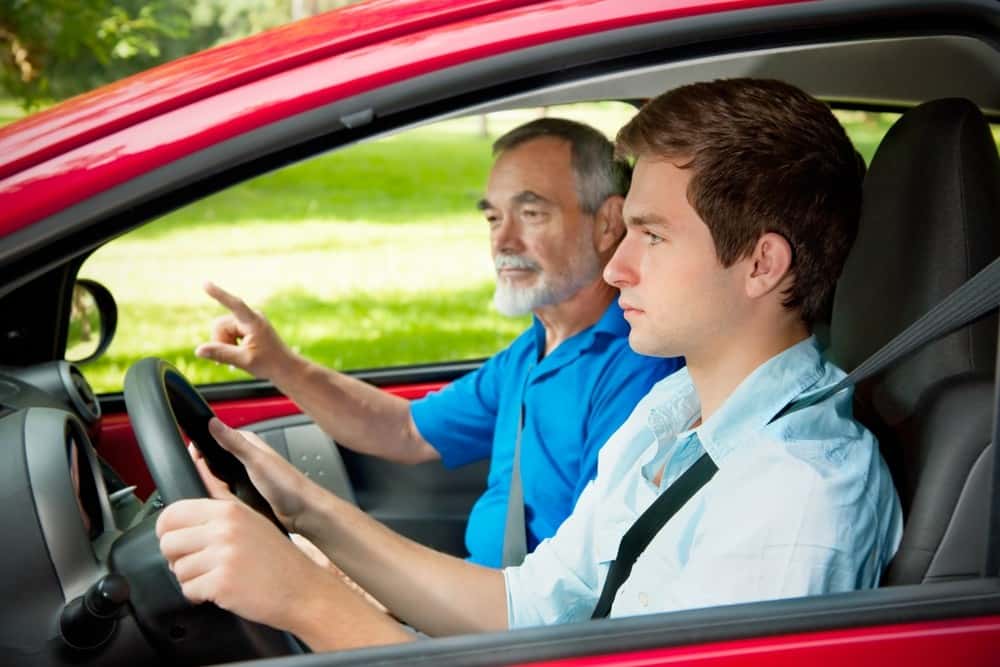 If your teen has just completed driver's education and passed their state driver's test in the Cincinnati region and you're seeking a used car for them to drive to work and school, please visit McCluskey Automotive to look at our complete inventory of used cars. Our sales reps are happy to help you determine which vehicle is best for you and your teen. Here are a few important tips to consider.
The most important move that you and your family need to undertake is to have a parent-to-teen meeting. You'll need to explain your family's finances and what money, if any, your teen is bringing to the table to purchase this used vehicle. Spell out that not only does the vehicle cost money, but you need to take into consideration gas, maintenance, and insurance costs. Studies have shown that if a teen contributes to the cost and ownership of their car, they are more inclined to accept the responsibilities and take better care of the car. While your teen is going to be head-over-heels excited about the prospect of having his or her own vehicle, it's up to you as the parent to manage those expectations. Take the time to teach your teen the importance and responsibility of driving a car. Let them know that owning a used vehicle is not a birthright or a gift, but a privilege that they have earned. While you and your teen will shop for this vehicle, the final decision will be yours. Don't fall into the trap of purchasing their choice, which will probably be a flashy, high-powered coupe. The best bet is to buy the newest, most reliable used model at McCluskey Auto, equipped with the best safety features.
Everyone is enticed with receiving a reward for good behavior. Your teen is no different. Set long-term goals with your son or daughter, such as 12 months of driving with no accidents or tickets, and decide how you will impose a penalty or reward them.
Write a Checklist
Before you visit us at McCluskey, sit down with your teen and write a checklist of the important factors you would like in this used vehicle. It's almost like having homework and it will help you to find the best used vehicle on our lot.
Your first order of business is to determine the size of your used vehicle. Your teen, of course, will want something bright, powerful, fast, and sleek like a red Corvette or a large pickup truck or SUV. Let them know right away that those vehicles are not on the list. Why? A sports car only encourages speeding and has a higher rate of accidents. On the other hand, large pickups and SUVs can have a tendency to roll over especially when driven by a young, inexperienced driver. A mid-size sedan is probably your best bet. Or look for vehicles with small engines, such as a four-cylinder; it will be more economical to own and harder for your teen to speed.
At McCluskey Automotive, we want you to walk out of our showroom with a safe, reliable car for your teen driver at a fair price. That's our goal. Before you visit us, research such websites as Edmunds.com, Kelley Blue Book, IntelliChoice.com, and TrueCar.com to help you compare prices based on a vehicle's age, mileage and condition. There's even an annual online used-car guide with reliability rankings published by Consumer Reports. Another alternative is to check out our certified, pre-owned models. These are usually only two to three years old and are backed with a limited warranty. They usually cost a bit more since they've been examined and are in very good shape.
Safety is a Priority
When discussing a used vehicle with your teen, you can't do enough to emphasize safety. It's the most important priority for parents of young drivers. On your checklist, make sure the used vehicle has advanced safety features, such as electronic stability control (ESC) and antilock brakes, especially if you've chosen a crossover or SUV, as well as good crash-test results. Ask about the vehicle's air bags and where they are located. It's best to choose a car with at least six air bags: the two required in front, plus side-impact and side-curtain air bags. You should be able to find the air bags on door panels or the rear-seat headliner clearly marked with the letters SRS (supplemental restraint system).
Finally, research the safety ratings for your particular used vehicle. Find a used vehicle with at least four stars out of five on government crash tests. Go to the Insurance Institute for Highway Safety website to see if your used car has earned an overall "Good" rating or a "Top Safety Pick." By seeing how the potential used car is ranked, you'll feel much easier with your teen driver behind the wheel.
Visit Our Showroom
Now it's time to visit our showroom at McCluskey Automotive to look at our used car inventory and take a test drive. Remind your teen to bring their license so that they can drive the car. Ask our sales rep to let your teen drive the vehicle on a variety of roadways to get a really good feel for the car. And don't be confined to just one car. If there are a few used vehicles that are attractive, take a test drive in all of them.
Once you've settled on a used car, do a background check and rely on a reputable organization, such as Carfax or AutoCheck. These firms will give you a dependable history of this particular used car. If you want further confirmation, have a mechanic perform an inspection.
Set Driving Rules
It's no wonder that you're worried about your teen driver. Automobile crashes are the leading cause of death for American teens. In fact, kids between the ages of 16 and 19 are four times more likely to crash than older drivers. Now that your teen driver has his or her own vehicle, it's important to set rules and insist that they are followed. These safety basics should include that everyone in the vehicle must wear a seatbelt. Drinking is never allowed; neither is texting or phone calls. You might even impose a rule to turn off their cell phone before starting the ignition. Since your teen will be driving to school-related activities, these might last into the dark of night. It's been proven that more teens increase their crash risk in the evening. Set a curfew that works for both of you or require than an adult or other parent is in the car with them.
While it sounds like common sense, drill into your teen other common distractions that can cause an accident. These include eating in the car, applying makeup, wearing headphones, or driving while upset or after a fight with their friends or significant other. Finally, impress upon your teen driver that you are willing to pick him or her up at any time if she's been drinking or isn't comfortable letting a friend drive her home. You want them to know that you need them to arrive home safely – no matter what.
Hopefully these tips will have taken some of the stress out of your vehicle decision for your teen driver. By working with our staff at McCluskey Automotive, you'll walk away with a safe, reliable used car for your teen driver.
---
2020 Update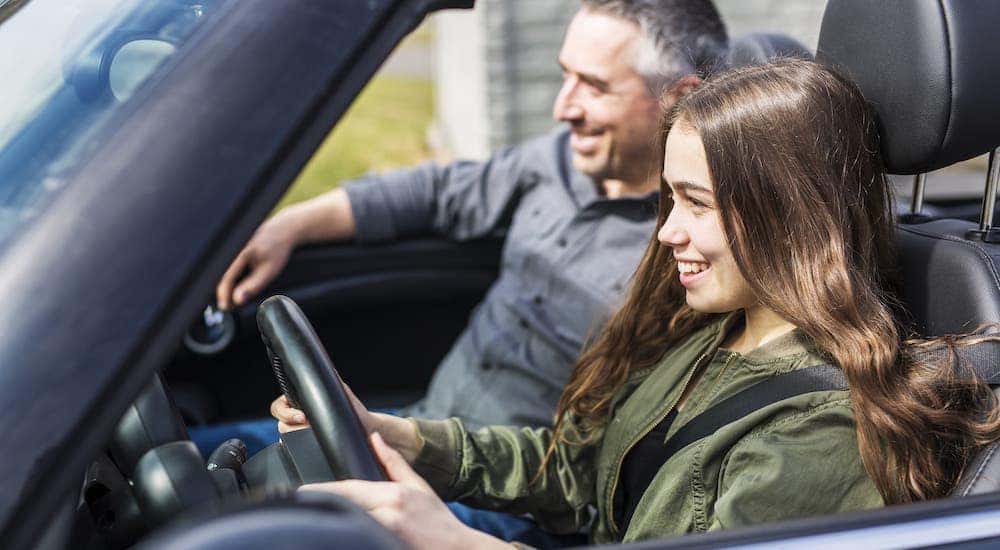 Some of Our Favorite Used Vehicles for Teen Drivers
When looking at specific models, you want to find the right combination of great safety features, reliability for your teen driver, and functionality. After all, you want them to be able to get to school and to the other places they need to get to and feel comfortable behind the wheel. There are far too many great options for us to showcase them all, but here are a few of our favorites:
2016 Chevy Traverse – If you have a teen driver with a large group of friends and you want them to be able to have a vehicle that will last them a long time, then consider the Traverse. This is a large SUV, a bit bigger than we might usually recommend, but it has fantastic safety ratings and can include a lot of the best safety features Chevy offers. You definitely want to be sure your teen driver can handle this large of a vehicle, however, so this isn't for everyone.
2014 Chevy Equinox – For a somewhat smaller option, that is still an excellent choice for safety and functionality, consider the Equinox. Models from between 2013 and 2017 are some of our favorites since there were significant upgrades introduced in 2013, including great safety features. An Equinox from this period will be a midsize SUV, which is great for big groups of friends while offering a smaller option for young drivers.
2015 Chevy Malibu – Since the Chevy Malibu has been around since the 1960s, there have been numerous generations of teen drivers that had a Malibu as their first car. The current Malibu is a surprisingly stylish option with fantastic safety features and excellent functionality. These models also have terrific fuel economy, so this is an inexpensive option that can get your teen driver wherever they need to go.
2014 Ford Fusion – Another midsize sedan, like the Malibu, that we often recommend is a used Ford Fusion, particularly those from 2014 and later. There was a recall on some 2013 models due to issues with the engine, so if you choose 2014, you don't have to worry about that. Great safety systems, excellent fuel economy, and a stylish yet functional design all make this a fantastic sedan for a young driver.
2015 Toyota Prius – One of the most popular hybrids on the road, the Prius has been around for a long time and proven itself repeatedly. The incredible fuel economy offered by a Prius is perfect for teen drivers that might not have a lot of gas money and can help teach your young driver good habits about responsible spending and budgeting. We like 2015 or later models that come in right at the end of the previous generation or the start of the current one, due to the great safety features they offer.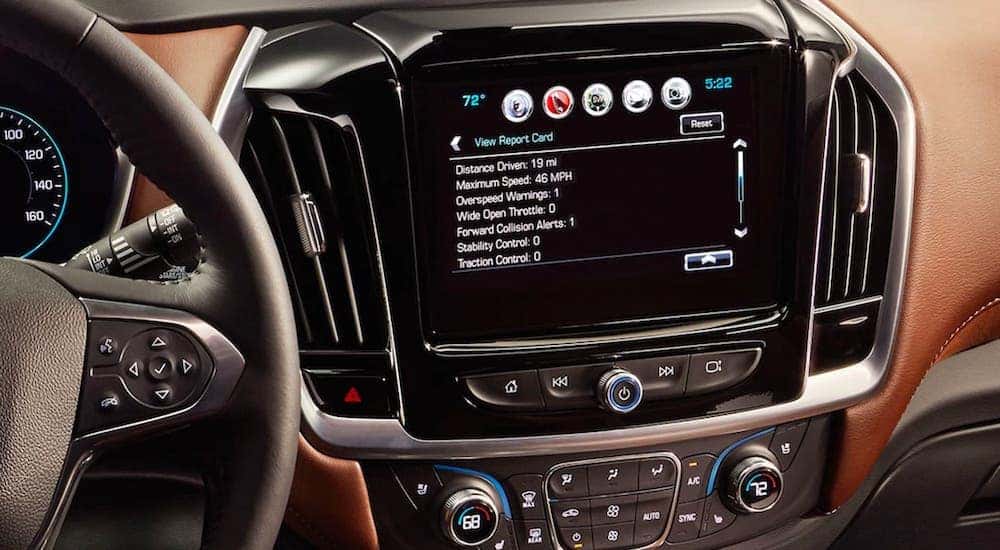 New and Improved Safety Systems
Active safety features are some of the most important systems you can look for when shopping for a used car for your teen driver. These types of features have not only become more impressive in recent years but also more widely available. That means you'll find them on a lot of used vehicles, especially those from the last five years or so.
While the specific names for these features can vary from one manufacturer to another, you can typically tell what each one is by looking at how it is described. Lane-keep assist, for example, typically helps you stay in the correct lane by making adjustments if the vehicle detects you are wandering to the side without signaling. Blind-spot detection and warnings will alert you when a car is detected that might be in your blind spot or hard to see through your side mirror.
A rear cross-traffic alert will warn you when a vehicle or person is detected passing behind your vehicle from one side to the other, while a forward collision alert will warn you when an object is detected near the front of your vehicle. Parking assist features can be as simple as notifying you when you're close to an object, or as complex as automated systems that will park your vehicle for you. All of these features are excellent, but it's important to remember that your teen driver needs to be safe behind the wheel without them, and they should not be relied upon for overall safe behavior.
The Teen Driver system available on a lot of Chevy and GMC vehicles from the last few years is one of our favorite safety features for a teen driver. This system lets you assign a particular key to a teen driver; then, certain systems will be enabled or disabled when that person is behind the wheel. It can limit the volume on the stereo, for example, to reduce distractions and keep your teen driver from being unable to hear traffic or emergency vehicles while driving. You can check an in-vehicle report card to see how your teen driver is doing, which lets you keep an eye out for unsafe behavior even when you're not in the vehicle.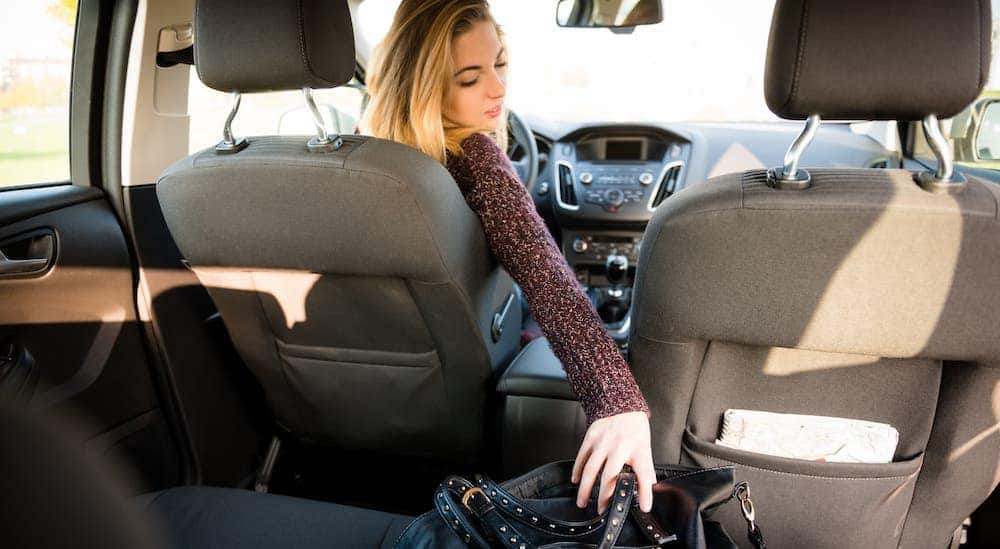 The Dangers of Daydreaming
A lot of focus is placed on phones and other occupants in a vehicle as a dangerous distraction to drivers, which is smart. Distractions cause a lot of collisions, especially deadly accidents, so it's essential to reduce the potential for distractions and teach your teen driver that they need to be focused on the road at all times. While talking and texting are extremely dangerous, they're not actually the most common distraction involved in fatal collisions.
Believe it or not, the most common distraction, according to an insurance-company analysis of data from the National Highway Traffic Safety Administration (NHTSA), is daydreaming or being "lost in thought." This is not by a small margin either – more than 60% of distracted drivers involved in fatal car crashes said they were generally distracted or lost in thought. The next most common cause was cell phone use: at 12% of cases!
So it's incredibly crucial that you teach your teen driver about the dangers of daydreaming and mind-wandering while behind the wheel. They need to be focused on driving at all times while operating a vehicle and never take it for granted. While you don't want your teen driver to be terrified of getting in a car, they must take driving seriously and understand that they have control over a tremendous amount of power while driving.
Model Safe Behavior
At the end of the day, no amount of safe driving systems or impressive features in a vehicle can replace the role of you as their parent and model for safe behavior. You must teach them proper vehicle safety while teaching them how to drive – or have a professional driving instructor do so for you. But beyond that, you need to model safe behavior for them when you're behind the wheel of a car.
If you tell your teen driver to slow down and drive at a safe speed, but they see you drive at 75 or 80 mph every day on the highway, that's what they're going to base their behavior on. "Do as I say, not as I do," simply doesn't work on kids, especially teenagers! So you need to show them how to stay safe on the road and make sure they know that driving is a solemn responsibility that can undoubtedly be enjoyable but must also be taken seriously.