Used GMC Terrain
Looking for a more unique car-based crossover SUV? Then a used GMC Terrain is exactly what you're looking for. Introduced back in 2010, this crossover SUV quickly gained traction in the segment, and became associated with some segment leaders like the Toyota RAV4 and Honda CR-V. It has an eye-catching design, and is perfectly capable for transporting small families, couples, or living the single life. It also has plenty of room for transporting cargo as well. Since it's a relatively new model, it only has one generation. Some of you might be thinking six+ years is a little long-winded for a single generation. But, GMC gave the Terrain plenty of upgrades to keep it relevant throughout the years.
So, the only thing you need to decide is how modern of a Terrain you want, and how much you want to pay. Obviously, the older you go, the more affordable the price will be. Then again, buying a used car is all about value, not price, which means older and less expensive isn't always the best option.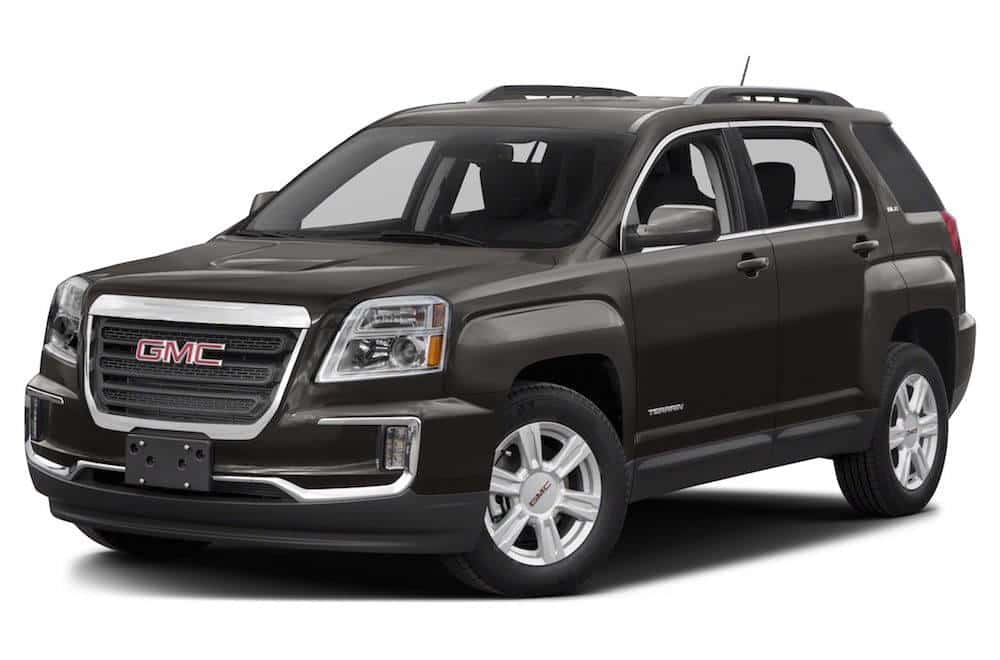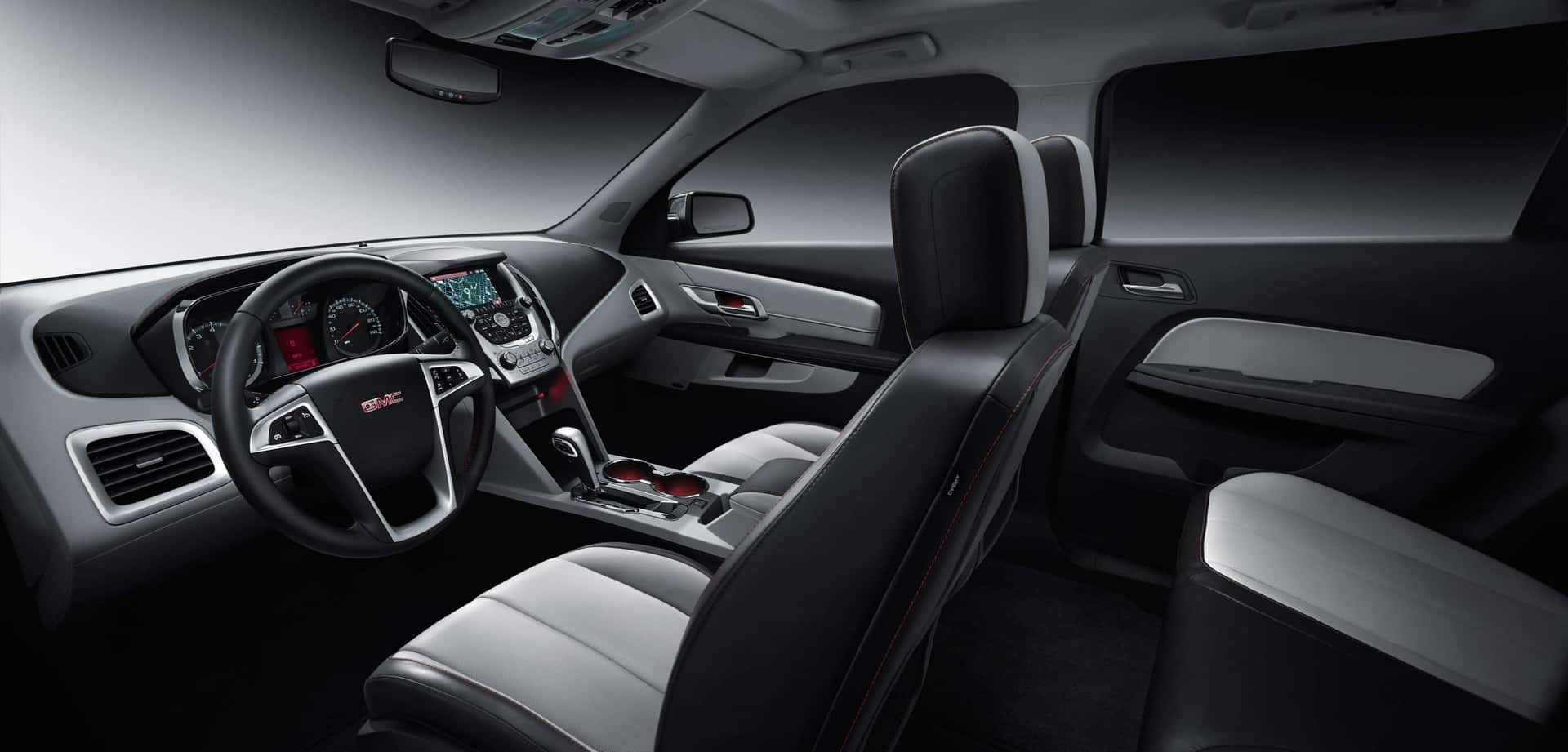 2010 GMC Terrain
When the Terrain was first released, it was also discovered that it shared many features with Chevy's Equinox. In fact, it's even on the same platform as the Equinox. Therefore, you can expect similar dimensions from this small-midsize crossover SUV.
More importantly, is the Terrain's exceptional reputation in its first year. It might not get as much cargo space as competing rivals, but it still has enough to get the job done. Overly large wheels were a concern as well, but not an issue. Other than that, the Terrain scored top marks with the automotive community.
It's simply able to offer everything those in the midsize crossover segment are looking for.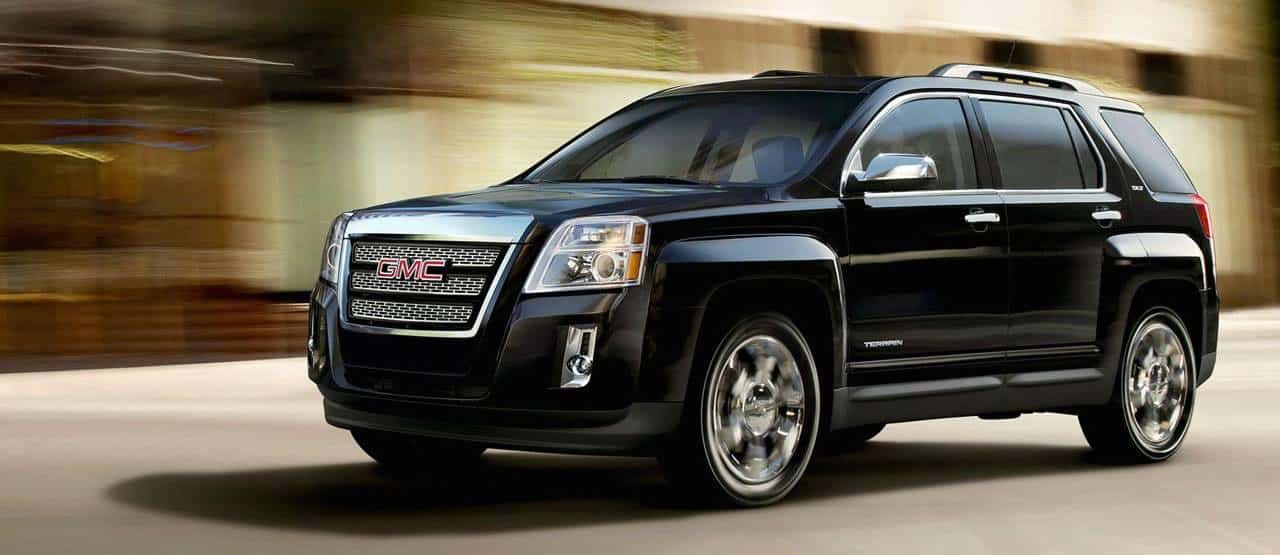 2011 GMC Terrain
In 2011, the GMC Terrain remained relatively unchanged. Except now, voice recognition technology for OnStar has been improved, and is more effective. It still has a quiet and attractively trimmed cabin, sophisticated ride quality, top-notch safety scores, an abundance of standard and optional safety features, good fuel economy, and a roomy backseat.
The standard engine choice for this year was a 2.4-liter four-cylinder engine that produced 182 horsepower/172 lb.-ft. of torque. It's a front-wheel drive model, with all-wheel drive optional across the board. Fuel-efficiency comes in at 22 mpg city/32 mpg highway for front-wheel drive models, and 20/29 for all-wheel drive models – impressive fuel-efficiency numbers.
The optional engine choice is a 3.0-liter V6 engine that generated 264 horsepower and returned up to 17 mpg city/25 mpg highway (front-wheel drive) and 17/24 (AWD).
Like most midsize crossovers you'll have to choose between focusing on fuel-efficiency, or sacrificing some of that for increased horsepower. For 2011, the fuel-efficiency of the Terrain with the 2.4-liter four-cylinder engine was extremely impressive for its time. Even by today's standards, that's still exceptional fuel-efficiency for a midsize crossover. Naturally, this is one of the better midsize crossover's to buy if optimal fuel-efficiency is your end goal.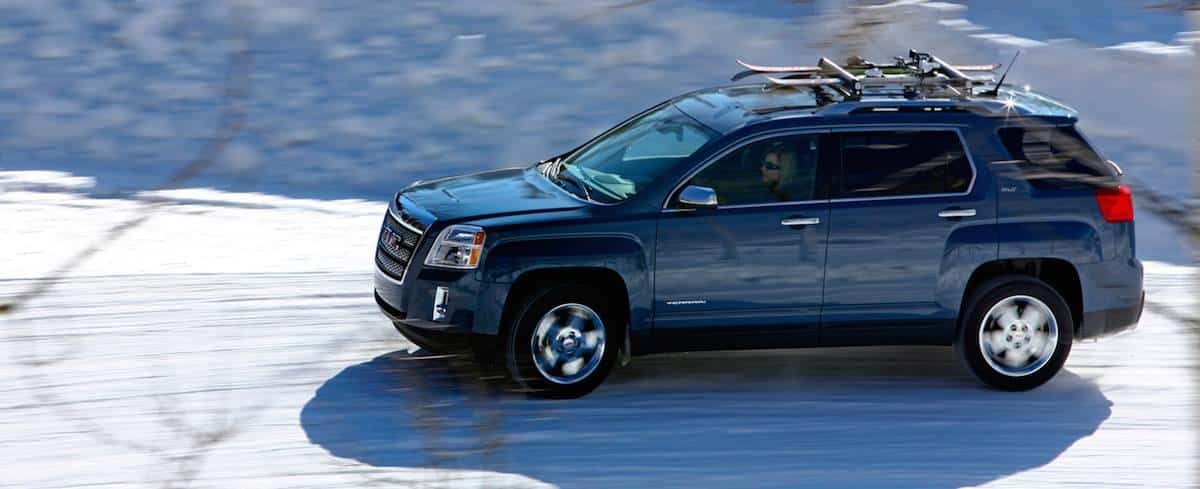 2012 GMC Terrain
2012 was the year of technology for the GMC Terrain, given that it got a standard touchscreen audio interface that allowed a device to pair through Bluetooth audio streaming, giving it access to internet-based services like Pandora. If you are looking to get the most technology out of your Terrain, a 2016 model would be best. But, if you're looking for a significant breakthrough in technology while keeping the price down, 2012 will be your best year.
Not to mention, it also had a few driver assist features that were added on to help with safety. Lane departure warning and forward collision alert were tagged on as options to the Terrain's standard antilock brakes, stability and traction control, front-seat side-impact airbags, side curtain airbags, OnStar, and rearview camera. For 2012, it received an overall score of 4/5 stars in NHTSA government crash safety tests. Along with 4/5 stars in frontal impact and five stars in side impact. The IIHS gave the Terrain a best possible rating of "Good" in the frontal-offset, side and roof strength tests.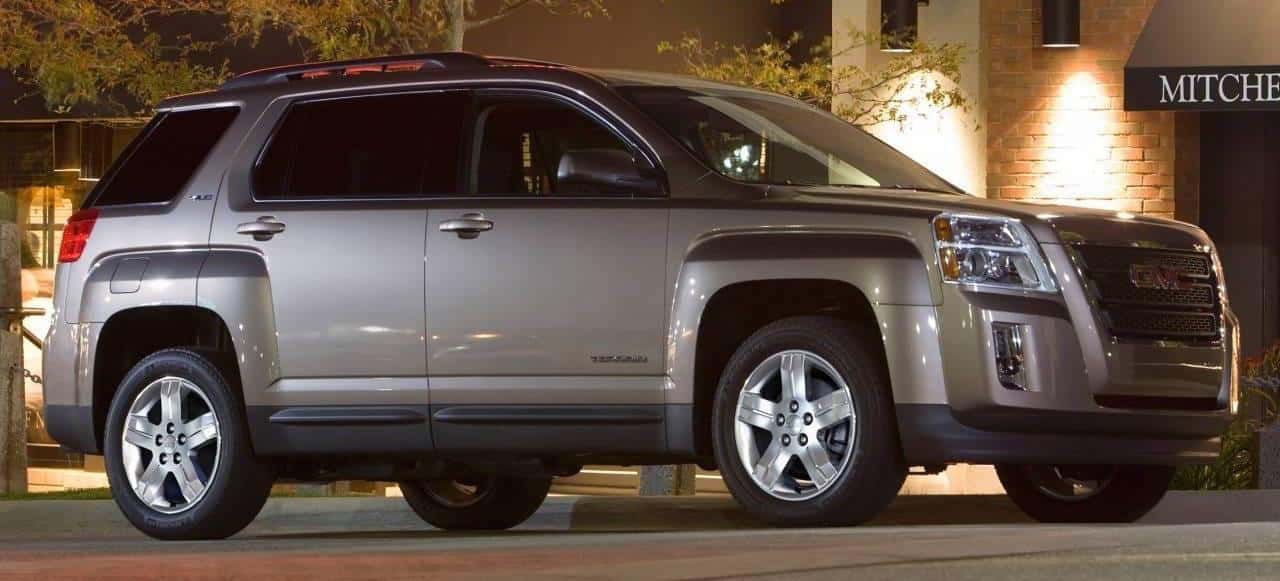 2013 GMC Terrain
In 2013, you can see the Terrain got a stronger V6 engine, and a top-level Denali trim. It also received another revision to its touchscreen audio interface. This time, that included smartphone app integration through GM's IntelliLink.
The Terrain still has the standard 2.4-liter four-cylinder engine it premiered with, and still produces 182 horsepower/172 lb.-ft. of torque as backed by that same six-speed automatic transmission. However, compared to the previous 3.0-liter V6 engine, its new 3.6-liter V6 engine, producing 301 horsepower/272 lb.-ft. of torque is a significant improvement in performance. Now paired to a six-speed automatic and backed by AWD capability, it can tow 3,500 pounds.
Somehow, the new 3.6-liter V6 — even though nearly 40 horsepower stronger — is able to maintain the same fuel economy as the original 3.0-liter V6 engine, rated at 17 mpg city/24 mpg highway (FWD) and 16 mpg city/23 mpg highway (AWD).
If you're looking for a bump in power for a cheaper price point than a 2016 model (while still getting the same fuel-efficiency as 2010-2012 models), then a 2013 Terrain is the way to go.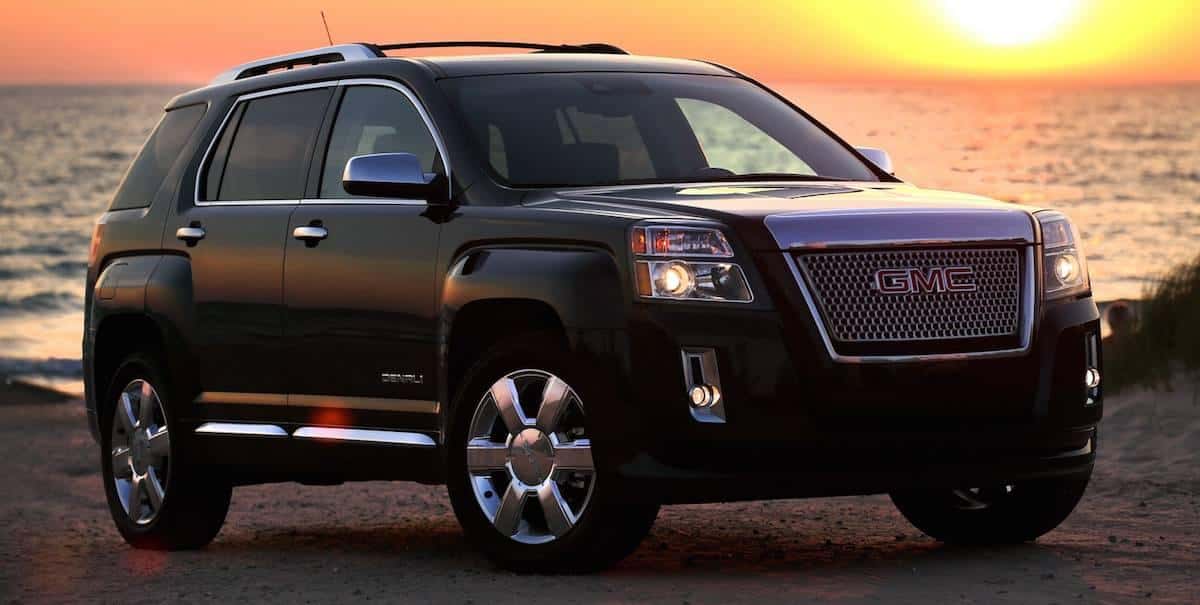 2014 GMC Terrain
New wheel options and a Chrome package that now includes an all-weather cargo mat were the only changes the GMC Terrain saw for 2014.
But, it does have a few accolades and noteworthy reviews worth mentioning. JD Power gave it an overall quality score of 5/5. According to US World & News, JD Power and Associates also gave it a 4.5/5 predicted reliability score, which is among the best in the midsize crossover segment.
It still earned the same, overall 4/5 stars in NHTSA government crash safety tests, and a possible best rating of "Good" in IIHS tests. But, it has had no safety recalls up until this point – a huge plus.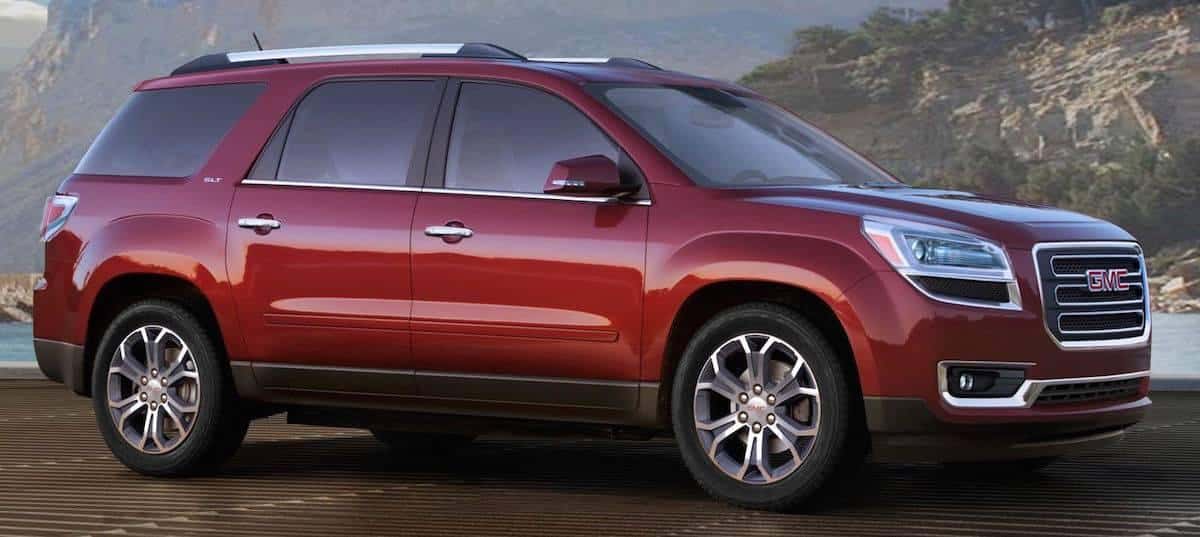 2015 GMC Terrain
The highlight of the 2015 GMC Terrain was that it received a built-in 4G LTE WiFi hotspot as a standard option. Other than that, it didn't receive any noteworthy updates.
That 4G LTE WiFi hotspot means a lot more to the technology-driven consumer than you think. For starters, not a lot of vehicles offer standard 4G LTE WiFi powered by a built-in hotspot. Typically, it's an optional choice.
Secondly, when combined with the IntelliLink system and touchscreen audio interface, phone integration just got a lot better. Now, you can listen to all the music you want on Pandora or Spotify without worrying about using the data on your phone bill. Also, passengers can also connect to the hotspot. For a family plan that shares data, this is huge. Now, you won't have to worry about burning through a month's worth of data on a long road trip.
The 2016 model has this as an option as well, but the 2015 model will be significantly cheaper.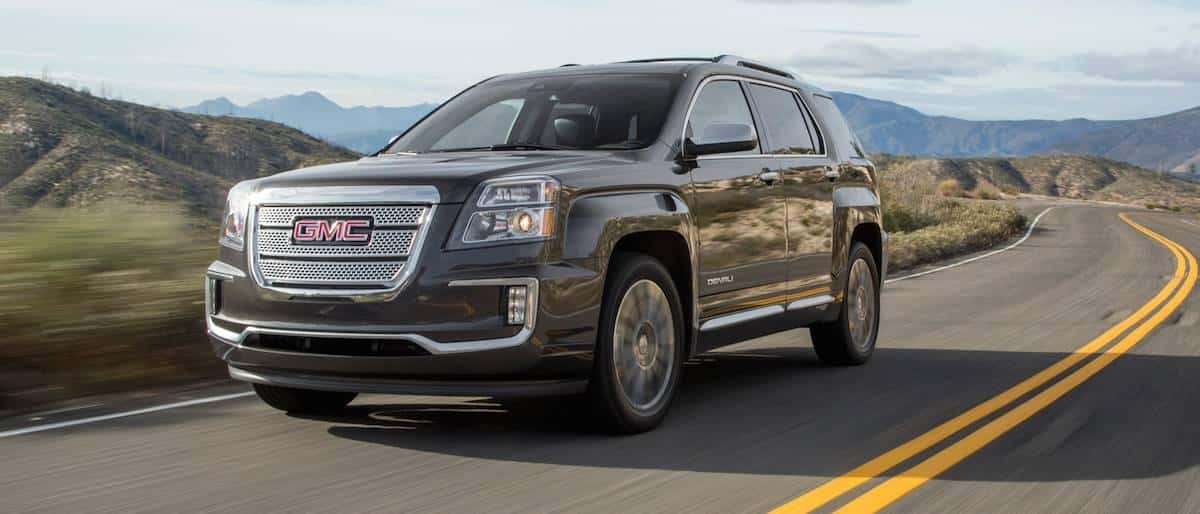 2016 GMC Terrain
The only reason to pay a like-new price for a 2016 Terrain is if you want slightly updated styling in the front and rear. Other than that, you're better off saving some money by buying a 2015 model.
Sure, the features got swapped around on certain trim levels. Now safety enhancements like blind-spot monitoring and lane departure warning are available on the SLE-2 and SLT trims (not just the range-topping Denali). So, you could potentially get better safety features on a more affordable 2016 level trim, compared to paying for a fully-loaded 2015 Terrain Denali trim.
Even though it's not necessarily as relevant as some of the other midsize crossovers (thanks to a lack of updates) it still stands out for good fuel economy and a slightly larger-than-average size. Along with its unique square-shouldered body, which gives this midsize crossover an uncharacteristically (for its class) tough appearance.
GMC Terrain Highlights
The single generation of the GMC Terrain might be a little long-in-the-tooth, but it certainly isn't a midsize crossover to scoff at. After all, it has a rather unique appearance for this class. With a more square-shouldered body than competing rivals, it offers those who are looking for the practicality and fun of a midsize crossover a more rugged option. Its V6 engine is worth noting, seeing as it's able to produce a decent amount of horsepower and torque for this segment, while still getting fuel-efficiency that's more than fair. Having built-in 4G LTE WiFi, courtesy of a hotspot, is also a huge plus and allows you (and your passengers) to save data on your phone plan during long trips. Finally, overall decent safety scores from 2010-2016 (with no recalls) ensures that it's also a smart choice for the family man or woman.