Used Chevy Impala
Looking for an award-winning sedan from one of the automotive industry's most awarded brands? You're in luck and you've come to the right dealership, one that will turn what you think you know about used car shopping on its head. McCluskey Chevy has a wealth of tenth generation Chevy Impalas just awaiting your review, and sold by a staff of customer-focused associates.
The tenth generation represents the current model year, which first launched in 2014. In other words, no matter which year you ultimately select for your used Chevy Impala purchase, you'll enjoy cutting-edge conveniences at a bargain price. With a slew of industry accolades attached to its name, a used Chevy Impala is a smart choice for those consumers in the market for a seriously competitive sedan. For a brief look at the features and facts distinguishing one model year from the next, read on, and then make your move to McCluskey, where our team anxiously awaits your visit.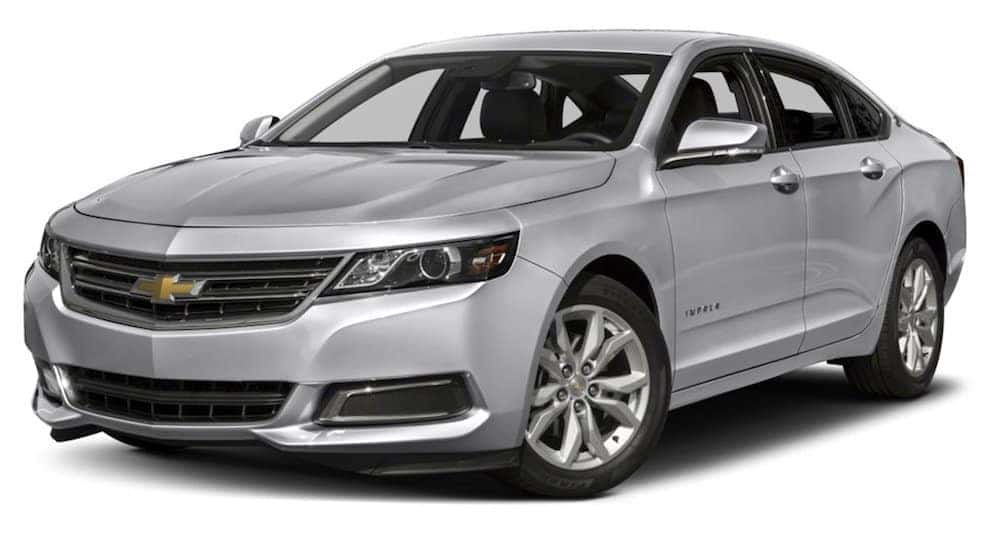 Buying a Used Chevy Impala from the Tenth Generation
Isolating a used Chevy Impala from the tenth generation of production is arguably the best way to enjoy the most up-to-date amenities and features, while saving a few bucks. In other words, used Chevy Impalas from 2014 to today, present a best-of-both-worlds buying scenario that other brands just can't beat.
Beginning with the 2014 model year, after its 2012 unveiling at the New York Auto Show, the tenth generation Chevy Impala boasts the distinction of being the premier American sedan in more than 20 years to snag a top score of 95/100 from Consumer Reports. But, why? What set this group of Impalas apart from their older siblings?
Well, as the saying goes – size matters – and the new Impalas were constructed to be larger, with enhanced refinements, such as the Epsilon II FWD platform, as shared with Cadillac's XTS. Released for sale in the U.S. in April 2013, Chevy enjoyed scorching sales courtesy of its newly improved Impala, with the Impala's figures soaring to represent 14.7% of the full-size sedan segment, a 6.9% increase over the prior year. These numbers confirmed Chevy's Impala as one of its top sellers, thanks to its multi-faceted character, combining industry awards and consumer affordability. By 2014, the Impala had left is main rival, the Toyota Avalon, in the dust, and became the best-selling sedan in America. Not bad, Chevy.
2014 Chevy Impala
Regardless of model year or trim level, the tenth generation Chevy Impala models are operated by a six-speed automatic transmission, featuring sport and manual shifting options. Engine choices include a 2.5-liter four-cylinder – a first for the Impala – a 2.4-liter four-cylinder hybrid variation, and a classic 3.6-liter V6. Standard features included 18-inch wheels, with 19-inch and 20-inch offered on enhanced trim levels, along with ten new airbags, supported by Chevy's exclusive OnStar technology suite. Safety add-ons like lane departure warning, rear cross traffic alert, and rear-park assistance via a rear camera were also available.
When you shop for a used Chevy Impala from the 2014 model year, you have a significant range of choice with respect to trims – seven total – and their corresponding original MSRPs, starting with the base 1LS ($26,860), the 1LT ($29,110), the LS ECO ($29,135), the 2LT ($30,085), the LT ECO ($31,110), and the top-tier 1LZ ($33,880). Bear in mind, these prices reflect the original stickers, so it won't be difficult to find a more affordable option from one of the higher trims, in order to enjoy an optimal Impala experience, for less.
2015 Chevy Impala
The 2015 model year signaled the arrival of the kinds of tech features now expected to equip any of today's sedans. Chevy ditched HD Radio, but introduced 4G LTE as an available add-on to its OnStar suite. Also new for 2015, Chevy introduced the Impala Bi-Fuel, which was first demonstrated in the fall of 2013. This Impala variant ran on compressed natural gas (CNG) and was the only full-sized vehicle of its kind that was produced in North America, and then made available for sale at dealerships.
Featuring a 500-mile range, drivers could transition from gasoline to CNG, and back again, by simply punching a button. Although it ultimately lost to the BMWi3, the Impala Bi-Fuel was among five finalists for the Los Angeles Auto Show's "Green Car of the Year Award." And hey, if you're going to lose to anyone, you might as well lose to a long-established luxury car – the kind Chevy doesn't generally compete with directly.
2016 Chevy Impala
Dropping down to four trim levels – the LS, LT1, LT2, and LTZ2, Chevy also replaced several shades in the Impala's exterior palette – five to be exact, represented by Citron Green Metallic, Green Envy Metallic, Heather Gray Metallic, Mosaic Black Metallic, and Siren Red Tintcoat. In keeping up with the times, per usual, Chevy added Apple CarPlay, along with Android Auto, and equipped the 2016 Impalas with wireless charging capabilities, in addition to a safety enhancement in the form of lane change alert. Chevy also renamed several of its optional packages for 2016, so if there is one you like on an earlier Impala, but you prefer a more current version for your used model, the team at McCluskey can help you find its 2016 match.
2017 Chevy Impala
Still in the tenth generation, but obviously not in abundance as a used model just yet, the 2017 Impala will join the ranks of its older siblings sooner than later. But, it's worth noting that 2017 didn't bring about many changes to the Impala. In fact, those considering a used Impala will find only the smallest differences between 2017 and 2016, no matter how far into the future their shopping trip might actually be. Perhaps the most noticeable changes include the renaming of the top-tier LTZ, now known as the Premier trim. Impala shoppers can now get the LS equipped with the V6 engine, which had heretofore only been available with Chevy's four-cylinder. Even exterior alterations are minor, and basically culminate in the addition of one new optional shade: Pepperdust Metallic. All told, if you want to stretch your budget, while still taking advantage of the best that the Chevy Impala has to offer, target your shopping efforts to a 2015 or 2016 model, for the perfect blend of performance and penny pinching.
Shopping for a Used Chevy Impala at McCluskey
Shopping so many options within one model generation, from a brand that has garnered an abundance of praise and accolades from industry experts and consumers alike, can make for an exciting, but somewhat overwhelming proposition. Fortunately, the customer-satisfaction driven team at McCluskey is staffed by experts when it comes to determining which model is best for your budget and lifestyle needs. At McCluskey, we take the time to get to know you, not just as a consumer, but as a person with unique needs and requirements from his or her vehicle.
To that end, we've implemented some unique tools that make shopping for that exact vehicle you have in mind so much easier. Take, for example, our Nationwide Vehicle Search, which provides us with more than 100,000 vehicles to consider from dealerships across the country. What this means for our shoppers is a customized experience, one in which we can deliver the car that fits your every specification from trim, model year, package options, right down to ensuring that your new-to-you vehicle comes in your favorite color.
Our dealership is conveniently located to serve residents of Cincinnati and its surrounding neighborhoods. We look forward to the chance to assist you with your used car shopping experience, and assure you that when you shop with us, we will exceed your expectations.