Used Kia Optima
A used Kia Optima from the 3rd generation isn't something to shrug-off when looking for a family-friendly midsize sedan. At the time of its release, the 3rd generation offered midsize functionality at a compact price point. Even if it might not be as competitive with some of the top-tier models in the segment, you're guaranteed to save a decent chunk of change buying one used when compared to other cars. Therefore, it's real appeal (even when bought used) lies in the value-for-your-dollar factor the Optima is able to provide. Something that even segment-leaders like the Toyota Camry and Nissan Altima are unable to achieve.
With the 3rd-generation stretching from 2010 to 2015, you can get the value an Optima has to offer for an exceptionally low price-point. Or, get a more modern feel at a slightly higher-price point found on a used 2015 Kia Optima. Either way, you won't be disappointed.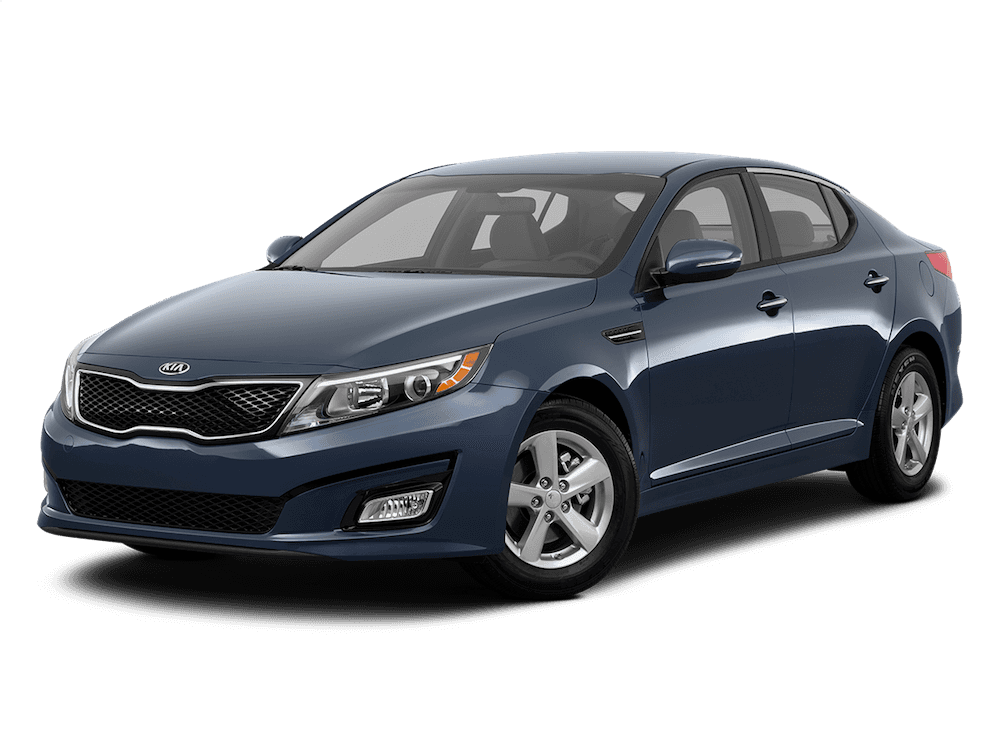 2010 Kia Optima
When buying a Kia Optima in 2010 brand new, the savings and value was very apparent. If you buy a used 2010 model in good condition, then you can expect the savings and value to be even better. Its a highly affordable price point, coupled with plenty of standard features, makes it worth buying alone.
Even on the entry level LX trim you'll get AC, heated mirrors with integrated turn signals, full power accessories, CD/MP3 player audio system with satellite radio/a USB and auxiliary output, keyless entry, and cruise control. That's just a sample of the standard features you can get, and there's many more. If you grab an EX trim (the next step-up) you'll get things like leather upholstery, a leather-wrapped steering wheel, automatic climate control, auto-dimming rearview mirror with a compass, and even a trip computer.
The SX trim lands you bigger wheels, aluminum interior trim with sport pedals, unique instrumentation, and plenty more.
If you find a used Optima with optional accessories, expect to get things like a power sunroof, Infinity audio sound system with a six-disc CD changer, heated front seats, rear-window sunshades, and even a navigation system.
The point is, you're getting you're money's worth if you buy an Optima from the third generation used. Sure, some of these accessories will fade out by the time the end of the 3rd-gen (2015) rolls around. But, they will be replaced with updated features, or just deemed unnecessary.
Meaning even if you buy a 2011-2015 Kia Optima used, you're still getting plenty of standard and optional features.

2011 Kia Optima
Completely redesigned for 2011, the Optima now has exceptionally powerful and fuel-efficient engines, even better ride/handling balance, a handsome cabin, top safety scores, and still retains that awesome value.
If you pick up a used 2011 Kia Optima LX or EX, then you'll get a 2.4-liter four-cylinder engine that's producing 200 horsepower and 186 lb.-ft. of torque. A six-speed transmission will be the standard choice on the LX Manual trim, whereas an automatic transmission will be found on all other Optima models. An astounding 24 mpg city/34 mpg highway can be expected on the LX/EX trim.
On the EX Turbo and SX trims, you'll find a 2.0-liter turbocharged four-cylinder engine that's producing 274 horsepower/269 lb.-ft. of torque. Estimated fuel economy for the Turbo (and SX) trim is sitting at 22 mpg city/34 mpg highway.
Either way, you really can't go wrong when it comes to fuel-efficiency with the Optima. It's just a matter of preference, which is a rare occurrence in the midsize sedan world.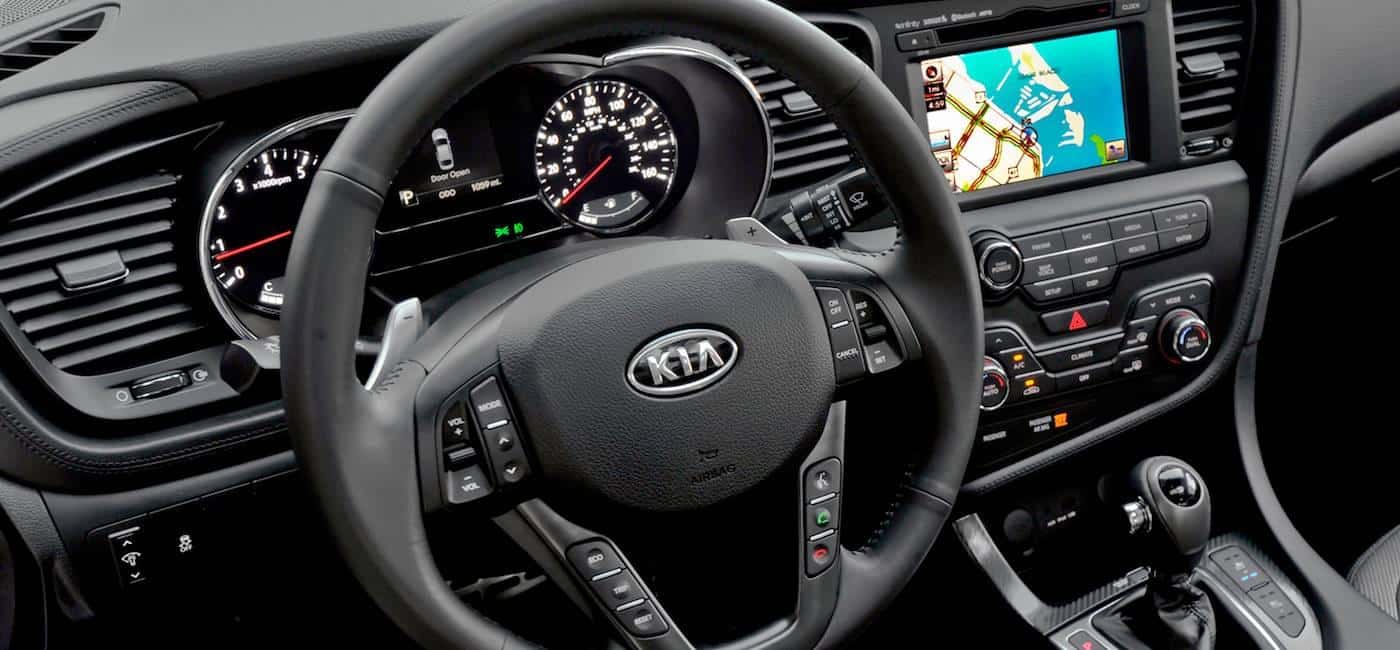 2012 Kia Optima
Regardless of which Kia Optima year you decide to buy in the 3rd-generation, it'll be an exceptionally safe midsize sedan. Take the 2012 model for example (and 2011), with its top five-star rating for overall safety performance in the NHTSA government crash tests, including five stars awarded in both overall frontal and side-impact tests. The IIHS gave it a top score of Good in the frontal offset, side-impact/roof strength tests. Proving that regardless of which angle the collision comes from, you're going to be protected.
Especially with the standard safety features found on the Optima, such as the four-wheel antilock disc brakes, traction/stability control, side curtain airbags, hill start assist, and side airbags. If you need to feel more secure when backing up, you can get a rearview camera as an optional feature.
The Uvo voice command system was also added in 2012 (on all trims but the base model), and allowed drivers to more easily interact with their infotainment system.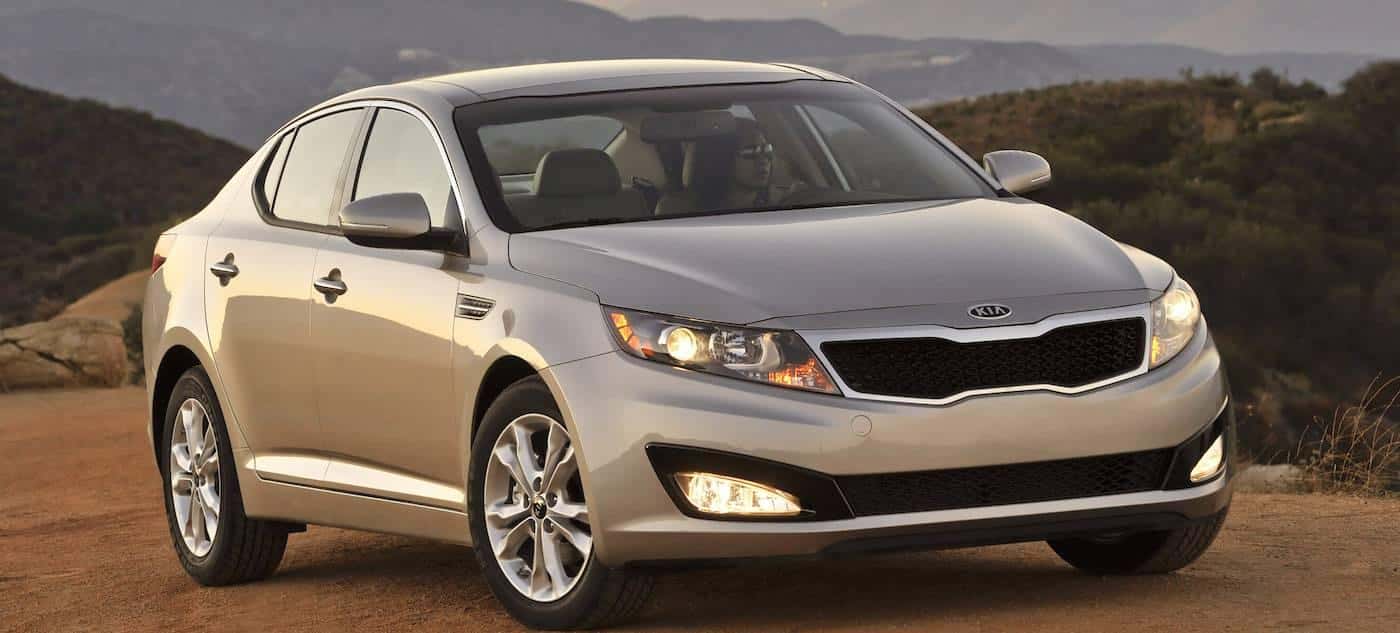 2013 Kia Optima
If you're looking to get the most value for the cheapest price, then you'll want to pay close attention to a Limited trim Optima from 2013. Seeing as this is the year it debuted — and is older than a 2014 or 2015 model — you'll get all the great features found on the Limited trim, for a cheaper price than a 2014 or 2015 model.
The SX Limited trim will land you features from the SX trim: a turbocharged engine, 18-inch wheels, sport-tuned suspension, wheel-mounted paddle shifters, and upgraded gauges. But the Limited part of that model turns those 18-inch wheels into chrome, red-painted brake calipers, even more chrome trim, LED running lamps, SXL exterior badging, an electronic parking brake, first aid kit, navigation system, and further refined leather upholstery.
It still retains a perfect 5/5 overall safety rating, and gives you plenty of standard features even if you don't choose the SX Limited (SXL) trim.

2014 Kia Optima
Front and rear styling have been updated in 2014 for a more modern appearance, and the front-seats have been improved for greater comfort. A restyled steering wheel is also on board, and new display screens are available. There's some new safety features tagged on as well, such as blind-spot monitoring and rear parking sensors.
The restyled front and rear keep proving that it's possible to take an average family-friendly sedan but give it a bold look. Breaking away from the conservative tradition of making midsize family sedans boring and uninteresting, you'll have a more outgoing and fun-looking midsize vehicle to cart the family around. If that's not for you, then that's fine. But for those looking for an alternative to this rather drab segment, a Kia Optima is a perfect fit, as proven by the 2014 and 2015 Kia Optima models.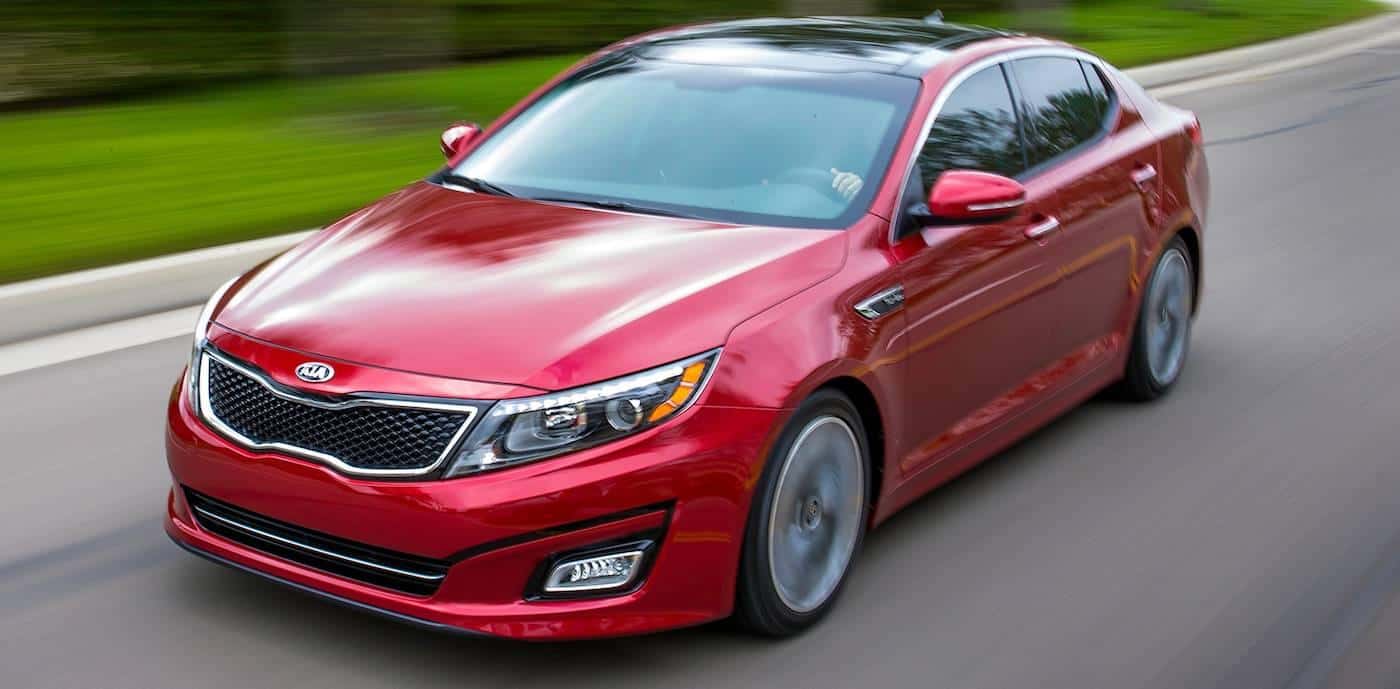 2015 Kia Optima
With the 2015 model, you have the best opportunity to take advantage of the Kia Optima's lengthy warranty, which is a five-year/60,000 mile basic warranty, and a 10-year/100,000 mile powertrain warranty. If you buy it certified pre-owned, you'll retain that new car warranty, along with getting the CPO coverage that comes with the title. These are standout warranties for a midsize sedan, and it's one of the Optima's best selling points. Even used. It might be harder to find one from 2013 or 2012 (2012 being five years ago now) with low mileage to honor this warranty. But if you do, that's a good way to save some money through the initial price point and extra coverage.
3rd Gen Kia Optima Highlights
The 3rd-generation Kia Optima has a lot to brag about. It provides owners with great value (even used) through a low price point, abundance of standard and optional features, and the support of great warranties persisting through the transition of ownership. Regardless of which model year you decide to buy, powerful and fuel-efficient engines are another great asset you'll get to enjoy, along with great safety scores across the board, for all 3rd-generation years. The Uvo voice command system was also updated since its initial release in this generation.
In other words, the Kia Optima is everything you could want from a midsize family sedan.