Red Flags to Look Out for When Shopping for a Car with Bad Credit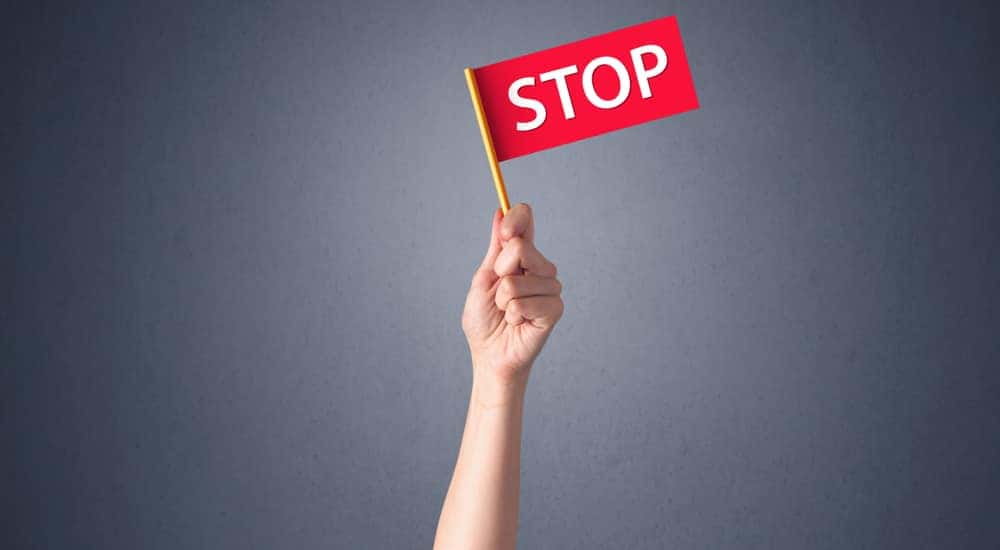 Shopping for a new or used car shouldn't be scary, but unethical dealerships have been turning potential car buyers off for a number of years. The reasons why people shy away from these dealerships range from shady sales tactics, to scummy salesmen, to ridiculously inflated sticker prices. The list goes on and on. These unfortunate situations happen every day to well-qualified buyers across the country, but the circumstances are much more dire for those shopping for bad credit car loans. Ohio residents with poor credit scores continue to turn to the reputable family-owned McCluskey Automotive when they need to secure a car loan. For individuals living outside of the tri-state area, or who are unable to make the journey down to McCluskey, what are their options?
Raising the Red Flag on Used Car Dealerships
Unfortunately, the country is full of unsavory dealerships operating unethically and without any sort of checks and balances. These dealers tend to prey on individuals with poor credit, and jump at the opportunity to hook them into an unrealistic loan that can never be successfully paid off. Dealerships that operate in this way turn people off who are in need to help, and who have nowhere else to turn due to their low credit scores. If you are in a bad spot and need to borrow money for an auto loan, where should you turn? Rather than throw in the towel and continue on a downward spiral of debt and poor credit, equip yourself with the knowledge necessary to find a reputable dealership that offers bad credit car loans. Take a look at some tell-tale signs that a dealership is more interested in its bottom line, than helping you reach your future financial goals.
A Bossy Sales Team: If you visit a dealership that you know offers bad credit car loans and find their sales team to be demanding, bossy, or otherwise forceful in their presentation – slowly back away. The only place we should be seeing sharks outside of the ocean is on ABC, and certainly not at the desk of a bad credit car dealership.
Treating the Deal Like "Normal": Car shopping with bad credit is very different than buying a vehicle through traditional financing. Typically, in this situation, you will begin by sitting down with a member of the finance department in order to decide what you can pay each month. After a number is decided upon, the dealership will offer you a few options that fit into your budget. This is how every responsible bad credit car dealership should operate. If you go into a showroom and let the salesman know that you have bad credit, expect to sit down and crunch numbers before taking any test drives. If a dealership takes the opposite approach, be wary. Allowing you to believe that any car on the lot is available to you and fits within your budget, is a sure sign that the dealer is setting you up to fail.
Not Listening to Your Budget: If you sit down with a financial team member and go over your credit history, current earned income and expenses, you should come up with a number you are comfortable with paying. If the dealer representative seems adamant about stretching your budget past a level in which you are comfortable, hit the road. Bad credit car dealerships should be more interested in setting you up for success, and not for failure. If you feel like a plan is in place to sabotage your efforts, get up and walk away.
Getting Your Hopes Up: If you walk into a dealership and are honest about your credit history and current credit score, a good dealer should direct you towards vehicles that reflect your budget and that will help you meet your goals. If a salesman suggests taking a car for a test drive that is well outside of your price range, you shouldn't only decline – you should get as far away from that dealership as humanly possible.
All Talk and No Action: Unethical dealerships prey on people who don't have the credit score to secure a traditional car loan. They will lure you into the showroom, and fill your head and heart with promises that they never intend to keep. When a salesman, or even the general manager, at a dealership tells you that he will offer you a certain interest rate, or promise you a certain price on a used car – don't ever take his word for it. Ask for written verification and keep a paper trail. If the dealership refuses to put its promises in writing, and suggests that you "take our word for it," wave the white flag and surrender back to your place of residence immediately.
They Don't Go Over ALL of Your Options: Any good dealership will help you understand your credit situation, and make you aware of your options for securing a loan with bad credit. If a dealership does not inquire about whether or not you have considered a co-signer, or if you have considered other options available to you, they are probably not as interested in your success as they are letting on. While researching your options and understanding what your credit score means is largely your responsibility as a consumer, it is always helpful to know that your car dealer is on your side, and truly wants you to make the best decision for your situation.
Discover the Freedom of a Bad Credit Car Loan at McCluskey Automotive
As a family owned and operated dealership in Cincinnati, Ohio – McCluskey Automotive has been helping people secure bad credit car loans for years. Backed by its outstanding reputation and plenty of success stories from people like you who were able to reverse their bad credit scores, McCluskey Automotive wants to help you get back on the right financial path.
If you live here in the Queen City, or any of the surrounding areas in the tri-state, we invite you to stop by. You can give us a call to discuss your options over the phone, or learn more about the different loans we offer right on our website. If you need to be approved for a car loan, and are finding yourself limited because of bad credit, give the experts at McCluskey Automotive a chance to help
---
2021 Update
Red Flags to Look Out for When Shopping for a Car with Bad Credit
Recognizing the red flags that warn you about a dealership putting its needs before yours is certainly important, but just as important is spotting good things when you see them. We'd like to say that shopping for a car with bad credit is always going to be straightforward, but as you can see, that's just not the case. So while you need to watch out for warning signs, you should also recognize the signs that tell you when you've found the right dealership that is going to work for you.
Here at McCluskey Automotive, we pride ourselves on working hard every single day to put the needs of our customers first. This is something that you would expect to find at every dealership, at every retail business for that matter, but sadly you won't. So let's take a moment now to show you some of the ways we make sure you get the right vehicle at a fair price that will help you get on the road to success.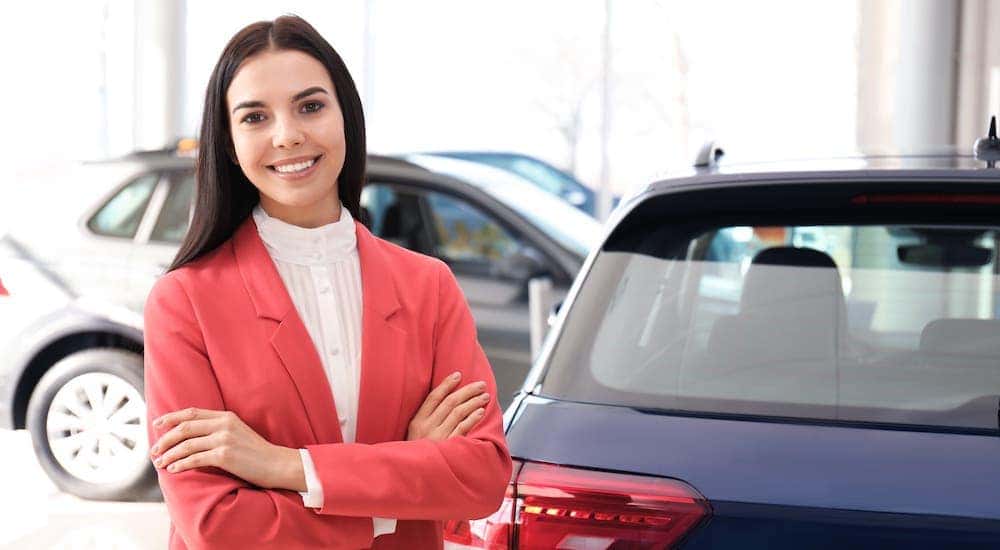 Our Sales Team Focuses on Your Needs
As we said above, a bossy sales team is a major red flag that warns you when you're in the wrong place, which is why our salespeople focus solely on one thing: your needs. When you go to some other dealerships, you can tell that they're pushing a particular model or two that they're trying to get rid of and hoping you'll take it off their hands. Here at McCluskey Automotive, however, we believe that the right vehicle for you is the one that meets your needs, not the one that we've had on our lot for a while.
Our salespeople will work closely with you to help you figure out which model or models will best meet your needs. That means talking to you, asking you questions, answering any questions you might have, and making sure that your needs are being met. Your budget will, of course, also come into play.
We're not interested in offering you models that are outside your price range or that really won't meet the needs you have from a vehicle. If you've only ever experienced salespeople that are much too pushy, then this can be a real breath of fresh air when shopping for a vehicle. Even if you have bad or little credit, that doesn't mean you should get anything but an exceptional car-buying experience.
Easy-to-Use Financing Tools
Although we're certainly here to help you figure out bad credit car loans and financing, we also want to provide you with the tools to empower yourself. One of the things we find quite often when working with our customers that have poor or very little credit is a sense of powerlessness when trying to figure out financing. If you have been rejected by other dealerships, taken advantage of, or made to feel like you don't deserve a great vehicle, it's easy to become completely disillusioned with the car-buying process.
Here at McCluskey Automotive, however, we want you to know that you do have power and that you deserve to have a great car-buying experience. For us, that begins with giving you the tools to succeed, starting with our financing applications and tools here on our website. You can get started right now by valuing any trade-in you might have, going through a quick pre-qualifying process, and applying for financing all on our website. We even offer a payment calculator – as well as tools to show you your credit score – so you can really get a good sense of what your budget looks like.
We want you to know that having bad credit or little credit history is not the end of the world. It's an opportunity for you to build and work toward having good credit, and we give you the tools to take those first steps. We strive to make financing easy and accessible to all of our customers, not just the ones with glowing credit scores.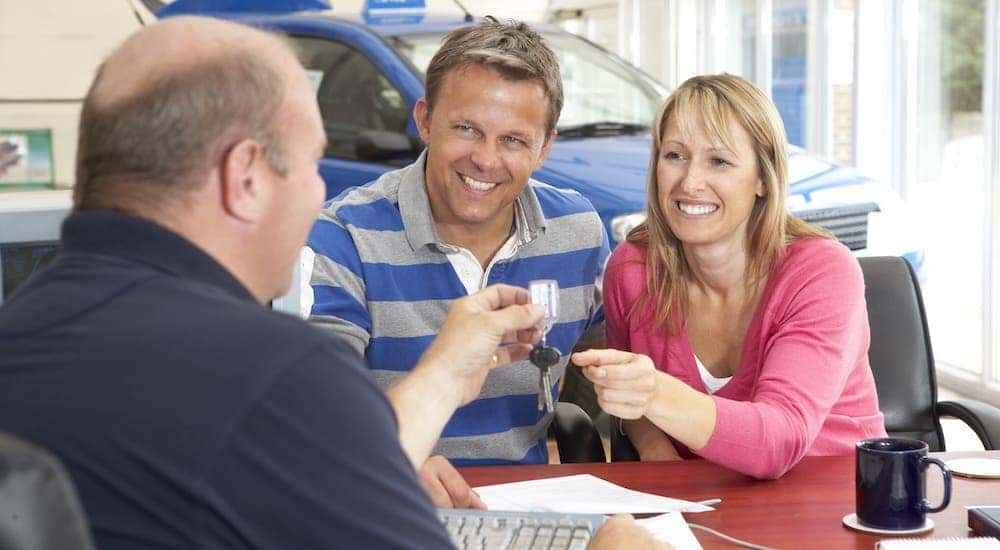 Our World-Class Finance Center
Of course, we also understand that figuring out financing can feel pretty overwhelming. That's why our financing experts are here for you, ready to answer any questions you might have and work directly with you to help you figure out your options. We want to ensure you understand everything that's going on throughout the financing process and that you know all of your options and can make an informed decision about your next vehicle.
It's also important that you understand that our financing experts have pretty much seen it all before. A lot of customers come to us feeling like they're the only person in the world with poor credit, but in reality, it's pretty common. You're not alone, and having bad credit doesn't mean you've done anything wrong. Sometimes bad credit can come from mistakes we make in our youth or even be caused by something a customer's parents did without their knowledge.
There are many reasons to need a bad credit car loan, and what happened before really isn't that important. What matters is taking the steps to build better credit going forward. That's what we're here to help you with.
Buy Here, Pay Here Options
One of the ways we can do that is by offering Buy Here, Pay Here (BHPH) financing for our customers. This isn't always the right solution for everyone, but it does provide you with another option for figuring out the financing that's right for you. With BHPH financing, we help you directly with guaranteed financing that will work for your budget.
A lot of people avoid BHPH financing because it often requires making payments frequently in-person at a dealership. We make it easy for you, however, by allowing you to make your payments on our website. It's very important to us that you are happy with your car purchase and that you have all of the tools you need to start building good credit. One of the ways we do that is by making it as easy as possible for you to make your payments on time.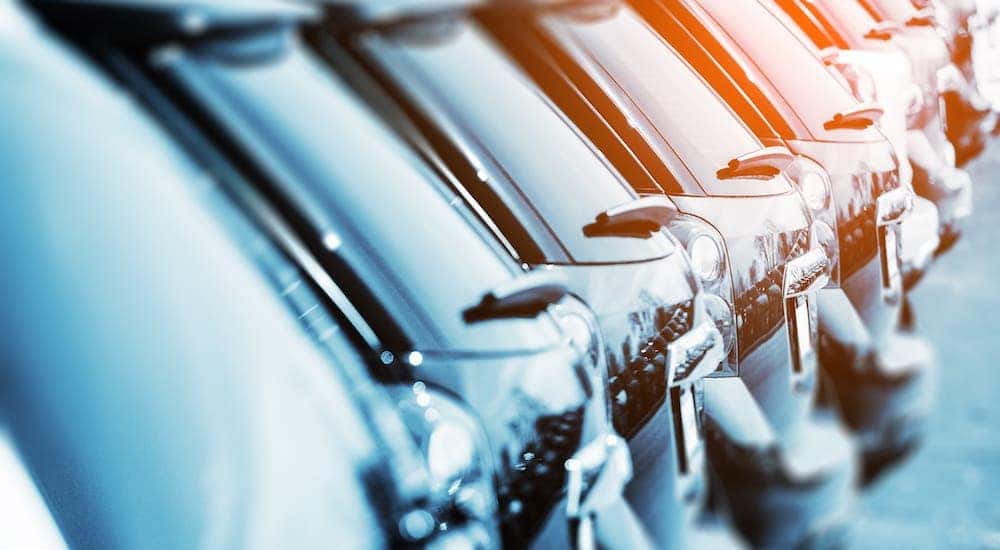 Our Massive Pre-Owned Inventory
We also believe that one of the keys to success for our customers in need of bad credit car loans is a large inventory to choose from. If a dealership only has a few dozen vehicles, then there's a pretty low chance you'll really find something that meets all of your needs. Here at McCluskey Automotive, however, our selection of used vehicles includes hundreds of different cars, trucks, vans, and SUVs available at a wide range of prices.
This makes it easy for us to work with you and help you find the right model with everything you need. We even have a selection of dozens of vehicles priced under $10k, which are becoming harder and harder to find these days. With so many different models to choose from, we can work with you to figure out what your budget looks like, find the right vehicle with the features you need that fits into your price range, and make sure you drive away completely happy with your vehicle.
Simple Bad Credit Car Loans in Ohio
Once you know what to look for, in terms of both bad dealerships and good ones, it can be a lot easier to realize when you're somewhere that you need to get out of and when you're in the right place. Choosing the right dealership will not only make the car-buying process a lot easier but will also ensure you get a vehicle with everything you need and financing that works for you. Call or come visit us at McCluskey Automotive today to experience this difference yourself and discover how simple it can be to shop for a vehicle, even with bad or little credit history.