McCluskey Buy Here Pay Here Dealerships Want to Serve You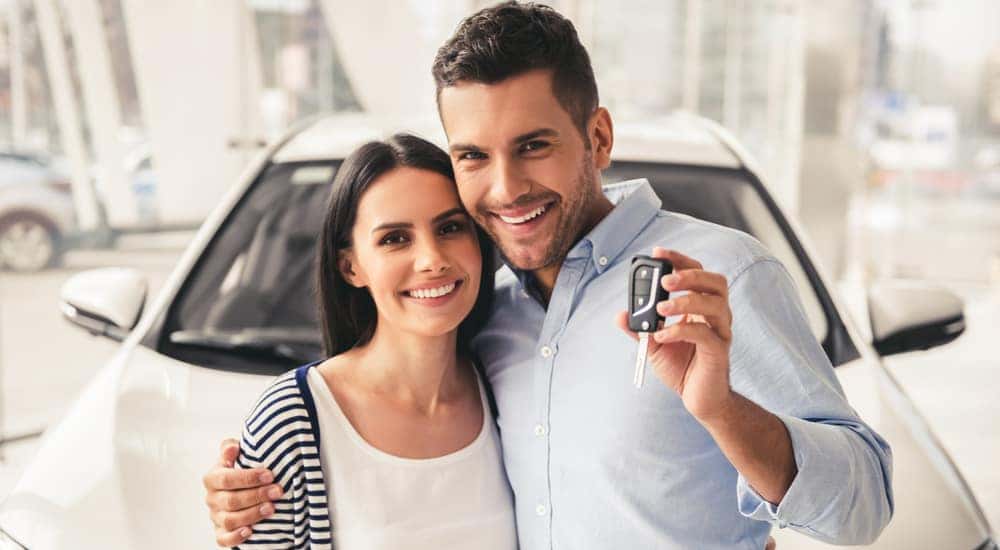 McCluskey Buy Here Pay Here Dealerships are available to anybody who may be in need of a newer model car, truck, or SUV. We are proud to work with individuals who may not have an impeccable credit history, which is needed these days to finance a vehicle at most dealerships. We are making vehicles available to anybody in need of one, credit scores aside. We offer a gigantic inventory to select from with guaranteed approval.
How Does a Buy Here Pay Here Dealer Work?
A Buy Here Pay Here Dealer is not your ordinary car dealership. Buy Here Pay Here dealerships are able to guarantee 100% approval to any customer by offering an in-house financing option. In-house financing is an excellent way to receive a new to you car when traditional financing options are unavailable, due to a below average credit score. The Buy Here Pay Here Dealership will finance the loan for the vehicle, to you, in-house, through their own finance department. Customers with terrible or no credit are accepted and approved here. A higher than normal interest rate may be applied to this type of in-house financing loan, however, it can be spread out over a longer term and sometimes even refinanced through the in-house credit department over time for a different rate or upgraded vehicle after a punctual credit history with the dealer is established.
Buy Here Pay Here Equals a Guaranteed Car
Everybody deserves a vehicle. Everybody. McCluskey is happy to guarantee financing to 100% of the customers who are in need of a vehicle, poor credit aside. Customers are people to us – individuals with unique needs who are our top priority. Finding a safe, secure, affordable car, truck, SUV, or van to suit the needs of all of our customers is our number one concern. We would be thrilled to take you into our family of satisfied customers.
Bad credit history dragging you down? How about no credit history haunting you, making it impossible to get started with a loan or any sort of financing? A Buy Here Pay Here Dealership, such as McCluskey will help you to either get started with a positive credit history or turn around your credit mistakes of the past.
McCluskey Buy Here Pay Here dealers are happy to help any customer in need. We value your business and want you to succeed in gaining back a positive credit history. And that's why when you walk into a McCluskey Buy Here Pay Here dealership, your budget is one of our main concerns. Helping people not only get a decent ride but turning their credit around is what we do and we love to do it.
McCluskey is a certified dealer, meaning that an inventory of awesome preowned models is always on hand. If it is a certified preowned vehicle you require, a certified technician has inspected it from top to bottom and set a standard of excellence upon it.
Super Quick and Easy Financing
McCluskey is happy to streamline the normally lengthy car buying process. Dealership visits can take up to a whole day or more without even the guarantee that you'll actually be approved for financing. But prompt customer service is a number one priority in our dealership. Taking the quick and easy steps to use our online financing form will make your streamlined experience at McCluskey even more satisfying. We will use the information provided to us by you to assess and provide an option that is perfect for your situation.
At McCluskey, bad credit is our specialty. We are aware how hard it can be to get any sort of break from credit woes. Paying down old debt is only a part of the solution. New credit lines need to be opened and used to establish a new history of responsible credit usage. McCluskey Buy Here Pay Here will report to the credit bureaus for you so that a positive credit history can and will be established. All you have to do is make all of your payments on time and the process will work out in your favor for years to come.
Turning Your Credit Around

Helping people turn their lives around and create a positive credit record is what we do at McCluskey. Financing through us, committing to a loan, and following through with all payments until the end of the loan will raise your credit score. After this is accomplished, a newer car can be financed at a lower rate, which saves you money in the long run. Credit cards are a scary thing if not handled properly. One day the opportunity to purchase a home may burst into tiny pieces because of past poor credit decisions. The team at McCluskey would hate to see that. We want to help you turn your credit around to change your life for good.
Time is short. Visit McCluskey Buy Here Pay Here dealers today to get your credit history turned around and your life back on track.
McCluskey Puts Customers First
Other car dealers will not even attempt to help out an individual with below average credit. It is often one of the first questions asked when approaching a salesman. "Hello, How is your credit?" We all know that rejection is a part of life. That's why we take real pride in the fact that we will not reject anyone. Let other dealerships crush dreams. We want to help you and your family in any way that we possibly can. We offer hundreds of used and preowned certified cars for you to choose from. Our Certified Pre-owned vehicles represent the finest selection of vehicles around. Stop in and see for yourself. Our large family of satisfied customers is always growing. Why don't you stop by and be a part of those happily satisfied customers we have had the pleasure to work with over the years?