Inexpensive Used Models That Should Be on Your List of Targets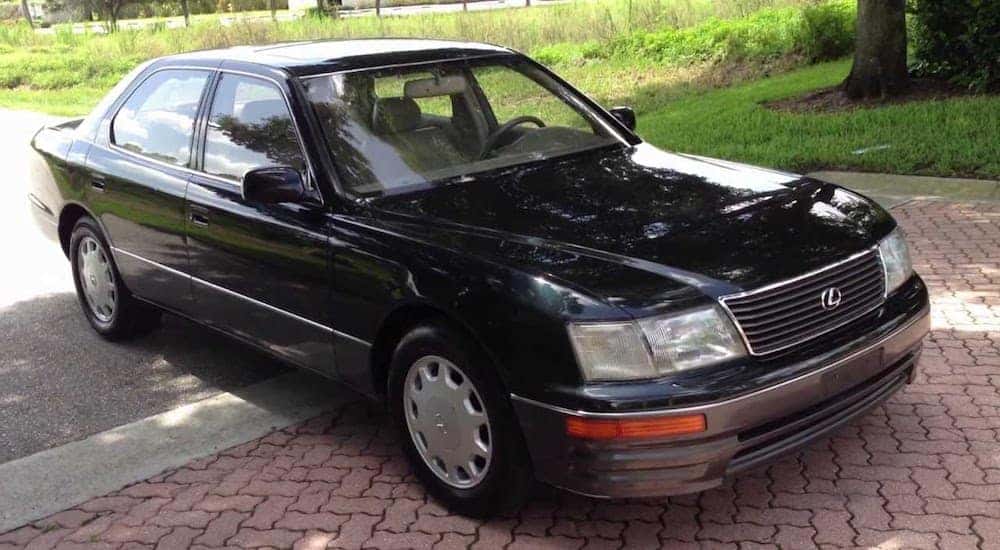 We understand if your used-car-buying experience is limited by a low budget. When we say low budget, we mean low budget, like under $5,000. While you might not think that this is enough money to purchase any type of vehicle, you'll be surprised to learn that there are a number of competent used models that customers can still opt for.
Just because you're seeking an inexpensive car, you shouldn't assume that you're going to be getting a lackluster product. Rather, there are a number of capable options that you can still target. Below, we've reviewed several inexpensive used cars that would be logical purchases for customers on a tight budget…
Lexus LS400
Listen, if you're going to be limiting yourself to a $5,000 budget, then you'll surely have to dig deep for a list of options. That means you might have to settle for a boxy 1990s sedan like the Lexus LS400. While the exterior aesthetics might not be pleasing, the model still offers a number of amenities that makes it a logical used option.
While the exterior leaves a bit to be desired, Lexus did an admirable job of filling their interiors with opulent materials (after all, the brand was trying to compete with the luxury segment). The vehicle was often equipped with V8 engines throughout the 1990s, and the 1999 variation of the nameplate included a powerful 4.0-liter engine that was capable of cranking out 290 horsepower. Despite all of this power, engineers cleverly designed their vehicle so it would deliver a quiet, peaceful driving experience.
The vehicle has proven to last for years on the road, and few of the mechanical components  (including the engine) compromise due to time. Ultimately, drivers can expect to get at least 100,000 miles out of these vehicles, if not 200,000. If you find a low-mileage Lexus LS400 sitting on a car lot, snag it as soon as possible
Mazda Miata
Just because you're working with a limited budget, it doesn't necessarily mean that you have to settle for an ugly ride. Rather, you can opt for a stylish convertible like the Mazda Miata. While the vehicle is rather small, you're unlikely to find a more enjoyable ride sitting on a used car lot, especially if you opt for a mid-2000s model.
The vehicle includes a number of mechanical attributes that will lead to an optimal driving experience, including a rugged real-wheel-drive system and a manual transmission. Of course, because of these factors, many previous owners liked to rely on their Miata as a racer. Therefore, the mechanical aspects of the vehicle might be in disarray, so you should have the car checked by a trusted mechanic before you commit to a purchase.
Toyota Corolla
Now, if you're in the market for an inexpensive used car, you might not even be focused on style or features. Rather, you're simply looking for a vehicle that can run. In that case, you won't do much better than the Toyota Corolla. While older models generally skimped out on interior amenities, you shouldn't have any reservations about the car's ability to work.
While the engine's power is underwhelming (especially after a decade on the road), drivers can still expect excellent fuel efficiency. The model is generally known to deliver around 40 miles per gallon while on the highway, meaning budget-conscious customers will be able to save some additional money at the gas pumps.
Ford Ranger
Maybe you'd rather keep your options open and consider any type of vehicle, not just sedans. In that case, you could opt for the rugged Ford Ranger. The vehicle hasn't been produced in more than five years, but that doesn't mean the nameplate isn't flooding the used market. The vehicle contains all of the amenities and capabilities a driver could expect from a pickup, including a powerful engine, excellent handling/control, and a sizable truck bed. You surely can't expect many bells and whistles from an inexpensive used pickup, but the Ranger still manages to deliver everything a driver could want.
Ultimately, if you're looking to spend the least amount of money, you're going to have to target a vehicle that's at least 10 years old and has more than 100,000 miles on the odometer. Don't fret though; Ford's engines are some of the most dependable in the entire industry, and it's unlikely that the unit will be in bad shape. You may have to repair other areas of the vehicle, but that shouldn't be enough to dissuade you from pursuing this truck.
Honda Odyssey
Listen, we all know that minivans aren't the most appealing vehicles on the road. However, at the end of the day, that shouldn't mean a whole lot when you're shopping for a used ride. Furthermore, a vehicle like the Honda Odyssey might even be the most practical choice among your various options.
The nameplate predictably provides owners with plenty of interior space, making it the perfect hauler or a de facto school bus. While the engine isn't anything to write home about, it delivers solid efficiency specs and should last for years and years. You might even find some additional amenities, including power outlets in the interior. While you're surely not going into the buying experience envisioning yourself purchasing a minivan, we'd still say it's one of the better choices you could make.
Toyota 4Runner
SUVs tend to be pricey on the used market, meaning customers have to opt for a years-old model. In that case, you're unlikely to find a better offering than the Toyota 4Runner, which has proven to be a reliable, inexpensive target. The vehicle's engine and accompanying components have proven to be long-lasting, and the SUV rarely comes across any mechanical issues.
Furthermore, the V6 engine that was included under the hood is plenty powerful, providing all of the muscle that often accompanies a SUV. While fuel efficiency is a bit lackluster, you're presumably not pursuing this type of vehicle in an attempt to save money on gas, anyway. If you're in the market for a used SUV, you can't do much better than the Toyota 4Runner.