Go Retro, Buy Used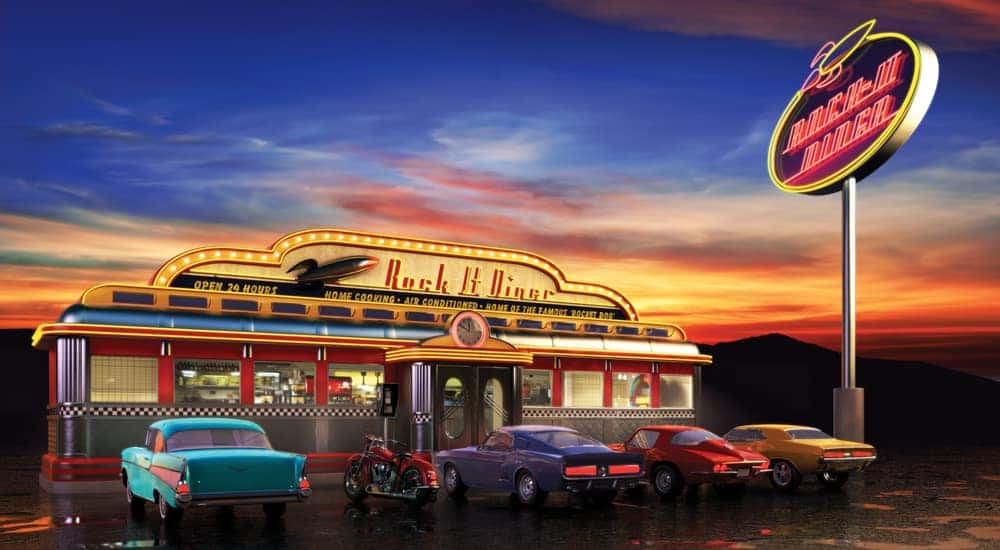 Sure, we all know that buying any of the used cars Cincinnati has to offer is an excellent way to save money, dodge depreciation, and often still enjoy the perks found in new model year vehicles. Shopping used becomes even more advantageous when shoppers find themselves at the right dealership. Residents in and around Cincinnati know that McCluskey Chevrolet has a used car inventory unlike anywhere else. Stocked with near-endless choices from a variety of automakers, the team at McCluskey makes shopping used easier than ever. With an extensive certified preowned inventory, along with those vehicles specifically priced under $10k, and a factory pre-owned collection, used car shoppers are presented with a wealth of purchasing possibilities.
McCluskey Chevy proves that shopping used cars doesn't have to be restrictive. In fact, you might just be surprised by some of the offerings you'll find when you start your search for a used vehicle. What are you in the market for? A sedan, truck, SUV, crossover…maybe a wagon? Take a personal style inventory and see if maybe a retro move might just be the impression you were destined to make.
Remembering Chevy's HHR
In the same spirit as Chrysler's PT Cruiser, Chevy launched its HHR, or "Heritage High Roof," in 2006. Speaking of heritage, the HHR took its styling cues from its ancestor, the 1949 Suburban. Despite reported merits, with respect to ride comfort, cargo room, fuel efficiency, and safety, the HHR is no longer in production. After a five-year run, 2011 model year competitors, like the Nissan Cube, Scion xB, Honda Fit, and Mazda 3 five-door, sounded the death knell for the HHR.
But, there are plenty of perks to consider for a used HHR purchase from its 2006-2011 run.
Available as a four-door, five passenger hatchback model, the HHR also had a variant ideal for business, the 2-seat Panel, which featured a windowless rear cargo panel doors, complemented by rear quarter panels, along with cargo floor storage spaces, and a 40-amp power source to charge necessary equipment on the go.
HHR – Triple Time
The HHR was launched in three trim levels – the LS, 1LT, and top-line 2LT. Features and specs distinguishing each are as follows:
Standard fare in the LS:
A/C
keyless entry
power accessories
16-inch steel wheels
60/40 split-folding back seat
6-speaker CD/MP3 stereo
satellite radio
auxiliary audio jack
Extra enhancements on the 1LT include:
power driver seat
body-color mirrors
16-inch alloy wheels
The 2LT is the ideal target for your used HHR search because it offers the most in the way of extra bells and whistles, like:
sport suspension
leather-wrapped steering wheel with audio buttons
enhanced four-cylinder engine
17-inch alloy wheels
foglights
Bluetooth
7-speaker Pioneer audio system with subwoofer
The HHR Performance and Fuel Efficiency Factors
Starting with standard HHR equipment, expect a 2.2-liter inline four-cylinder engine, generating 155 horsepower and 150 lb.-ft. of torque. Not quite enough oomph for your taste? Chevy's got your back with the available 2.4-liter inline four-cylinder on the LT trims, which produces 172 horsepower and 167 lb.-ft. of torque. Either operation can be paired to a standard five-speed manual or available four-speed automatic transmission.
Fuel efficiency is impressive, with the HHR returning 22 city mpg and 30 highway mpg, for a combined rating of 25 mpg.
Gold Star for Safety
Not surprisingly, given its Chevy badging, the HHR did exceptionally well with respect to safety scores. Thanks, in part, to its OnStar telematics service, antilock brakes, stability and traction control, and side curtain airbags, the HHR received five-star ratings from federal front and side-impact crash tests. In addition, the Insurance Institute for Highway Safety (IIHS) awarded the HHR its highest rating, of "Good," following its safety assessment.
Stand Out, Reclaim Retro Style
If you're looking to make a statement – either personal or professional – in Chevy's HHR, you'll enjoy some serious benefits from its quirky style. The interior is comfortable, with standard cloth seats or optional leather trim. Enjoy excellent visibility and an extra set of eyes, courtesy of the available rearview camera.
When it comes to cargo, you've got an abundance to configure however best suits your needs. Folding down the split-rear setbacks gives you access to a flat load floor and 58 cubic feet of cargo space. The Panel variant offers even more, measuring 63 cubic feet. So, whether you want room for weekend warrior type gear or need to store and organize some materials and equipment for your business, you've got room to play with the Chevy HHR.
It's a Steal!
Originally priced to start between $18,720 – 19,720 when it was first released, you know you'll be able to find a 2011 Chevy HHR for a song these days. What better way to kick off summer and appreciate some vintage tunes at the same time.
Start the Used Shopping Process Today at McCluskey Chevy
Whenever you're ready and no matter what you're ultimately looking for in your next used car purchase, the team at McCluskey has long been relied upon and appreciated by the residents of Cincinnati and beyond. Between an exceptional sales department, which values transparency over pushy sales tactics, backed by an extensive inventory of used car options, you're sure to find a vehicle that exceeds your expectations.
Once you do, the finance department will patiently walk you through the loan process and ensure that you're comfortable with the terms associated with your purchase.
Of course, your connection with the professionals at McCluskey doesn't end there. After you've driven off the lot in whatever used car best meets your needs, you'll want to rely on the service department for routine maintenance, not to mention any necessary repairs or parts installations.
Summer is on its way to Cincinnati and you'll want to get out and enjoy all that this too-short season has to offer in the best used car possible. When you're ready to start your used car shopping story, call the team at McCluskey Chevrolet.