Facts About Buy Here Pay Here in Indianapolis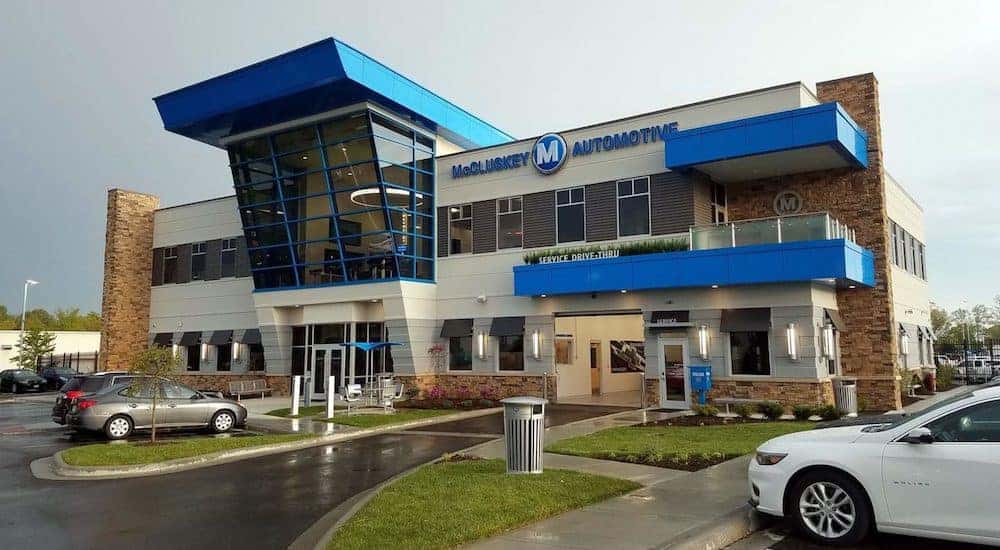 In order to best serve our customers, we offer "Buy Here Pay Here" which is a great perk of shopping at McCluskey Auto. Buy Here Pay Here in Indianapolis is a program where the dealership steps in as the role of the lender. To this end, it is very beneficial for the customer as it ensures that you are getting the best possible rates on your new vehicle. It also guarantees that you're getting the customer service that is often lost with a larger lender. This is ideal for the customers who may need to work on getting their credit back up to where they'd like it to be. If payments are made to the dealership on time, customers will begin to see a positive trend in their credit scores. At the end of the day, it really boils down to the fact that you need to find a dealership with a great reputation. At McCluskey Auto, you'll find all of the customer service, benefits, and (of course) vehicles that you need in order to be 100% satisfied with your purchase.
Is It Right For Me?
Are you in a financially difficult period of your life? Are you among the majority of Americans who are living paycheck to paycheck? If so, this is an excellent program for you to take advantage of. Many Americans have already used this program to purchase a vehicle that will safely transport their family, friends, and selves to their next destination. Not only will you be slowly building your credit score back up, but you'll be riding in style in a reliable vehicle. A positive credit change will come about with payments that are regularly made on time. If you are able to make your payments to McCluskey Auto on time but might struggle to find approval from other lenders due to a poor credit score, you'll want to read on.
How Does It Work?
Ultimately, the dealership will take on the role of the lender and you will make payments directly to McCluskey Auto. This cuts out the "middleman" of the outsider lender. Many customers are not satisfied with their current lenders, as they receive inquiries from thousands of customers each day. The customers at McCluskey Auto that have taken advantage of the Buy Here Pay Here in Indianapolis solution have been satisfied with the experience. Not only are they receiving world-class customer service regarding their loans, they are also positively working on their credit. This is a win-win situation for any consumer. So we ask you, why not receive a loan from your dealership directly?
Pros of Buy Here Pay Here Indianapolis:
In-House Financing
Trade-In Deals
Great selection of new and pre-owned vehicles
Warranties
Obviously, there are a lot of great reasons to take advantage of a program like this. Especially if you're working on your credit. Another great reason that is not listed above is the fact that it takes some of the stress and time out of the car-buying experience. You will work directly with McCluskey Auto for everything from viewing the showroom, to test driving, to financing, and everything in between. This is a huge benefit to anyone who's ever dealt with the stresses of car-buying before. Dealing with the different lenders and trying to gain approval can be stressful. If you choose to Buy Here Pay Here, you choose to make this experience as pleasant and stress-free as it possibly can be. (It's still going to be stressful, you are making a huge purchase, after all!). However, there is one large "con" to a Buy Here Pay Here initiative. Read on to find out what it is.
The Honest Truth
Real talk. Although you may end up paying a higher interest rate with a Buy Here Pay Here deal, it will ensure that you have a safe and reliable vehicle to drive. Many individuals believe that the higher interest rate is to make a profit off of the customers who choose to take advantage of this program. However, that is not the truth at all. Conversely, the higher interest rate is to ensure that the dealership does not lose money. Many customers who sign up for BHPH have bad credit, no credit, or extremely challenged financial situations and the higher interest rate helps ensure the dealership can cover the costs of the vehicle and the loan if the buyer defaults. This will cost the dealership money. Instead, we have a higher interest rate than most lenders to ensure that this program can still be in progress for our valuable customers. So, although you'll end up paying more in the end, it will all be for a good cause. You'll have a new vehicle and (hopefully) you'll have proven your reliability in the eyes of the credit system.
Why Buy Here Pay Here in Indianapolis?
McCluskey has the vehicle that you want at a competitive price. We have exemplary customer service and will ensure that you are satisfied with each encounter with our staff. We have everything from new and used to certified pre-owned vehicles. Whether you're in the market for a new family vehicle or a new work vehicle, this is the place to shop! We have a large inventory of cars, trucks, and SUVs. Our customers typically leave with a smile on their face and the confidence in the fact that they have just made a life-changing purchase. Just scrolling down the "Reviews" tab on our website will provide you with an idea of how much our customers enjoy shopping and paying for their vehicles with us. Customers from all walks of life come through our doors to shop for their next car. You don't have to have perfect credit to walk-away with the keys to your dream car. The Buy Here Pay Here program will provide you with the opportunity to purchase a car, even if you've completely ruled out the possibility due to your poor credit score.
If you are in the market for a new car and would like the best possible customer service in order to find that dream car, look no further than McCluskey Auto.