Beat Your Bad Credit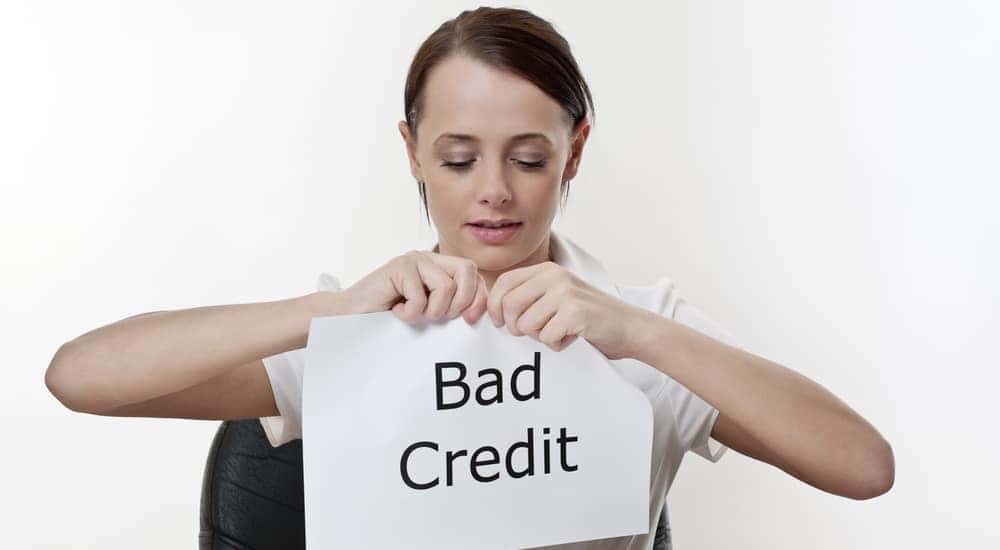 The time has come to beat your bad credit, once and for all. Think about it – aren't you sick of worrying about if you'll get rejected for a loan every time you head to a car dealership? Of course, there are plenty of great used car dealers that will happily work with you to find financing and loan terms that work for you, but wouldn't it just be nicer not to have to carry around the weight of a poor credit score? Luckily, car shopping with a reputable dealership can actually be a step in the right direction when it comes to turning your credit score from bad to good if you're willing to put a little extra effort into finding the right dealership and if you plan ahead for your big purchase.
Brush Up on Your Own Credit History
The first thing to do is figure out exactly how bad is your bad credit. When it comes to your credit score, the easiest way to find out where you stand is to take a four-pronged approach. First, contact the three major credit bureaus: Experian, Equifax and Transunion and request your free annual credit report. Carefully review the reports for any discrepancies – especially in this age of credit card hacks and stolen identity, it's important to stay on top of your credit reports and quickly tell the reporting agencies about any issues you find so that they can correct them. Then, sign up for Credit Karma or any other free online credit score tracker… in fact, you may even find that your credit cards offer credit tracking right online. However you decide to do it, make a habit of checking your credit report once a month. Not only will it help you spot any major problems (such as fraudulent activity) but frequently checking your credit score will help you stay motivated when you see those numbers start trending upwards.
Find the Right Financing Option for YouOf course, you want to be sure that you're actually seeing a positive trajectory and not a negative one. One of the best ways to do this is through financing your new-to-you car with a local, responsible dealership – one that will work with you to find financing terms that will work with your budget so that you can meet your financial obligations on time, every month. If you're able to pay your bill in full and on-time month after month, you'll quickly see your credit history rebound from terrible to terrific. It's paramount that you not skip a bill or fall behind on your payments… it doesn't take much to make your credit score improve, but it also doesn't take much at all to make it head into a swift downward spiral, either.
Break Down Your Budget
How do you know if you'll be able to pay your bill on time every month? Well, first of all, you'll want to establish a budget that you must strictly abide by. Sit down and figure out all of your expenses and see where you can cut back your spending a little bit. You might be surprised at how much cash you're throwing away without even realizing it. Once you sort out exactly how much you need to survive and pay your bills each month, figure out what the remainder is that you can apply for a car loan. Don't forget that you are also going to need to cover additional automobile expenditures such as gas, insurance, and registration. It all adds up, but if you use your car and your car loan correctly, it can quickly add up a much-improved credit score
Use the Tools at Your Fingertips
When you have figured out how much you afford to spend each month, head to your trusted car dealer's website and check out some of the free financial tools that are sure to be found on most trustworthy dealer's sites. Specifically, you'll want to play around with the Shop by Payment calculator. This will allow you to see how much car you can actually afford and it will also give you insight into the rates and finance programs that you're eligible for. It's a good starting off point, although you should also feel welcome to drop by or call your local dealership with any questions you may have – after all, sometimes it's both helpful and reassuring to speak to a real, live financial professional. If you feel uncomfortable discussing your financing options with your dealership, consider it a sign that you may want to look for a car dealership that makes you feel more at home and at ease – after all, buying a car is a huge purchase and you want to feel as though the dealership has your back.
Let a Trusted Sales Team Guide Your Way
It's important to note that when you decide to fix your credit by buying a car, you'll want to find a dealership that offers more than just new cars – that would be prohibitive to those struggling to overcome not-so-great credit. No, you'll want to find a dealership that goes out of its way to help all of its customers to find a car that is just right for them, specifically, one that has an outstanding inventory of used cars and certified pre-owned cars. In fact, it's even better if you can find a dealership that offers a large selection of cars priced under $10,000 – perfect for those who want to watch their spending but who also know that buying a used car opens up the door to being able to commute to better job prospects. If you're serious about turning your credit score around, then why not shop your local, trusted car dealership and walk the used-car lot with a member of their friendly and trustworthy sales team? Find a sales team you enjoy working with – one where you can feel confident knowing that they'll never push you into buying more car than you can afford and that they can definitely help you narrow down your options to the cars that are best suited not just to your budget but also to your lifestyle.
Go Forth and Prosper
Finally, once you've got your keys in hand and you're driving your new-to-you car off the lot, don't forget that you got this car to turn your situation around. Stay motivated, stay savvy and stay on track to turn your credit history from down-in-the-dumps to tip-top shape.