Is It Worth It To Sell My Car And Buy A Hybrid?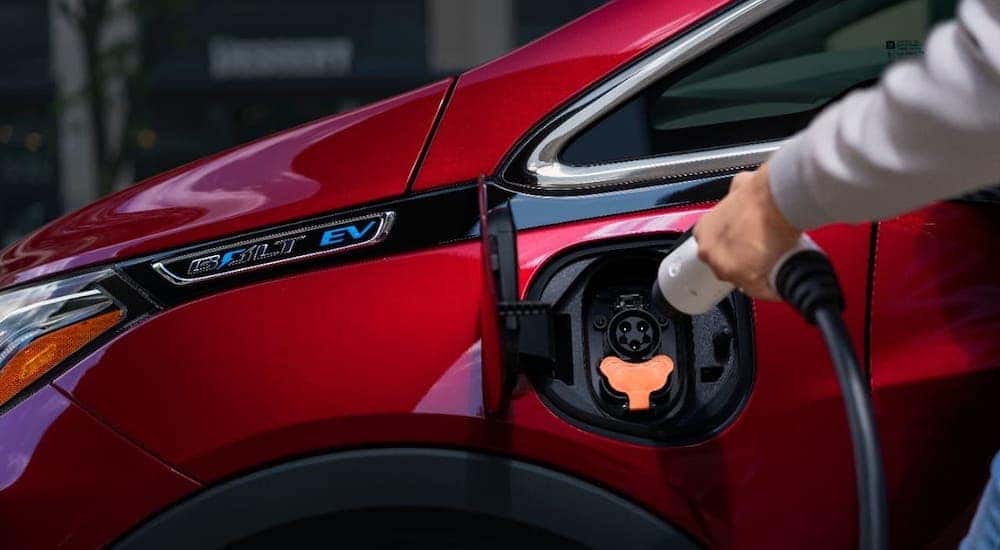 As gas prices continue to fluctuate and hybrid technology becomes more and more advanced, many drivers are making the switch over to hybrid or fully gas-free vehicles – and automakers have taken the hint, producing more and more efficient and affordable hybrid and electric models each year.
This might leave potential car buyers in a bit of a pickle: "Is it worth it," you may ask, "to sell my car and buy a hybrid?"
This can be a tricky decision, and requires a lot of pro-con consideration of the two options. Depending on how you use your car ad what you value in a vehicle, however, it may indeed be worth it to offload that gas guzzler and spring for an efficient hybrid model.
Gas Savings
Obviously, one of the most immediate benefits you'll see to trading in your gas engine for a hybrid is less money spent at the pump. While it's true that hybrid cars often do cost a few thousand dollars more than their standard competition, many – like the 2016 Chevy Volt – are designed to run on electric-only power only as long as possible before switching on the gas motor. The Volt, for instance, can travel up to 53 miles on its battery alone, meaning most drivers can get by on their daily commute without ever using a drop of gas. This means compound savings on gas – which will easily cover the extra cost of the vehicle in a few year's time.
Many hybrid electric cars can be programmed to charge during certain hours of the day, meaning you can charge your vehicle at off-peak electric rates. This can reduce your cost-per-mile from a few dollars to a few cents, literally overnight.
More and more hybrids are also utilizing regenerative braking technology which captures kinetic energy produced when the car is moving but the accelerator isn't being depressed, like braking or going downhill, and stores it for later use. This means you can power your battery just by driving – so much so that some models, like the new hybrid Chevy Malibu, don't even have a plug.
Won't I Lose Performance Power?
One of the most common issues quoted by those dubious of the value of a hybrid is that of performance. Many who have not driven a hybrid are under the misconception that hybrid vehicles are somehow lacking in power, or accelerate too slowly.
This, of course, is no longer the case. Just take a look at the 2016 Chevy Malibu hybrid, which boasts an impressive 182 horsepower with its hybrid system at full power, and can reach speeds up to 55 miles per hour on electric power alone. Plus, since an electric motor has none of the moving parts that need to churn up or wait for oil found on a gas engine, acceleration is instantaneous – once you hit the accelerator, the Malibu launches forward seamlessly. Clearly, not every hybrid is meant to be left in the dust.
These are some of the major things you should consider when you find yourself thinking about getting rid of that used beater and taking on an efficient new hybrid car. Plus, with the technology only improving each day, things are definitely looking up for the future of hybrid vehicles- so now might be the time to get yours.
---
2021 Update
Let Us Help You Find a Hybrid
There are many benefits to selling your car and buying a hybrid, and McCluskey Automotive is here to help you find your perfect used hybrid. Besides our extensive in-house offerings, we are able to search nationwide to find your perfect new ride. Let's look at some of the hybrid offerings that have hit the market in recent years and help you decide which hybrid model may be the perfect one for you.
The Toyota Prius
The first mass-produced hybrid is, of course, the Toyota Prius. Introduced in its native Japan in 1997, it began worldwide sales in 2000. Toyotas are known for their durability, and the Prius is no different. It is very common for Prius owners to keep their vehicles for over 15 years, which says a lot about the dependability of used Prii available for sale to you.
The fourth generation of Prius was introduced for the 2016 model year, and it got a bit of a redesign in 2018, including an all-wheel drive version. These newer Prii have a 1.8-liter 4-cylinder engine with an estimated gas mileage of up to 53 MPG city and 58 MPG highway. There have been quite a few varieties over the years, from the original sedan to a wagon and a smaller hatchback. At McCluskey Automotive, we can help you find the one that's right for you.
The Chevy Volt
When Chevrolet introduced the Volt for the 2011 model year, it had an extended range of up to 279 miles. Between 25 and 50 of those miles are fully electric before the hybrid motor kicks in. A five-door sedan, this spunky little hybrid was a fan favorite when it was first released. With a low-speed torque of 273 lb-ft, the Volt can go 0 to 60 in under nine seconds. Safety features on even the earliest Volts include Chevy's patented StabiliTrak advanced traction control and LED daytime running lamps. Along with its extensive use of high-speed steel, the Volt has top safety marks from the NHTSA.
The Chevy Malibu Hybrid
The Chevy Malibu debuted as a mid-size sedan back in 1964. It was produced for nearly two decades and made a comeback in the late '90s. It first came with a hybrid motor for the 2009 model year, which was revamped and brought back properly in 2016 before being discontinued in 2020. The 1.8-liter, 4-cylinder hybrid engine has an EPA-estimated MPG of 47 MPG in the city, 46 MPG on the highway, and 46 MPG combined.
The Chevy Impala Hybrid
The Impala was first introduced in 1958 and was Chevrolet's flagship passenger car and America's best-selling full-size sedan for many years. The tenth generation of the Impala got a redesign and a motor with eAssist in 2014. The 2.4-liter 4-cylinder motor has an estimated 24 MPG city, 35 MPG highway, and a combined 28 MPG. Like the Malibu, the Impala was discontinued in 2020 due to the country's shift in interest in crossovers and SUVs.
The Kia Niro
Speaking of crossovers and SUVs, the Kia Niro comes in both plug-in and full hybrid versions as of 2018, which means used versions are hitting the market at substantial discounts. Niros come with an 8-inch touchscreen for infotainment, fully compatible with Apple CarPlay or Android Auto, and full 54.4 cubic feet of storage space. The Niro hybrid has a host of available safety features, including forward, blind spot, and rear collision avoidance assist. With this hybrid, you can expect to see a gas mileage of up to 52 MPG city, 49 MPG highway, and 50 MPG combined. There is also a Plug-In version of this hybrid that will give you a range of 105 MPGe.
The Kia Sorento Hybrid
If you're looking for something a bit bigger, Kia's Sorento has more recently come in a hybrid model. At 18.5" larger than the Niro, it has an additional seat and over four more inches of rear-seat legroom. Exteriorly, it has more colors and a sunroof option. As the Sorrento has only been a hybrid since 2020, we will only just start seeing these models roll onto the used lots.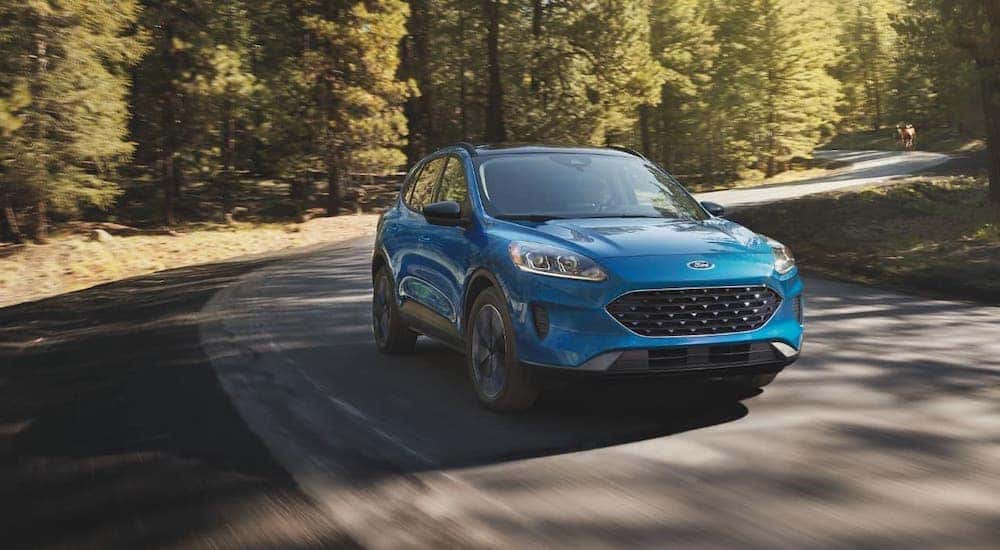 The Ford Escape Hybrid
The Ford Escape hybrid debuted in the 2005 model year. After a bit of a break, the Escape came back recently in both a plug-in and a full hybrid version. Both models have similar horsepower, just at or over 200. While the plug-in has slightly more power and fewer emissions, the full hybrid has a lower MSRP and the advantage of not needing to be plugged in. While its engines are competitive in power and pricing to its competitors, the Ford Escape Hybrid stands out from the crowd because of its second-row legroom and cargo space. It has all the power to zip around town while still fitting the kids and all their stuff and all the groceries to feed the kids.
Toyota Highlander Hybrid
Not content to stay in Prius/hatchback land, Toyota has also found success with the Highlander hybrid. While the five-seater Ford Escape captures more of a crossover vibe, the Toyota Highlander is a mid-size SUV with seating for eight. The Highlander engine is a 2.5-liter 4-cylinder hybrid. If you're looking for more room and more towing, you already know you want at least a mid-size SUV, so the Highlander is a worthy hybrid SUV choice.
The Ram 1500 Hybrid
The RAM 1500 has raised the bar for light-duty pickups thanks to its luxurious interior and car-like ride. It's even the second-highest selling vehicle in the country. And, as of 2018, it's come with a hybrid V6 motor and an option on their Hemi V8. That Hemi has 395 horsepower and 410 lb-ft of torque. Not bad for not all gas. With a 10% improvement in fuel efficiency, it's sure to make an impact on our environment. Plus, given the amount of new sales, you have an even better chance of finding your perfect used hybrid RAM 1500.
The Chevy Silverado 1500 Hybrid
2009 saw the introduction of a hybrid Silverado with the same powertrain and fuel-efficiency as its SUV sibling, the Tahoe. This full-size pickup that had an estimated 21 MPG city, 22 MPG highway, and 21 MPG combined fuel-economy rating, and the earliest hybrid Silverados still tow over 6,100 pounds. The Silverado saw a redesign for 2016 and a change to a 5.3-liter V8. EPA-estimated fuel-economy in Silverados with this engine is 18 MPG city, 24 MPG highway, and 20 MPG combined. This hybrid model was produced through 2018.
A Hybrid for Every Driver
Now, of course, this is not a complete list of all the used hybrid cars currently available in the sales pool. Whether you're looking for a compact car, a comfortable SUV, or a powerful full-size pickup, McCluskey Automotive will help you find your new-to-you fuel-efficient ride. We have a large inventory right here in Cincinnati and access to even more hybrids across the country.
When you're looking for a used hybrid car in Columbus, Indianapolis, Louisville, Lexington, or anywhere else in the region, we're here for you. Not only do we have excellent search tools, but our finance team can also work with you no matter what your credit history. When you're looking to sell your car and buy a hybrid, we'll offer the best value for your trade-in. You can even estimate your current car's worth on our website. Come see us as McCluskey Automotive today to find your match made in hybrid heaven.