The Wienermobile's Secret Weapon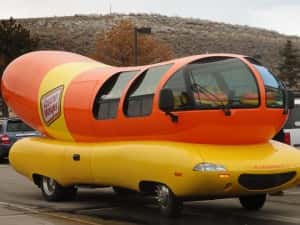 Have you seen the Oscar Mayer Wienermobile? The legendary hotdog vehicle has been prowling America's streets for years. Just the sight of it is enough to make most crave a hotdog, but Oscar Mayer isn't taking any chances. Let us here at McCluskey Chevrolet, your home for Used Cars in Cincinnati Ohio, tell you more.
Until recently, only those who have been a captain on the good ship Wienermobile have known about this secret weapon. A weapon so powerful it creates mayhem in its wake with one press of a button. When pressed, the button causes the Wienermobile to emit the beautiful scent of freshly cooked Oscay Mayer hotdogs! None of our Cincinnati Ohio Used Cars do this yet, but we're considering adding the feature!
The Wienermobile has been around since 1936, when it was created by Oscar Mayer's nephew, Carl Mayer, who had the genius idea to drive around in a big car shaped like a hotdog on a bun. People laughed at him then, but no one is laughing now (well, a few people are) because the idea was a giant success! Today, driving the wienermobile is a coveted position within the company.
The name they give to the drivers?
Hotdoggers!