Seven Used Cars That Should Be Atop Your List of Used Targets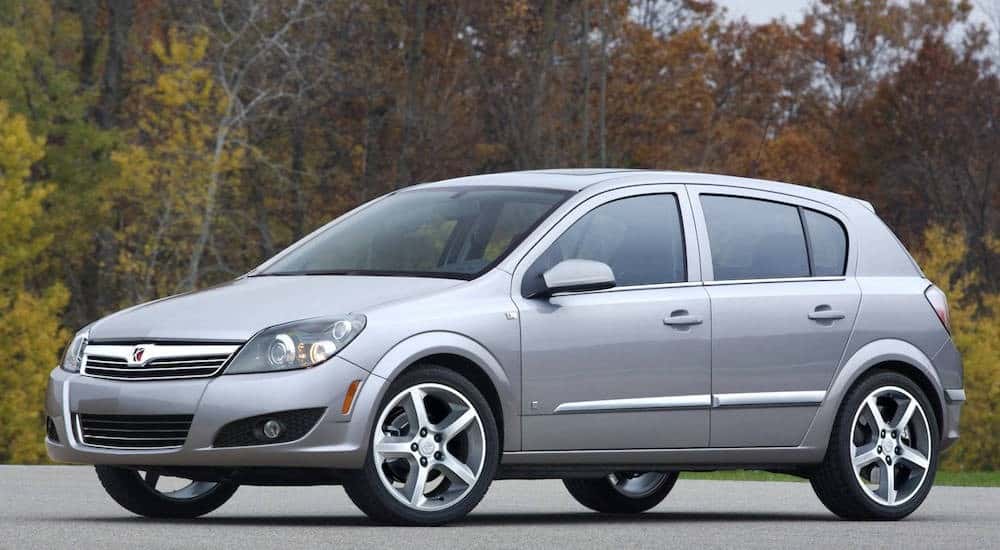 While it might sound like an oxymoron, the vast amount of used car options currently on the market can be considered a detriment to prospective buyers. You're presumably questioning reliability, and it can be tough to choose between the hundreds of choices. How do you know you're selecting the best possible option, and how can you be certain that the vehicle will last you for several years?
Well, we're here to help. Below, you'll find a list of seven specific used cars that you should put on your wish list. That way, when it's time to start visiting used car dealers, you'll already know what model or brand you have in mind.
2007 Saab 9-3 Wagon
Drivers might not necessarily expect safety from a used vehicle, as many of the applicable functions tend to fail after several years on the road. However, the 2007 Saab 9-3 Wagon has continued to protect. The model was named an Insurance Institute for Highway Safety Top Safety Pick back when it was released, and those lauded features should still be performing to the best of their ability today.
The vehicle also delivers a surprising amount of power via the turbocharged engine, and the sporty design only helps emphasize those capabilities. The exterior of the vehicle is certainly eye-catching, and the interior is just as opulent. Best of all, the vehicle has been praised for its reliability, so you can surely depend on the vehicle for several years. Coming in at a bit more than $4,500, this is one of the best used cars you could possibly pursue.
2008 Saturn Astra
This oddly-shaped hatchback might not necessarily be your cup of tea, but there's no denying that the vehicle has proven itself a reliable and inexpensive used option. The sleek exterior is as stylish as it is aerodynamic, boosting the relatively underwhelming power specs. Meanwhile, the interior includes an array of driver-friendly amenities, making for a much more bearable commute.
Unfortunately, the vehicle's reliability hasn't been praised by critics. However, considering this model year is still less than a decade old, you should expect to squeeze several more years out of this ride. For those who are seeking an inexpensive (the vehicle generally sells for just over $4,000) commuter that won't guzzle gas, the 2008 Saturn Astra is a logical choice.
2007 Dodge Caravan
We understand if you don't want to drive around in a nearly 10-year-old minivan, but that doesn't mean the model still isn't a solid used vehicle. In fact, it provides owners with a surprisingly smooth driving experience, and drivers will also be impressed by the vehicle's handling and control.
Some pundits have criticized the vehicle's "low-quality materials," and these features predictably fail after several years. Furthermore, many drivers have found that the van and the brand don't promise the best reliability.
2007 Kia Rio5
This hatchback doesn't necessarily excel when it comes to any one feature or capability, but on the flip side, these attributes also don't disappoint. Kia seemingly did an admirable job assuring that every individual aspect of their vehicle was up to par, although that ultimately meant that their product wasn't all that flashy.
The safety features, led by the six standard airbags, have proven trustworthy, and the solid fuel efficiency specs means drivers can save some additional money at the gas pump (although you should expect that the listed specs have declined over the years). The cabin is made of sturdy, long-lasting materials, and drivers can expect to enjoy one of the smoothest rides in the entire class. Perhaps most importantly, the 2007 Kia Rio5 has demonstrated itself one of the most reliable hatchbacks on the market, thus promising a buyer that their used vehicle will last them for at least several years.
2008 Chevy Aveo
This tenured model will surprise owners in several ways. For starters, the abundance of interior room is rather surprising, especially when you figure that the vehicle is classified as a subcompact. The interior materials are surprisingly elegant and durable for such an inexpensive vehicle. Best of all, a used version of the 2008 Chevy Aveo shouldn't cost you an arm and a leg, and the adequate reliability means you shouldn't run into any major issues.
On the flip side, if you're seeking power, the Aveo might not necessarily be the best option. Even in its heyday, the subcompact was only capable of cranking out underwhelming power specs. To only add to the disappointment, the low-power engine isn't even that efficient.
2007 Saturn Ion
We tried to vary out the brands during this post, but we couldn't ignore the potential of a used 2007 Saturn Ion. There are a variety of reasons why this vehicle should be atop a customer's list, not the least of which is the car's performance. For such a small vehicle, the Ion is capable of pumping out a surprising amount of power, allowing drivers to keep up with other cars when traveling at high speeds. Acceleration is also rather impressive, although some pundits weren't thrilled with the overall driving experience (including handling).
Meanwhile, the abundance of cargo room is an appreciated feature, especially if you're going to be relying on your used vehicle as a road tripper. While the interior amenities leave a bit to be desired, the unique body panel composition means the exterior should be devoid of any rust.
2007 Kia Spectra
Similar to Saturn, we had to mention this used option, despite the fact that the brand has already appeared on this list. After all, customers are unlikely to find such a stylish sedan for such an affordable price. The entire vehicle, inside and out, is adorned in clever and opulent features, and you'll probably surprise many of your friends when you mention that the vehicle is approaching ten years old. Engine power is relatively average, although that shouldn't be enough to dissuade you from pursuing this car.
Most importantly, the vehicle is reliable, lasting drivers several years without many issues. This could partly be attributed to the abundance of safety functions, given that drivers are better able to avoid any crashes
---
2020 Update: Seven More Used Cars to Watch For


2016 Toyota Prius
The Toyota Prius has long been one of the most popular hybrid cars on the road, and is one of our favorite picks when we have a customer looking for a used hybrid. Hybrid and electric vehicles often lose their value faster than conventional vehicles, since the technology that runs them is being improved all the time. That might be bad news for new-car buyers, but it's great news for anyone looking at used models. With terrific technology and luxury features inside, a sleek design and great safety features outside, and a surprisingly powerful hybrid engine, the Prius is definitely one to watch for.
The fourth-generation for the Toyota Prius kicked off in 2016, which means these models and those from the couple years after it has the latest features. You can find them just coming off a lease, making for a great choice for a vehicle in excellent condition. The light-weight design and improved batteries of the fourth generation mean that this is going to be one of the best, most efficient hybrids on the market.
2018 Chevy Malibu
One of the most popular midsize cars on the road, for decades, has been the Chevy Malibu, and the most recent models are more impressive than ever before. The Malibu is the classic American midsize sedan and has pretty much everything you're looking for all packed into the ideal design. There have been numerous trims available on the latest models, with several different engines to choose from, so you'll see a lot of different options out there when looking at used Malibu models.
The latest generation for the Chevy Malibu kicked off in 2016, and any model from the last few years will have excellent features. A hybrid model has been available throughout the ninth generation, so you can find 2016 and later models with a hybrid engine. Although the hybrid has been discontinued for 2020, if you're looking at used options, then there should still be Malibu hybrids to choose from.
2017 BMW i3
A lot of people might not think of a BMW when looking for a used car, but choosing a used luxury vehicle is actually a great way to get an amazing car with excellent features without breaking the bank. The BMW i3 series is something special: an electric luxury car that will save you money on gas while also giving you the features and technology that you would expect from BMW. The i3 has been one of the most popular electric vehicles in the world, which means there are a good number of used models out there for you to choose from, and the initial depreciation on them has made them much more affordable than you might expect.
First introduced for the model year 2014, you really can't go wrong with any year, though we have a particular fondness for 2017 and later models. In 2017, BMW introduced a more efficient engine, extending the range of the i3 on a single charge. The size of the range-extending optional fuel tank was also increased for 2017, so you can go a lot further with a model from 2017 compared to those that came before it. If you can find one of these newly off a lease, then you'll have yourself a fantastic electric or hybrid luxury car.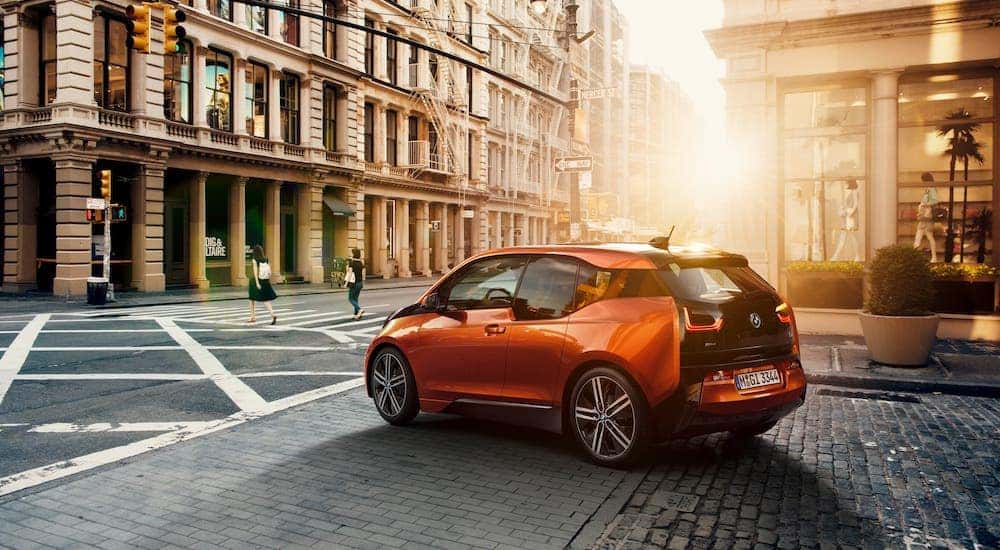 2017 Chevy Volt
If you're looking for a more affordable hybrid option, then the Chevy Volt is a fantastic choice that offers great performance without the expense of a luxury car like a BMW. The Volt gives you the spaciousness and functionality of a four-door sedan, but with a hybrid engine that offers far greater fuel economy than most cars out there. The all-electric range on the second generation of the Volt is excellent and makes it perfect for running errands without ever touching your gas tank. But with the hybrid design, you can also use the Volt for longer trips.
The second generation for the Chevy Volt kicked off in 2016, but we like to skip the first year of a generation whenever possible. 2016 models are great, but we like the 2017 just a bit more – though either way you'll get an excellent hybrid vehicle for whatever you need. Although production of the Chevy Volt has come to an end, used models are quite popular and can be pretty easy to find, offering a fantastic option for terrific fuel economy at a very reasonable price.
2018 Ford Fusion
This is one of our favorite options for customers looking for a midsize sedan, which is an incredibly popular size due to the great combination of sporty design and performance. The Ford Fusion has been very successful for years, and that means there are a lot of models on the used market for you to choose from. With powerful engines to choose from, including hybrid models, you can find a Fusion that has just what you're looking for, no matter what you need. A wide range of interior features and safety systems have been available, so be sure to look at the optional specs and packages that were chosen for any used model you find.
Although the second generation of the Ford Fusion kicked off in 2013, we like somewhat newer models whenever possible. We'll admit that a 2018 model might be a bit hard to find on the used market, but more of these will become available in the near-future as leases come to an end. There was an update for 2017, with a facelift and new packages available, including the high-performance Sport trim. So if you can't find a 2018 Ford Fusion, we recommend looking for a 2017 model instead and keep an eye out for the luxury-oriented Platinum trim, the powerful Sport trim, or a hybrid model.
2018 Chevy Cruze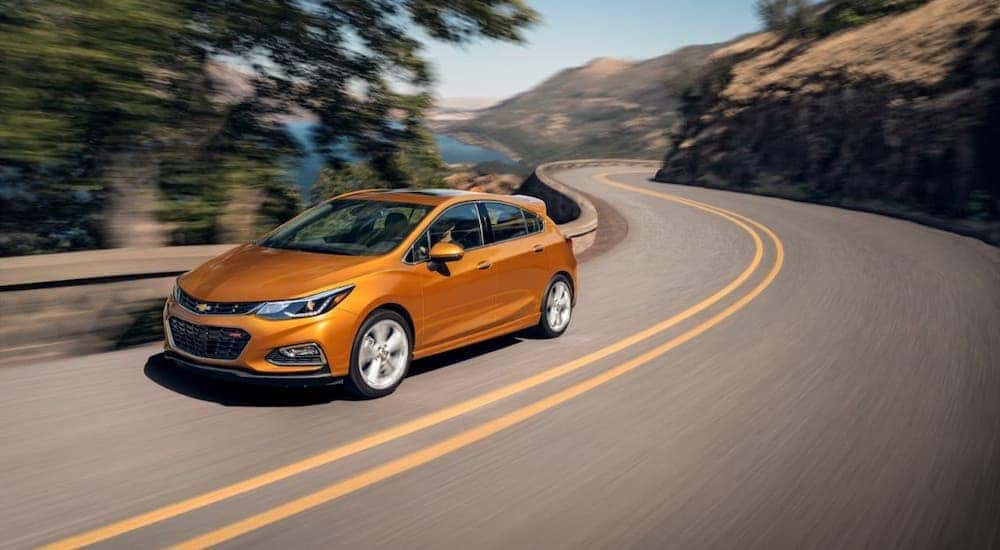 If something a little smaller is right for you, then consider the Chevy Cruze, a compact sedan that is surprisingly sporty with a couple different configurations available. The Cruze has been around for a while, but we're particularly fond of this latest batch of vehicles that are part of the second generation, which kicked off in 2016 here in the US. There are a few different trims available for the Cruze, which means you can find a lot of different options and features in various models.
Perhaps most exciting, however, is the fact that the Cruze is available as either a standard sedan or a hatchback. You'll find both body types out there as used models, so you can choose whichever one is right for you. Although models from 2016 and 2017 are great, we think a 2018 is the best choice if you want the best features possible with a used model.
2015 Lexus GS
The Lexus GS is a luxury sedan that has been available in the US since the 1990s and has been quite popular since its introduction. This is another one of our favorite options if you want to get a luxury vehicle on a budget and a great choice if you're just looking for straight luxury, and you're not interested in hybrid or electric engines. The Lexus GS entered its fourth generation in 2011, and models from 2015 really offer everything that you would expect from a modern luxury vehicle. Although the Lexus GS was revised for 2016, we still like 2015 models and feel they have a lot to offer.
Not sure which used car is right for you? Come visit us at McCluskey Auto in Cincinnati, OH, today, and we'll help you find the perfect vehicle.