Meet the Newest Used Chevy Silverado Models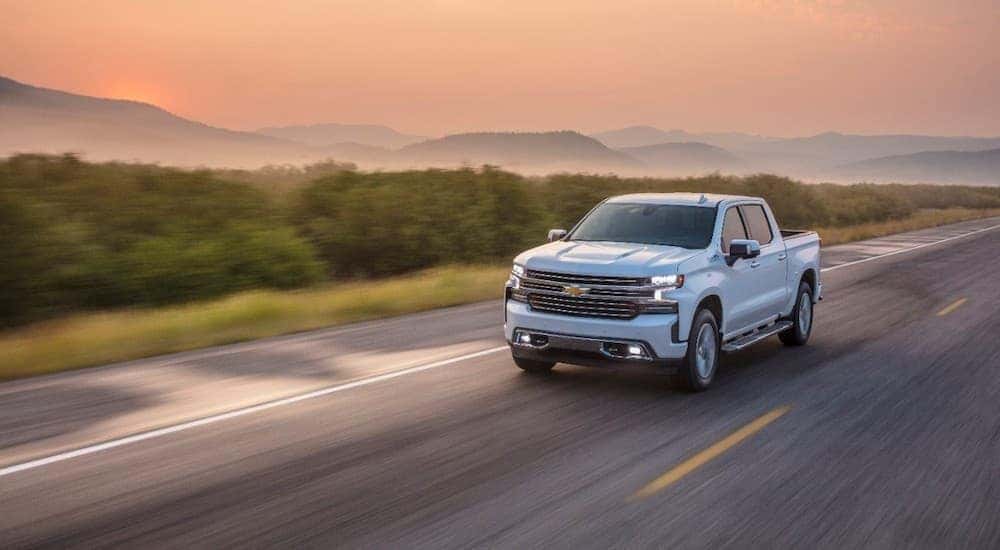 While some folks swear that buying a used vehicle is the best way to go, others are leery of making such a purchase. Some are afraid of getting stuck with a lemon, and others seem to think that you can't find a good used vehicle. Our experts here at McCluskey Auto are here to break those stereotypes. Nowadays, you can find great used vehicles loaded with the most advanced features on the market. Just look at the 3rd and 4th generations of used Chevy Silverado trucks. These beasts are great to buy as used vehicles because you get all the good features and power for a fraction of the price. If you are interested in learning more about used Chevy Silverados, specifically the 3rd vs 4th generation, keep reading!
First of all, the 3rd and 4th generations of Chevy Silverados are the newest used models you can find for this make. The 3rd generation kicked off in 2014 and came to an end in 2018. The 4th generation started in 2019, but you still might be able to find a few models floating around in the used truck market. So, without further ado, let's break out the comparisons to see the main difference between these two generations.
Power and Performance
Engine offerings are plentiful for any used Chevy Silverado, and tweaks are continually being made by engineers to improve the efficiency of the powertrains further. Let's look at the 3rd generation first. From 2014 until 2018, a 4.3-liter EcoTec3 V6 engine was rumbling under the hood. This motor produced 285 hp and 305 lb-ft of torque. A more powerful option during this time frame was the 6.2-liter EcoTec3 V8 that pushed out 420 hp and 460 lb-ft of torque. For the entire generation span (2014-2019), the 5.3-liter EcoTec3 V8 was also offered. This powertrain made 355 hp 383 lb-ft of torque. Lastly, the 6.2-liter EcoTec3 V8 engine with eAssist also generated 355 hp 383 lb-ft of torque. It is only available on models from 2016 to 2018.
The fourth-generation came in at the end of 2019. Many of the engine offerings remained the same, with a few other options added to the list. First, the 4.3-liter EcoTec3 V6 engine remained the same. Other powertrains that were left unchanged included the 5.3-liter EcoTec3 V8 and the 6.2-liter EcoTec3 V8. The newest engine offerings include a turbocharged 2.7-liter I-4 engine (310 hp and 348 lb-ft of torque) and a 3.0-liter Duramax I-6 (277 hp and 460 lb-ft of torque).
Breaking Down the Generations
It is useful to break down the changes by year to get a clearer look at the Chevy Silverado's development throughout the 3rd and 4th generations. So we are going to look at the unique features of each year to give you a thorough understanding of each generation.
The 3rd Generation
2014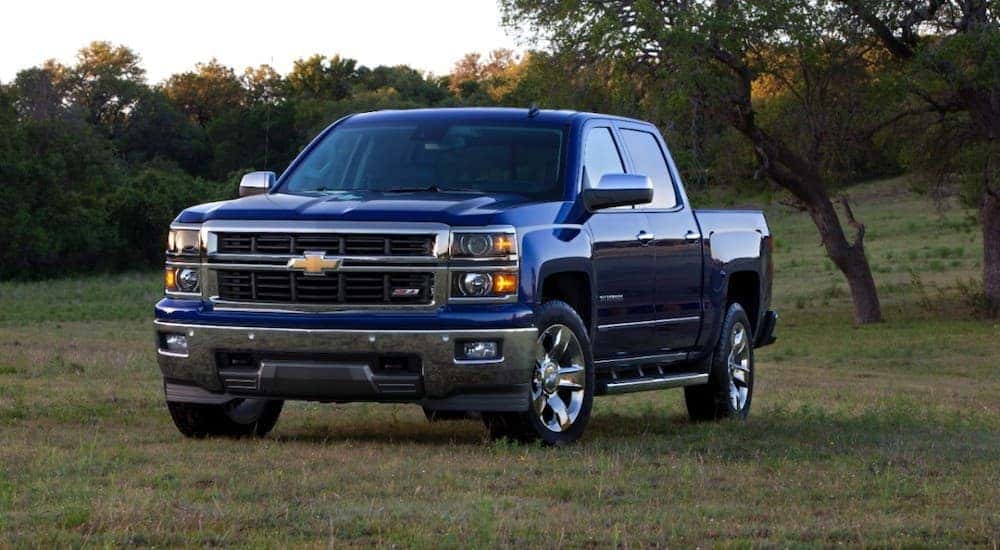 At the beginning of the 3rd generation, the 2014 Chevy Silverado was well-equipped and stayed that way until now. Offered in five main trims and two sub-trims, it's easy to find one that is suitable for your needs.
The Work Truck is divided into two sub-trims known as the 1WT and 2WT. Riding on 17-inch steel wheels, the 1WT is the most economical. It comes with air conditioning, power accessories, vinyl upholstery, rubber floors. It's easy to clean and includes cruise control, a 4-speaker stereo, and a USB port. Taking a half-step up to the 2WT sub-trims upgrades the wheels to stainless-steel and adds other cosmetics updates such as chrome exterior accents. Advanced tech add-ons include the MyLink system displayed on a 4-inch monitor, OnStar telematics, Bluetooth connectivity, keyless entry, voice-commands, a CD player, and multiple radio options like satellite, HD, and Pandora.
Other trims include the LT, LTZ, High Country, and Z71. The High Country is the cream-of-the-crop. It adds luxury features such as a Bose stereo system, heated/ventilated front seats that are adjustable ten ways, a rearview camera, front/rear parking sensors, and larger 20-inch wheels. The Z71 is the off-roading version that comes with hill-descent control, skid plates, recovery hooks, shock absorbers, and more.
2015
The second round of 3rd generation Chevy Silverados remained largely unchanged. The same trims and features carry over throughout this production year.
2016
The next production year also remained mostly unchanged, aside from a few technology tweaks. For example, all 2016 Chevy Silverado models came with xenon headlamps and LED daytime running lights for optimized visibility. A navigation system, wireless phone charger, and spray-in bed liner were all added to the top-tier High country model.
2017
In 2017, a few things changed. The lineup of trims was updated to WorkTruck, LS, Custom, LT, LTZ, High Country, and Z71. The WorkTruck became the 1WT, and the LS became the 2WT. The new Custom trim is very similar to the LS, but it adds 20-inch alloy wheels, tow hooks in the front, and different exterior accents. The premium High Country model got side step rails in chrome and the Enhanced Driver Alert package, which included automatic high beams, emergency braking, forward collision alert, and lane-departure warning. This is the year when safety features began to take the spotlight.
2018
This was a big year for music lovers! In 2018, standard features were upgraded to include the Chevrolet MyLink infotainment interface with a larger 7-inch touchscreen. This system operated with Bluetooth, Apple CarPlay, and Android Auto. The stereo system was also upgraded to six speakers instead of four. Everything else on the higher trims remained unchanged.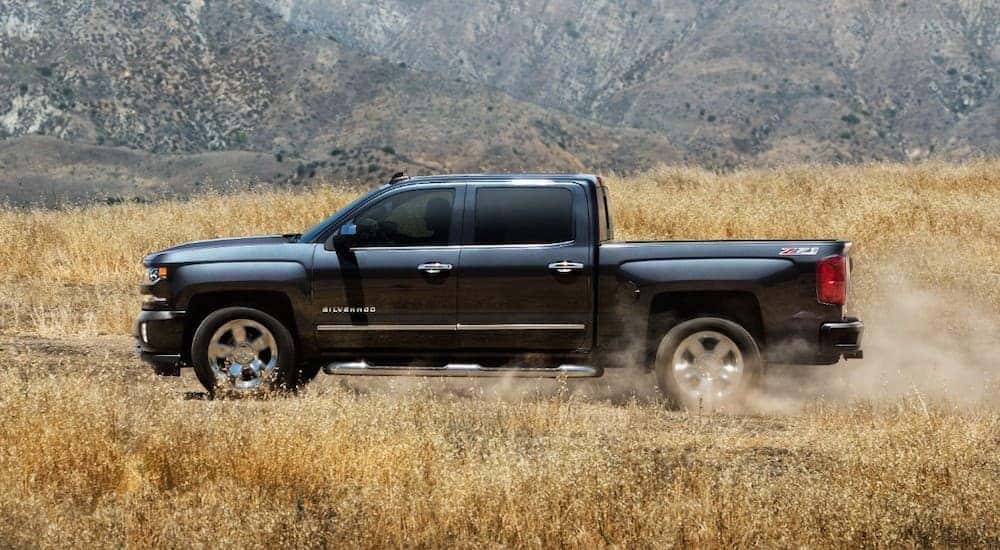 The Fourth Generation
2019
For 2019, things changed once again with the Chevy Silverado trims. Kicking off the 4th generation, the new lineup included the WorkTruck, Custom, Custom Trail Boss, LT, RST, LT Trail Boss, LTZ, and High Country. The LS and Z71 were scrapped and replaced by others. The Custom Trail Boss was similar to the Custom, but it came with black wheels, a trailering package, and the off-road suspension of the former Z71 trim. The new RST was a mid-level model that came with convenient features like remote start technology, a power-release tailgate, and USB ports in the back of the cabin. The LT Trail Boss was similar to the Custom Trail Boss, but it came with a more powerful engine.
2020
With the 4th generation in full-swing, not many changes have been made. If you happen to find a used Chevy Silverado from 2020, we recommend snatching it up. It will not remain on the market for very long. Its advanced features, low mileage, and reasonable price tag all make this model a hot commodity on the used truck market.
McCluskey Auto Used Chevy Silverado Trucks
Now that you have learned more about the 3rd and 4th generations of used Chevy Silverados, you may want to buy one. So start your search for a dealership that can get you into something you love. Oh wait, your search ends here at McCluskey Auto in Cincinnati, OH! Our dealership is your one-stop-shop for all things Chevy. That includes used models. Whether you are looking for a work truck or a family-friendly model that is perfect for camping trips, we've got them all and everything in-between. Our experts are ready to help you find your dream ride. Give us a call or stop by our dealership to take one of our vehicles out for a spin today!