McCluskey Automotive Makes Selling Your Car Easy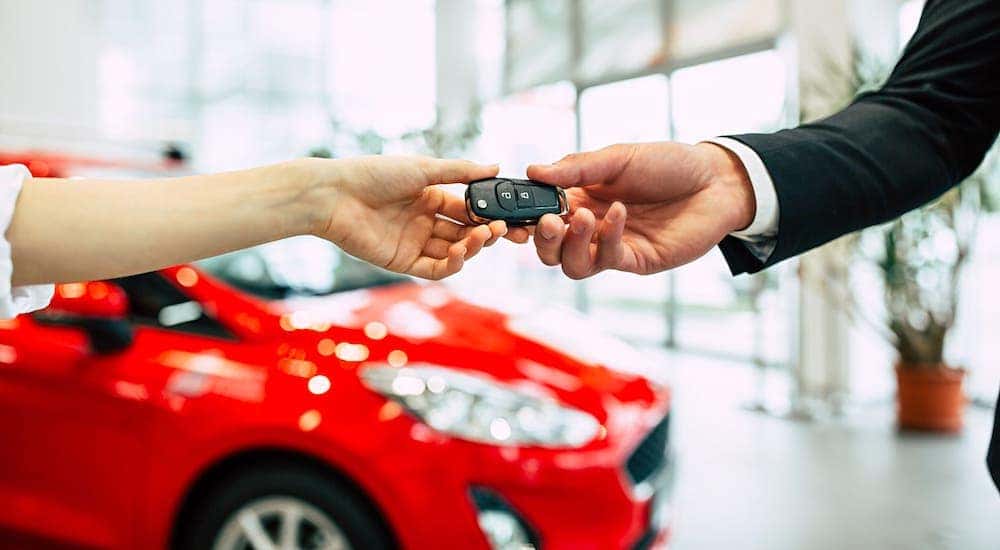 Good deals are hard to find when you decide to sell your car, especially deals that don't involve runaround, but at McCluskey Automotive, selling your car is as easy and straightforward as it gets. The main benefit of selling a car to McCluskey Automotive isn't just getting a fair deal on your vehicle, but getting that deal quickly and with little effort. Here at McCluskey Automotive, we have several different methods you can use to get an actionable quote for your car and get cash in your hands fast. The benefits of selling your car to McCluskey Automotive rather than to some other dealer aren't just timeliness and value, but convenience as well.
Selling Process
Getting a great sale price for your vehicle at McCluskey can be done in person, online, or even over the phone. These different ways of getting in contact allow just about anyone with a vehicle they are looking to sell to get in touch with us rapidly and easily, so we can make the experience as to the point and worthwhile as possible. Other dealers might have you waiting for some time on the phone or in the showroom, but with us, you can start the process from the comfort of your own home.
There are three main ways of getting an offer for your vehicle at McCluskey Automotive, all of which offer distinct benefits.
Getting an in-person appraisal scheduled is the most concrete method and involves the vehicle being looked over at our facility before an offer is made. These appointments can be scheduled over the phone, online, or in person at the showroom. Once the vehicle is looked over by a member of our team, we can quickly determine a fair value for it and move forward with the deal without delay if the offer is accepted. While this is a great way to sell to us and get money in your pocket now, we also offer other evaluation methods if you want to get an estimate for how much you might get for your vehicle.
The Edmunds MyAppraise Trade-In Tool on our website allows you to get an appraisal online, with a copy emailed to you directly. This tool is great for knowing the general value of your vehicle quickly and easily, without having to go anywhere or even have photos of the vehicle. If you are simply testing the waters when it comes to selling your car or truck, this tool will quickly give you a number to consider for your future plans.
The third and final method of getting your vehicle appraised is by using the Kelly Blue Book Instant Cash Offer tool on our website. By inputting specific details and information about your vehicle into the Kelley Blue Book tool, it can give you a very competitive cash offer instantly. This offer is valid for seven days from the date it was given. After you have the offer, bring it and your car into McCluskey so the offer can be verified. Once it is verified using the same questions you answered at home, you will get cash or trade-in credit.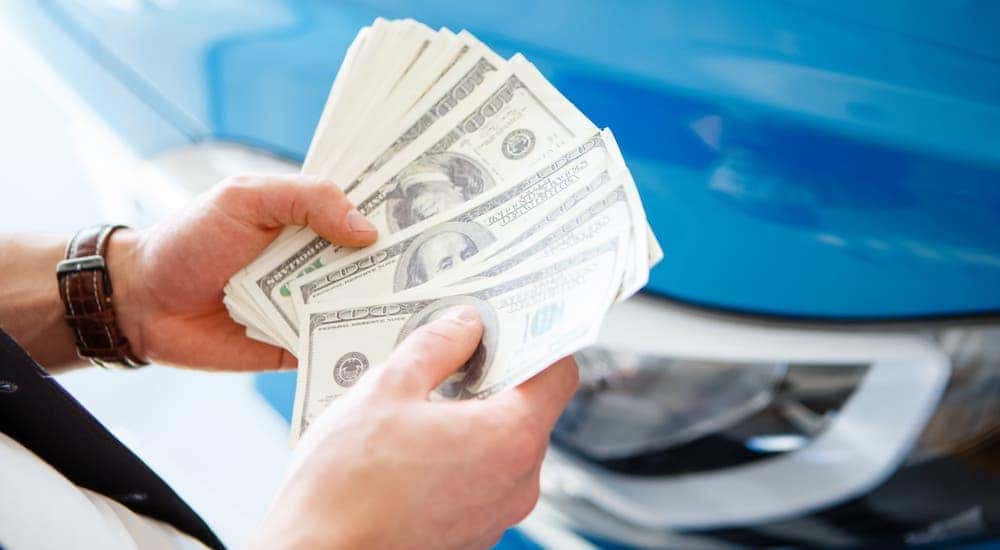 Sell to McCluskey Automotive
The reason we can make offers quickly here at McCluskey Automotive is because we are a very high volume dealership, accustomed to having an expansive and diverse inventory of vehicles. Located in the bustling city of Cincinnati, we buy hundreds of used cars week after week, and we specialize in getting these vehicles to their next happy owner. We stock all kinds of cars and trucks from all kinds of makes and models. Everything from compact hatchbacks for zipping around town to large pickups for getting the tough jobs done can be found on our lots with a wide range of prices to suit a wide range of buyers.
Buy Without Breaking the Bank
Once you have gotten a great offer for your current vehicle, consider taking a look at some of the other vehicles in our inventory. Getting a new or more recent used vehicle can be expensive, but having a trade-in can really help bring down the cost for you significantly. Whether you are looking for a crossover, a truck, a car, or a compact, we have a lot of surprisingly affordable options available for you.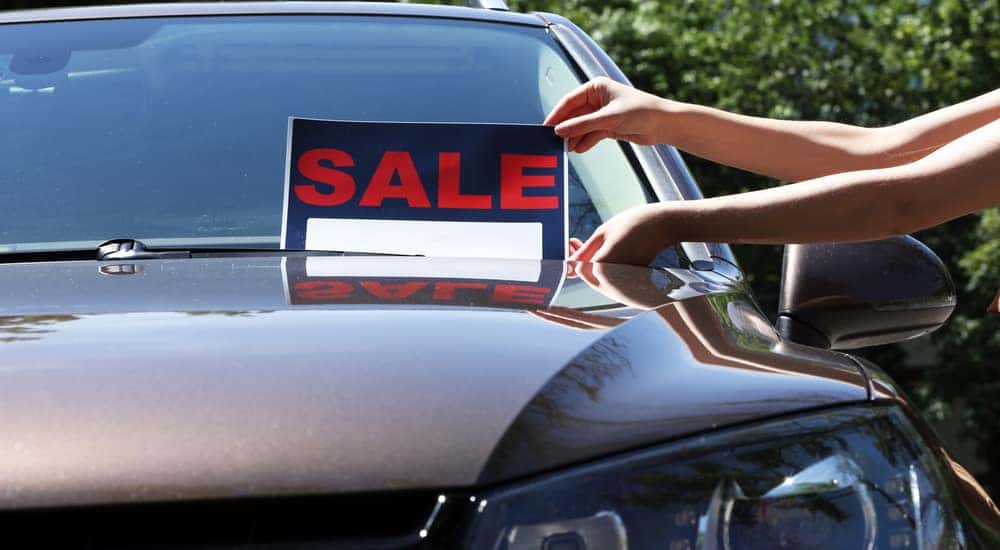 Some Examples of Our Inventory
SUVs, both large and small, are among the most popular passenger vehicles on the road today and offer smooth ease of use and a sleek look. The Trax is the most economical of them all and includes modern looks and surprising agility in a compact package. The Equinox is also a fan favorite in the small SUV category, meeting the needs of many while still providing good fuel economy and space. SUVs like the Tahoe and Suburban can take a family anywhere, in safety and comfort, with plenty of space to store all of your family's stuff as well. Not a fan of Chevy? Don't worry; we stock plenty of other used SUV models from other popular brands too.
If you need more power and size, you should take a look at our wide array of truck models. When a tough job needs getting done, a truck is often the right tool for the job. Pickups like the Colorado and Silverado make heavy work seem light and can be tailored to a huge range of tasks and budgets. You will also find plenty of other trucks like the Ram 1500, Ford F-150, or GMC Sierra on our lot. If you need to get the job done, we can help you find the perfect truck at the right price that will only be made better once you trade-in your old vehicle.
If you don't want something big, then peruse our wide selection of sedans. Stately and surprisingly uncommon, these cars are just as much about style as they are substance. Both the Impala and Malibu have a significant legacy, and their current incarnations are about as smooth, efficient, and practical as they will ever get. The Malibu is a surprisingly good looking mid-sized car, offering technologies and luxuries once only found on luxury cars and full-size sedans like the larger Impala. Both of these vehicles are packed with driver-assist features and convenience technologies that make cruising a breeze and allow one to finish a road trip rested instead of tired. Aside from these popular models, you can find tons of other gas, hybrid, and even electric sedans on our lot.
There Are Plenty of Benefits of Selling Your Car to McCluskey Automotive
Selling your car to McCluskey Automotive is easy, fast, and straightforward. There are several methods for you to get a quote and complete the transaction painlessly, some of which don't even require you to leave home to get the ball rolling. So, selling is quick and easy with us. Plus, if you're in the market to get something new to replace the car you're selling, the trade-in value will go a long way to ensuring you leave with the vehicle you want most from our huge selection. If you've been thinking of selling your car, you should definitely sell it at McCluskey Automotive.