Great Hotels in Cincinnati to Rest Your Head and Relax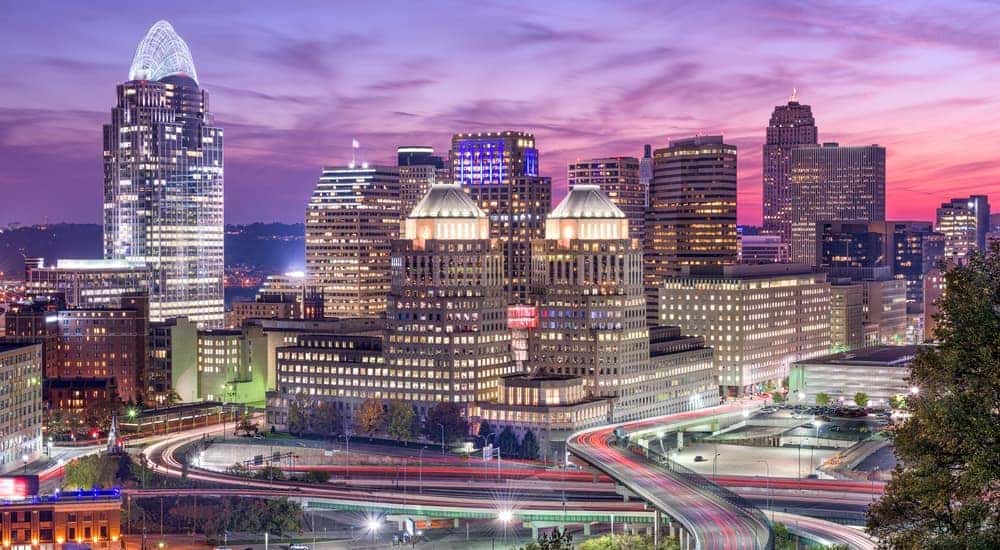 You may be passing through on business, visiting family for the holidays, or simply looking for a weekend away in the city. Whatever the reason, the necessity is the same — you need a place to stay! Fortunately, there are plenty of options for hotels in Cincinnati, OH for every occasion.
At McCluskey Auto, we believe in lower prices and lower rates. We're proud to be local and encourage everyone to explore our fine city. While we would love to help you have a fantastic experience at one of our used car dealerships, we would also love it if your experience in Cincinnati was a good one.
On that note, we've compiled a list of some of the best hotels our city has to offer. They aren't ranked in any particular fashion, but they all deserve to be mentioned.
21c Museum Hotel Cincinnati
For consecutive years, the 21c Museum Hotel brand's Cincinnati location has been winning awards. Recently, it was again named in the Top 20 (#3) Hotels in USA/MIDWEST by Condé Nast Traveler.
The whole concept of this hotel is quite unique. It's located directly in downtown Cincinnati, close to both the Contemporary Arts Center and the Aronoff Center for the Arts. If that wasn't already enough, there's an actual contemporary art museum located within the hotel itself. The museum is open all year and is free to the public.
There are 156 rooms, with layouts ranging from single kings to double queens to luxury suites.
Best Western Premier Mariemont Inn
At first glance, you might feel as if you just finished up a day on the Swiss Alps or as if you've walked into a Bavarian lodge. This boutique hotel looks like it came out of the old world, but once you get inside, you'll find there are plenty of modern amenities.
Having a more earthy, dark wood theme, the Mariemont Inn is located slightly away (9 miles) from downtown. Still, this newly-renovated hotel is close enough to all the attractions not to make travel a hassle. And, the upscale experience plus unique lodgings are more than worth the drive. Additionally, the hotel also has plenty of amenities, including a fitness center, an onsite restaurant, and a business center.
Symphony Hotel
Located next to the Cincinnati Music Hall, the Symphony Hotel is a great choice for both art and music lovers. One great benefit of staying here is being able to enjoy a five-course meal before heading to a show at the Music Hall.
Additionally, you can also spend time at their Lounge and Jazz Bar. That is when you're not relaxing in the luxurious B&B rooms that are available. There is a daily continental breakfast for all hotel guests.
Hilton Cincinnati Netherland Plaza
The Hilton Cincinnati Netherland Plaza is a great choice for those looking for both a luxurious stay and a great location. Just minutes away from this hotel are the Great American Ball Park and the Paul Brown Stadium, not too mention plenty of options for shopping and restaurants. The Cincinnati Bell Connector Streetcar stop is located just two blocks away.
For six of the last seven years, this National Historic Landmark has been named Hilton's #1 USA Food and Beverage hotel. You can enjoy the 1930s French Art Deco design and upscale dining at the Orchids at Palm Court.
The Renaissance Cincinnati
Also located in a great downtown location, the Renaissance Cincinnati (part of the Marriott family) is both stylish and modern. Originally built in 1901, this hotel features spacious and beautiful event-hosting areas and, of course, comfortable guest rooms.
You can enjoy dining at their onsite restaurant, D. Burnham's, which has availability for breakfast, lunch, and dinner. You can also relax with a book and a drink in the unique Library Lounge.
Hotel Covington Cincinnati Riverfront
Just across the Ohio River, you'll find the Hotel Covington Cincinnati Riverfront. If you know the area, you know that this is actually Covington, Kentucky (not Cincinnati), but it's still well within the range of all popular Cincinnati attractions. Hence, its inclusion!
Hotel Covington is located right along the Cincinnati riverfront. It's a building with an old soul and a modern style, which aims to please. You can enjoy locally-sourced dishes and local craft beers at Coppin's Restaurant & Bar. It is also a great option for holding a group event or wedding. And, all of the rooms are elegant and spacious.
Hyatt Regency Cincinnati
Billed as "just steps from the Duke Energy Convention Center" and "the closest hotel to Paul Brown Stadium" means this Hyatt Regency is in a really great downtown location. It's not always the best idea to simply book a room because of location, but when it's also known to be a great hotel brand, then that's the best of both worlds.
Rooms are large and range all the way up to suites, and some rooms have great views of the river. You can enjoy dining at the onsite restaurant, Red Roost Tavern, and drinks at The Bar at Red Roost Tavern. If you're in a hurry, make sure to grab something fresh from The Market on your way out.
Additionally, there is ample space for large events, like business meetings or weddings.
The Summit, A Dolce Hotel
The Summit is located outside the city, but if you'll be in the area then it's definitely worth looking into. Sleek and stylish, this hotel is a great place for those visiting for business, conventions, or other events. Since it is outside the city, there is a free shuttle provided to get you to those local attractions.
The rooms are large and decorated with a contemporary feel. A family of four could fit comfortably in most of the rooms. You can enjoy a cocktail in a casual atmosphere at the Overlook Kitchen + Bar or, if you prefer, the Market Dining restaurant can provide made-to-order meals.
AC Hotel Cincinnati at the Banks
Located on the banks of the Ohio River, the AC Hotel Cincinnati is a great spot to catch a ballgame as the Great American Ball Park is literally next door. The rooftop bar (Upper Deck) provides great views of the surrounding area, including the river, nearby parks, and the city itself.
In typical Marriott fashion, the rooms are well-appointed, with everything you would need and ample space to relax. A unique option in some of the rooms is having a balcony to enjoy the great views.
Enjoy drinks at the Upper Deck or AC Lounge and breakfast in the AC Kitchen. Additionally, there are plenty of other food and drink options within walking distance.
Weller Haus Bed, Breakfast & Event Center
The Weller Haus is the second lodging located across the river from Cincinnati, although this one is located in Bellevue, Kentucky. We included this location because of its unique look and atmosphere.
This Bed & Breakfast features two houses with five different rooms. Each room is very different, but they're all equally inviting and look quite pleasant. The Guest Kitchen is made available 24/7 for all guests throughout their stay. There, you can find drinks, snacks, homemade goodies, fresh fruit, and more.
Also, if you're looking for a corporate event or location for a special occasion, then this is a perfect venue.