Entrepreneurs: What to Look for in a Used Truck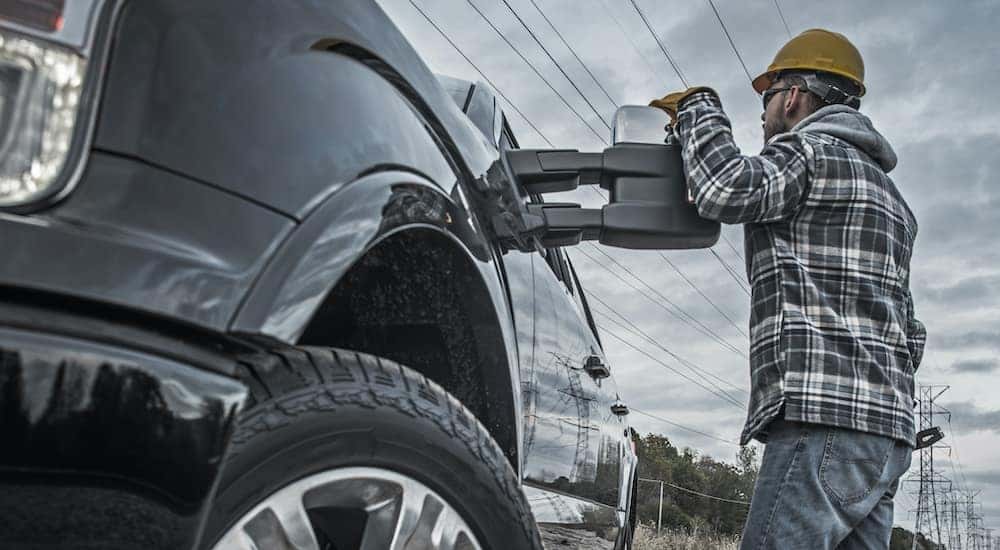 Whether you're starting a business, looking to branch out from an existing company, or growing your business to be able to handle more clients, having the right tools and equipment is incredibly important. This includes the various supplies and specific needs for your field, of course, but a hard-working truck can be just as vital as any other equipment. Looking at used trucks for sale is a great way to save some money. We know how important that is for any business, but especially when you're just starting out.
It's important that you know what to look for, however, or else you can end up missing out on what you really need. Even worse, you can end up spending a large chunk of your capital on a pickup that doesn't actually work well for what you want. In either case, you can end up having to spend more money to make up the difference or on a replacement truck. Today, we're going to take you through some of the things to look for when you're perusing used trucks for sale.
General Tips for a Used Truck
First things first: the price is important, but it's not everything! We get it; when you're shopping for equipment or supplies for your business, it's very enticing to keep costs and your overhead low. But trust us: your truck is not where you want to get cheap.
Choosing a used truck is already a great way to save money, but you don't want to really scrape the bottom of the barrel. You can save money today with a truck in really rough shape, sure, but the long-term costs are going to add up quickly. Not just for repairs and maintenance. What about deadlines you miss or workers you pay to stand around doing nothing while they wait for a truck that is sitting by the side of the road?
Look for a low price, but also make sure you're finding a used truck that's in good or great shape. This is an investment in your business (plus, it's probably a tax write-off, but we'll leave that to your accountant), so treat it like one. You want to choose a used truck that will treat you well for many years to come – especially if you're going to be pretty rough on it.
Since there's a good chance you want a used truck for your business so you can load up its bed with stuff, we recommend choosing a model with a spray-in bed liner. A drop-in bed liner can work well too, but make sure it's still in good condition – if not, try to get them to knock the price down a bit since you'll need to replace it. If worse comes to worse, talk to the dealership about having a spray-in bed liner added – maybe they'll cut you a deal if you have the work done there after buying the truck.
For any kind of work truck, you should carefully consider the needs you have for both the cab and the bed in terms of size. If you often have three people with you in the truck, then a double cab or crew cab is going to be a great choice. Similarly, if you know you'll need to load up the bed with sheets of drywall, bags of concrete or soil, or long lumber, then you should make sure the bed is large enough.
In the same vein, you also want to make sure it has the muscle to handle anything you need. Consider payload very carefully in terms of your passengers and anything you'll want to load up onto the bed. Pick a used truck that meets your payload needs, and go a little high with your estimates just to be safe. And if you'll need to pull a trailer behind your vehicle, then do the same for the truck's towing capacity and get something with enough muscle.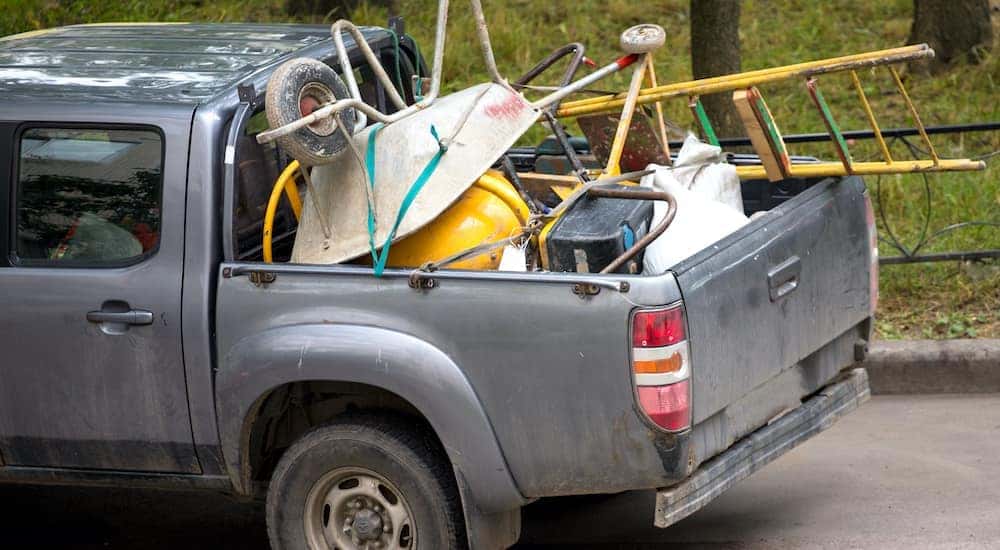 Construction and Contractor Work
While a lot of these general tips are useful for contractors, one of the main things to keep in mind is that you should expect the unexpected. Depending on the kind of work you do, one week you might need to haul some lumber or go to four different job sites in one day, while the next week you have a dozen gallons of paint or 400 pounds of pavers loaded onto the bed. It's often best not to specialize too much with your truck and any accessories you choose, so you can adapt more easily to a given situation.
Electrical, Plumbing, Carpentry, Etc.
Although there are plenty of considerations specific to each of these fields, we suggest considering payload, towing, and anything you'll need to take with you. You should also look at customizing your truck with accessories that include tool boxes, various compartments, and other storage attachments. This lets you more easily take the tools and supplies you need with you.
Painting
Take bed liners, seriously! A drop-in bed liner is great since you can replace it if paint or chemicals do some damage to it, but paint might get between the liner and the bed. A spray-on bed liner will protect the body of your truck, and you don't have to worry about paint getting under it.
Housecleaning
Just like with painting, you'll want to choose a truck with a bed liner to protect it from potential chemical or cleaner spills. We would also suggest that a cargo van might be a better option for cleaners than a used truck. A van gives you a lot of interior space, and you can set it up with various shelves, compartments, and other storage accessories to keep your equipment and supplies organized.
Landscaping
Your equipment and the scale of your operation are really going to determine what type of truck is best for you, but make sure you choose a model with plenty of payload and towing capacity. This is especially important if you need to pull a trailer full of equipment behind your truck. Even if you're starting pretty small for now, keep in mind future growth. You're better off having a truck that will work for you for years to come rather than find you need a new truck on top of other equipment when it's time to expand.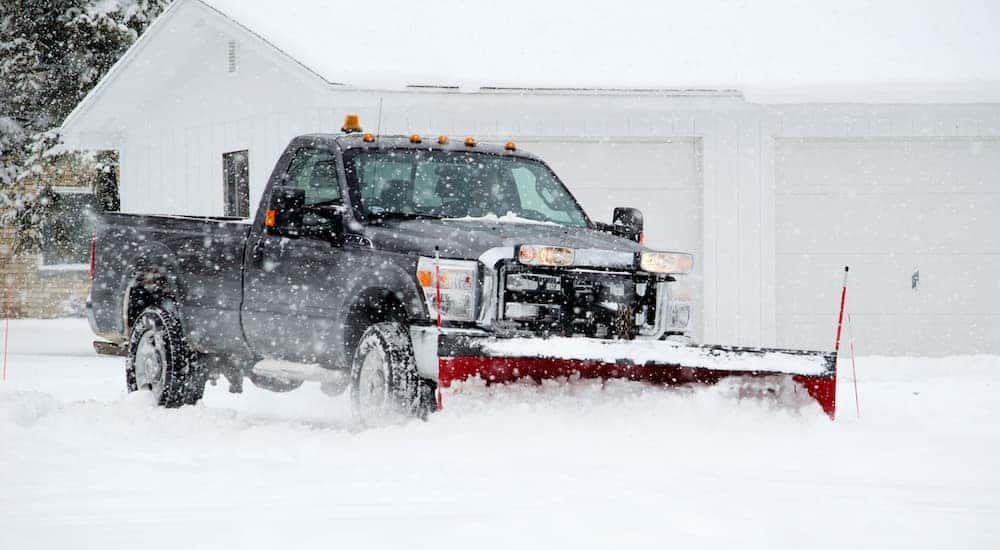 Snow Removal
A lot of companies handle lawn-mowing and landscaping part of the year and snow removal during other parts of the year. So keep this in mind and choose a model that will work well for both tasks – unless you have enough business to justify separate trucks. Most importantly, look for a used truck that is easy to fit with a snowplow blade on the front, with enough weight and power to get the job done. If you try to stick a plow on the front of a light-duty midsize pickup with two-wheel drive, then you're probably going to have a bad time.
Delivery Trucks
Depending on the nature of your business, a truck can be a good choice for making deliveries. In general, however, we typically recommend a cargo van as a better option for a delivery vehicle. A cargo van can be customized and fitted with shelving and other accessories to help you organize packages and deliveries to make your life easier.
McCluskey Automotive is Here to Help
As you can see, there are a lot of things to consider when looking for a used truck for your business. That's why we're here to help. Call or come visit McCluskey Automotive today, and we'll discuss everything we can do to help your business succeed.