Crossing the Ford F-150 Generation Gap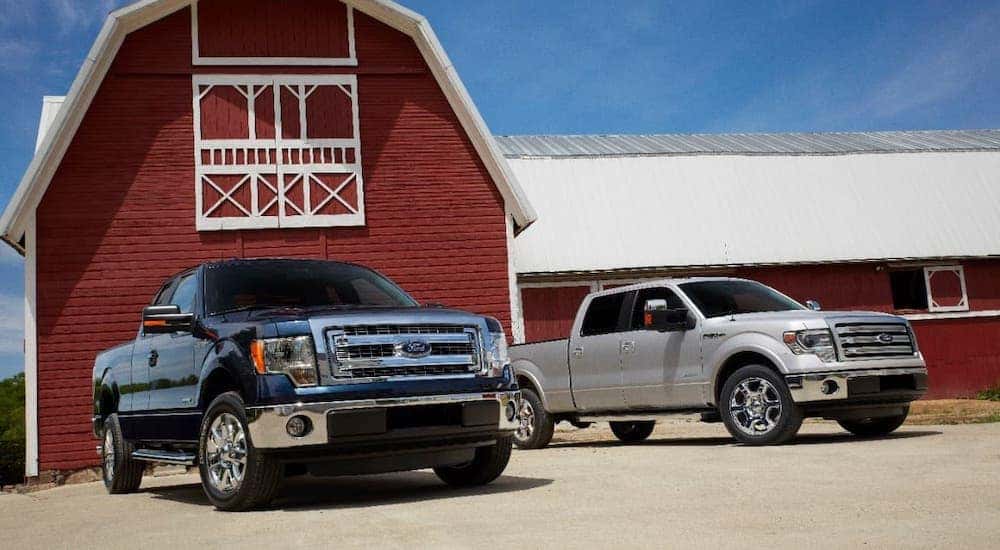 If you are in need of a pickup truck, your best bet is to find a used Ford F-150. This truck has got it all, with a sturdy and robust design, your choice of different engines and trims, the power to tow heavy trailers and carry loads, and that classic Ford truck look. And with so many models and trims available, there are sure to be plenty of great Ford F-150s to choose from. The Ford F-150 has been in the lineup of Ford vehicles continuously since 1948, with the current version referred to as the 13th generation. This model has been in production since 2015. The prior generation, the 12th, was built from the 2009 model year to 2014 and marked a quantum leap from the generation before it.
With most used Ford F-150 trucks on the market falling into one of these two generations, you have to answer the question, "Which generation should I choose? The 12th or the 13th? That is an excellent question since they are both so darn good. If you see them side-by-side, you'll probably notice some subtle cosmetic differences, like an upgraded grille on the 13th generation. However, the overall profiles are relatively similar, which is why you need to find out more since looks can be deceiving.
The Body Construction
One of the most interesting differences between the 12th and 13th Generations of the Ford F-150 was the material used in constructing the truck's body. Ford used high-strength steel until the debut of the 13th Generation Ford F-150 in the 2015 model year. That all changed as Ford began using aluminum to construct the Ford F-150, except for the frame and firewall, which continued to be made of high-strength steel. As a result, the curb weight of the F-150 was reduced by an astonishing 750 pounds. Despite the weight loss, the truck remained as strong as ever. Therefore, one thing you should keep in mind is whether you feel comfortable with a truck made of aluminum. It becomes a matter of personal taste since there is no real loss in strength, while the fuel economy goes up with the lighter curb weight.
Engines and Transmissions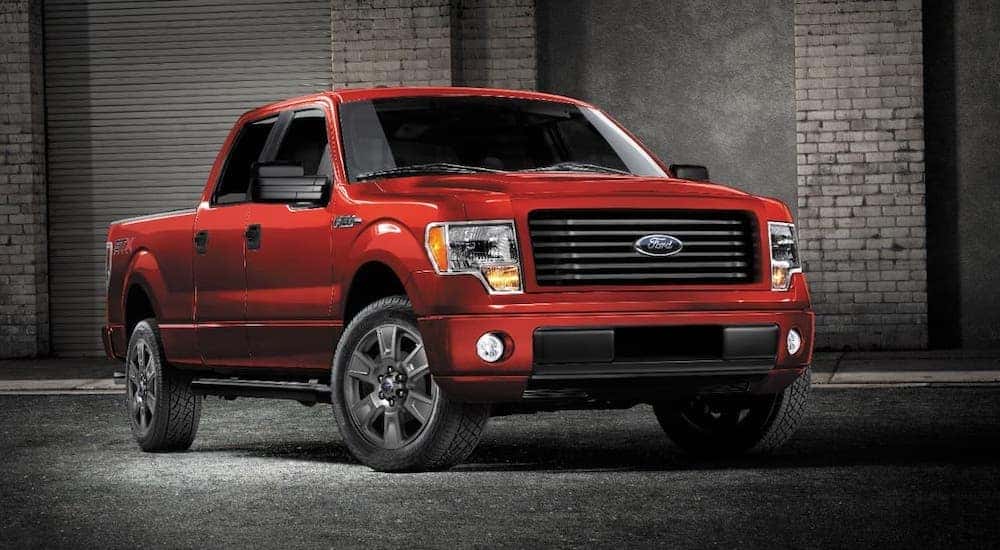 In the 12th generation F-150, we see a standard 3.7-liter V6 engine, with options such as a twin-turbocharged 3.5-liter EcoBoost V6, introduced to the lineup in 2011 to provide better fuel efficiency with excellent performance. Ford also offered three different V8 engines, a 5.0-liter Coyote DOHC TiVVT (twin independent variable valve timing) V8 engine with 300 hp (introduced on the 2010 model Ford F-150), a 5.4-liter V8, and a massive 6.2-liter V8 engine with an astounding 411 hp (added to the lineup in the 2011 model year). Each option was not only bigger but also increased the cost of the Ford F-150 model. In addition, all models of the 12th generation Ford F-150 featured a six-speed automatic transmission.
The 13th Generation saw a change in engine options. Ford added a 2.7-liter EcoBoost V6 and a 3.5-liter V6 as the standard engine, dropping the 3.7-liter V6 and 6.2-liter V8 engines in the 2015 model year. Subsequent changes were made in the 2018 model year, so that the current lineup of engines on the Ford F-150 features a 3.5-liter EcoBoost V6 with 375 hp and 470 lb-ft of torque and a PowerStroke 3.0-liter Turbocharged diesel V6 with 250 hp and 440 lb-ft of torque. Also offered are, a high-output 3.5-liter EcoBoost V6 with 450 hp and 510 lb-ft of torque, a 2.7-liter Turbocharged EcoBoost V6 with 325 hp and 400 lb-ft to torque, a 5.0-liter Ti-VCT (twin independent variable cam timing) V8 with 395 hp and 400 lb-ft of torque, and a 3.3-liter Ti-VCT V6 with 290 hp and 265 lb-ft of torque. While these are generally smaller than the engines on the 12th generation, they are actually, in many cases, stronger and more fuel-efficient. In addition, Ford now pairs the 5.0-liter V8 and the diesel V6 with a 10-speed automatic transmission, improving overall performance.
Progress with Fuel Economy
The 12th Generation Ford F-150 started as a reasonably fuel-efficient model when first introduced in 2009. The combined mileage numbers ranged between 16 miles per gallon and 17 miles per gallon, depending on the engine type and drivetrain chosen, with larger engines and all-wheel drive reducing fuel efficiency. However, by the end of the model generation, the combined mileage showed a more significant disparity, with Ford F-150 trucks sporting bigger V8 engines and all-wheel drive providing only 12 miles per gallon combined, while those with the smaller V6 engines and rear-wheel drive achieving up to 20 miles per gallon combined. This may be one of the primary reasons Ford went to an aluminum body with the 13th Generation F-150. As a result, 13th Generation F-150 trucks have shown a combined mileage range of 16 miles per gallon for trucks with the V8 up to 22 miles per gallon for those equipped with the diesel engine. This is a significant difference between the two generations.
Towing and Cargo: How Much?
One of the big reasons for buying a truck is so you can carry stuff and tow trailers. Sure, you can hook a trailer up to an SUV, but you are just not going to achieve the same numbers as you will with even the most inefficient pickup truck. This is another area where Ford made improvements between the 12th and 13th Generation Ford F-150 trucks.
The maximum payload on a 12th generation Ford F-150 is 1,790 pounds, achieved on one with a V8 engine and rear-wheel drive. This model also had a maximum trailering capacity of 11,200 pounds. Surprisingly, the lighter 13th generation Ford F-150 can haul more cargo and tow a heavier trailer. The Ford F-150 with rear-wheel drive and a diesel engine can tow up to 12,200 pounds of trailer and carry a fantastic payload of up to 3,300 pounds. That latter figure is almost double the maximum of a 12th generation Ford F-150.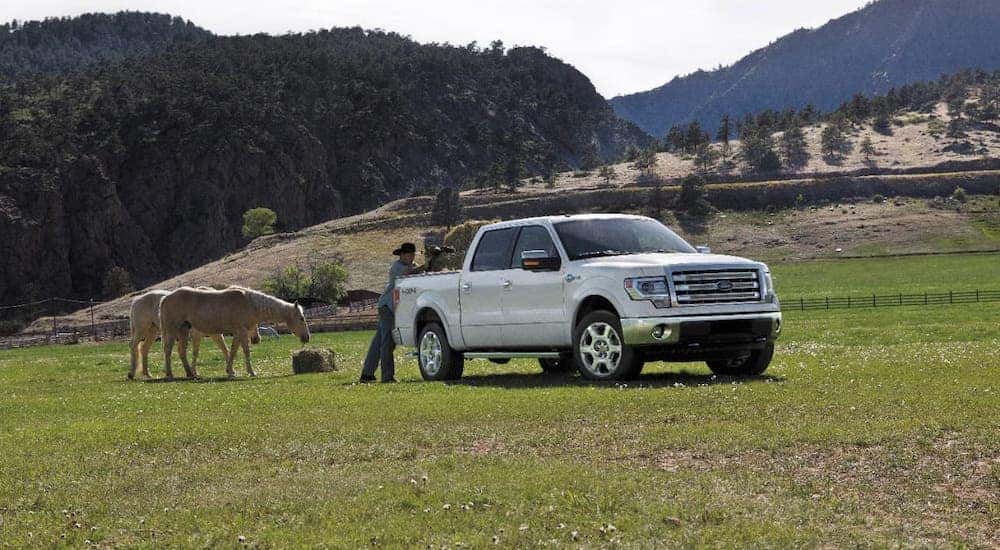 Infotainment Features
The 12th Generation Ford F-150 saw the introduction of a 4.2-inch LCD display screen in the 2011 model year and the MyFord touch systems in the 2013 model year. Those were some excellent new features, but it also means that the 2009 and 2010 model years of this generation lack a modern infotainment system. Furthermore, the current Ford Sync 3 system wasn't introduced until the 2016 model year of the 13th generation, so features like Apple CarPlay and Android Auto just aren't going to be available with the 12th Generation F-150 models.
What About Safety?
The implementation of safety features has been evolving over the years in the auto industry, including the Ford F-150. The 2009 model year F-150 was the first to feature side curtain airbags, a backup camera, and a stability control system. Hill-start assist began being offered on the F-150 with the 2012 model year. However, it is difficult to compare the safety features between these two generations, as the 13th generation saw the introduction of adaptive cruise control, pre-collision assist with pedestrian detection and standard emergency braking. Still, the 12th generation Ford F-150 should be noted for making standard many of the safety features we now take for granted.
McCluskey Automotive
If you want to get your hands on one of these fantastic trucks or another vehicle, stop by McCluskey Automotive. We have the full range of quality used cars, trucks, and SUVs, with affordable prices and exceptional service. Come in today, and maybe you will drive out with an outstanding used Ford F-150 truck.