Buying a Used Chevy Equinox at McCluskey Chevy
Celebrated by consumers and industry authorities alike since it was first introduced in 2005, the Chevy Equinox is a compact SUV appreciated for its combination of style, capability, and comfort. The second generation of the Equinox launched with the 2010 model and will extend to include the upcoming 2017 release.
Considering that used car customers tend to get the best value when shopping pre-owned vehicles from more recent model years, the McCluskey team would like to zero in on the second generation of the Equinox, using the 2014 model as a more specific example. For those prospective buyers with bad credit, the used car inventory at McCluskey offers an abundance of options, so you can rebuild your credit without sacrificing those things you value most in a vehicle like dependability, safety, and efficiency.
Why the 2014 in particular? Well, the 2013 model year delivered a considerable engine upgrade, dropping the optional V6 for a direct-injected 3.6-liter, generating 301 horsepower. We think those of you in the market for a used Chevy Equinox will appreciate the engine options distinguishing the second half of the second generation.
Let's take a closer look.
Purchasing a Used Chevy Equinox – the 2014 Model Year
Between its overall interior and exterior style, hushed cabin, elegance, and ample space, the Chevy Equinox has been a consistent family favorite in a very competitive class. The 2014 model year delivered two engine changes. The first, as mentioned earlier, swapped the available three-liter, which only made 264 horsepower, for the 3.6-liter as a 301 horsepower option, making it a leader in acceleration among the compact SUV class.
But the standard equipment saw a shift, too. Starting in 2014, a 2.4-liter four-cylinder engine, capable of delivering up to 182 horsepower and highway fuel efficiency rated at 32 miles per gallon, represented a departure from the standard V6 from the previous generation, an upgrade which boasted enhanced efficiency, while still packing plenty of power.
Regardless of which engine you choose, the second-generation Equinox trims come standard with front-wheel drive, and all-wheel drive is optional across the board.
And speaking of Equinox trims, there are four to consider: the entry LS, the LT (which splits into the LT1 and LT2 sub-trims, and the high-end LTZ). As expected, the LS is fairly bare bones, and ideal for those looking for a steal, that is also safe and reliable. Most consumers tend to target the LT range, with the LT2 representing a boost in bells and whistles. But, for all the amenities and top-tech one could hope for in a compact crossover, the LTZ is unlike any other.
Cargo space is something consumers value in the Equinox – no matter the trim – with the cargo area measuring 31.5 cubic feet when all seats are up, and extending to 63.7 cubic feet after the seats are folded down.
Safety is another priority for most consumers and, here too, the Equinox delivers, returning top safety scores from federal tests and the Insurance Institute for Highway Safety. The National Highway Traffic Safety Administration awarded the Equinox a total of four out of five stars overall. Standard safety features like electronic stability control, traction control, and an array of airbags can be further supported by available equipment, such as forward-collision alert and lane departure warning. Proof that buying used doesn't require missing out on the latest safety technologies.
---
2020 Update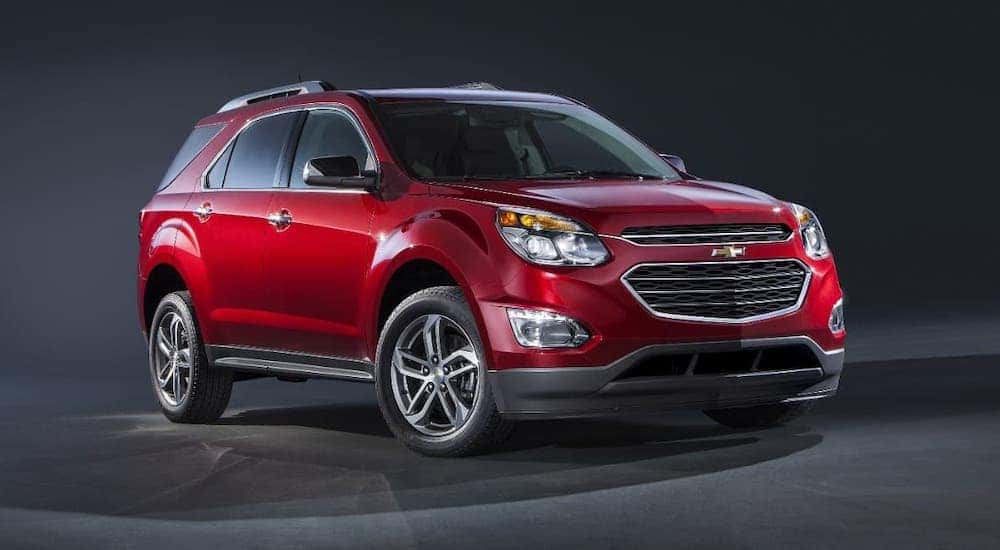 Why Shop With Us?
At McCluskey Automotive, we take pride in supplying our customers with vehicles that are worthy of holding the Chevy name. We believe that your experience comes first and foremost, and our talented team of knowledgeable sales representatives are here to help. Our catalog of vehicles includes a selection of used, CPO, and brand new models that offer every driver an option for their lifestyle.
Whether you're shopping for a vehicle or looking to get servicing done for your current one, our team is here to help you. With the help of our certified mechanics, we can perform a wide range of repairs and essential services, and our on-site finance center can assist with financing applications, vehicle trade-ins, and more. Give us a call or visit one of our McCluskey Automotive locations to find out more.
2016 Chevy Equinox Overview
Since 2014, the Chevy Equinox has continued to get better and better. Even if you find a used Chevy Equinox from 2016 today, you will still be overjoyed by all it has to offer. The 2016 Chevy Equinox impressed fans with the addition of new safety features that enhanced the lineup's historical reliability. Safety has been a strong selling point of Equinox for many years and the 2016 Equinox is no exception.
Among the available safety features for this model is a rear-cross traffic alert system that will notify you of any oncoming traffic when you're reversing out of a parking space. As you can imagine this feature is quite helpful and can mitigate accidents that can occur while reversing. Another available safety feature that was implemented for the 2016 Equinox is blind-spot monitoring. With this feature equipped, the Equinox will alert you to a vehicle entering into your blind-spot so that you can avoid running into another car when making lane changes or turns. Both of these safety features that became available with the 2016 Equinox work in tandem with those found in the 2014 model, making it even more reliable.
Inside of the 2016 Equinox is an impressive showing of robust tech-centric features. Features such as Bluetooth are present to allow for wireless media playback through your Equinox's infotainment center. The 2016 Equinox comes with a 7-inch touch screen that not only serves as the base of the infotainment center but also displays your vehicle's rear view camera when reversing.
With an integrated infotainment center, you'll have instant access to your favorite media at all times, and thanks to the available 4G LTE Wi-Fi hotspot, your passengers will too. Passengers can stream their favorite movies or browse web content during long road trips and assist with navigation if the need arises. In addition to these fun and exciting tech features, the 2016 Equinox interior was updated from its predecessors with better materials throughout the cabin, making it even more comfortable than before.
2018 Chevy Equinox
Chevy developed the 2018 Equinox differently from any of its prior iterations. Starting with the interior, not much had changed in this regard. However, the 2018 Equinox brought along Apple CarPlay and Android Auto to its already feature-packed infotainment center.
Apple CarPlay and Android Auto are easy to use. All you'll have to do to activate it is by connecting your pre-existing iPhone or Android device. This system makes it easy to stay connected hands-free while on the road. Apple CarPlay and Android Auto solve the problem of making calls or answering messages by allowing the built-in voice assistant to get your tasks done. In addition to this, Apple CarPlay and Android Auto offer different choices regarding your turn-by-turn navigation while driving your Equinox around.
The most noticeable change between the 2018 Equinox and the previous models is a new arrangement of engines. Coming standard with the 2018 Equinox is a turbocharged 1.5L 4-Cyl engine that produced 170 hp and 203 lb-ft of torque. Even at the time of this model's release, this engine provided ample performance for everyday commuting.
However, Chevy did offer an available turbocharged 2.0L engine as an upgrade. With this engine equipped, the 2018 Equinox could achieve 252 hp and 260 lb-ft of torque. In comparison to the standard offering, this engine provides an impressive 48% increase in horsepower and a 28% increase in torque.
This year also saw the introduction of a new turbo diesel engine, which was a first for the lineup. Those who were looking for the utmost fuel efficiency were enamored by this turbodiesel 1.6L 4-Cyl as it offered impressive fuel-efficiency ratings. Equipping your 2018 Equinox with this engine made your vehicle the perfect ride for both city and highway travel as this turbodiesel engine gets EPA-estimated ratings of 28 MPG city and 39 MPG highway when paired with FWD. Should your 2018 Equinox offer AWD instead, your EPA-estimated ratings will be about the same.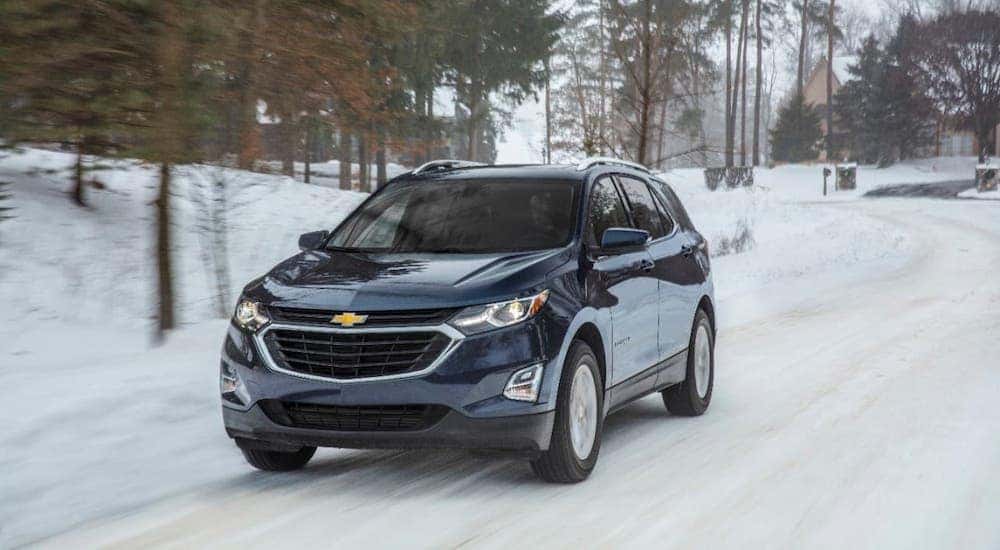 2020 Chevy Equinox
For the 2020 Equinox, Chevy has put all of the research and development that they've learned with the lineup throughout its course on the market into this vehicle. Chevy fans will notice the main difference with the 2020 Equinox is the array of safety features that come standard. Many of these features have been a part of the lineup for quite some time but were only available as upgrades until now. Among these features that now come standard is the forward-collision alert. With this safety feature, your Equinox will alert you of an impending impact to help mitigate the severity of the collision.
Another safety feature that comes standard now is the previously mentioned lane-departure warning which will alert you if the vehicle detects you have unintentionally crossed a lane. Features such as this are immensely helpful during highway travel and the 2020 Equinox will also provide subtle steering input to put you back onto the right path.
Automatic high beams have also made their way onto the standard offering and these high beams will dynamically turn on and off to increase your visibility while not obstructing the view of other drivers. Lastly, automatic emergency braking comes standard with the 2020 Equinox. This feature works in tandem with forward-collision warning as the Equinox will apply braking pressure when it detects an imminent crash if the driver can't brake quickly enough. Now that all of these safety features come standard with the Equinox, the lineup is as intriguing as ever.
The Past, Present, and Future
While Chevy remains the household name that they've been for over a century, one thing remains clear; the Equinox is ready to change with the times. Comparing the 2014 Equinox to the 2020 model can prove to be a night and day difference for those looking for an increase in performance, tech-centric features, and reliability. However, regardless of which Equinox model you purchase, it will still be built with that indistinguishable Chevy quality.
Those who are looking to obtain a newer Equinox, such as the 2020 model, will be pleased with the additions that have been made over the years. Even if you're purchasing an Equinox that's over five years old, you'll still enjoy the entire experience. The Chevy Equinox has been built to last with safety, convenience, and infotainment features being pushed to the limits in every new release. If you are in the Cincinnati, OH, area, then visit McCluskey Chevy to try an Equinox for yourself and see just how amazing this vehicle is.