7 Used Hatchbacks That Don't Depreciate Quickly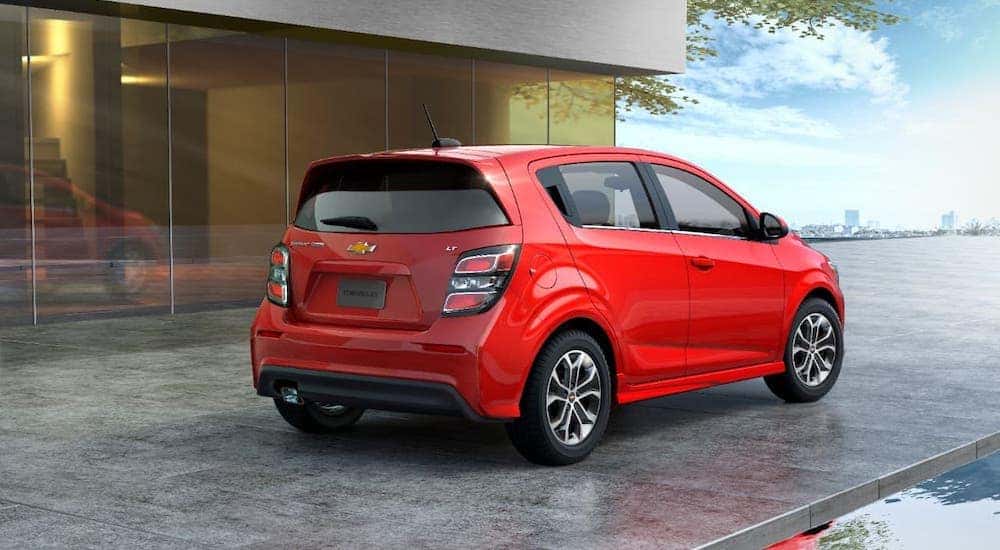 If you need cargo space, your first thought is probably to buy an SUV. However, buying an SUV generally means spending more upfront while sacrificing fuel economy and handling. Instead, consider buying a hatchback – these cars combine the lower price, efficiency, and sporty nature of a sedan with the large cargo space of an SUV. They also tend to retain their value longer than other cars. That means that if you drove to our dealership in a hatchback and said, "I want to sell my car today," you'd probably get good money for it.
Low depreciation, combined with a lower upfront cost, makes hatchbacks a particularly good investment. When it comes time to sell, you may even get enough to serve as a sizable down payment towards a newer vehicle. With that being said, our experts here at McCluskey Auto would like to show you 7 used hatchbacks that don't depreciate quickly. Let's jump right into the list!
#7 – 2017 Chevy Sonic
As a two-door subcompact hatchback, a used 2017 Chevy Sonic will not depreciate quickly due to its advanced tech features, stellar fuel economy, and excellent cargo room. Every trim comes with an infotainment system displayed on a 7-inch touchscreen. Operating with a 4G LTE Wifi hotspot, Bluetooth connectivity, Apple CarPlay, and Android Auto, the system functions like your smartphone. With a maximum of 47.7 cubic feet of cargo room, there is plenty of space for luggage or sports gear.
The standard powertrain is a 1.8-liter 4-cylinder engine paired with either a 5-speed manual or 6-speed automatic transmission. Pumping out 138 hp and 125 lb-ft of torque, the fuel economy is around 30 MPG combined. Meanwhile, the optional 1.4-liter turbocharged 4-cylinder motor uses either a 6-speed manual or 6-speed automatic transmission. Generating 138 hp and 148 lb-ft of torque, it gets 33 MPG combined.
#6 – 2018 Ford Fiesta ST
Four-door hatchbacks tend to be the most popular, and a used 2018 Ford Fiesta ST proves that. This sporty model is technically a trim level of the Ford Fiesta, but it has an entirely different powertrain than the other trims. Using a 1.6-liter turbocharged 4-cylinder engine, it produces 197 hp and 202 lb-ft of torque. Equipped with a 6-speed manual transmission, large brakes, and a sport suspension, it gets 29 MPG combined.
The unique interior features cloth-covered sport seats with the ST logo. If you happen to have the ST Recaro package with leather upholstery, then the vehicle may be worth even more. Equipped with the coveted SYNC 3 infotainment system, this model includes advanced smartphone integration, HD radio, and a premium Sony sound system.
#5 – 2018 Honda Fit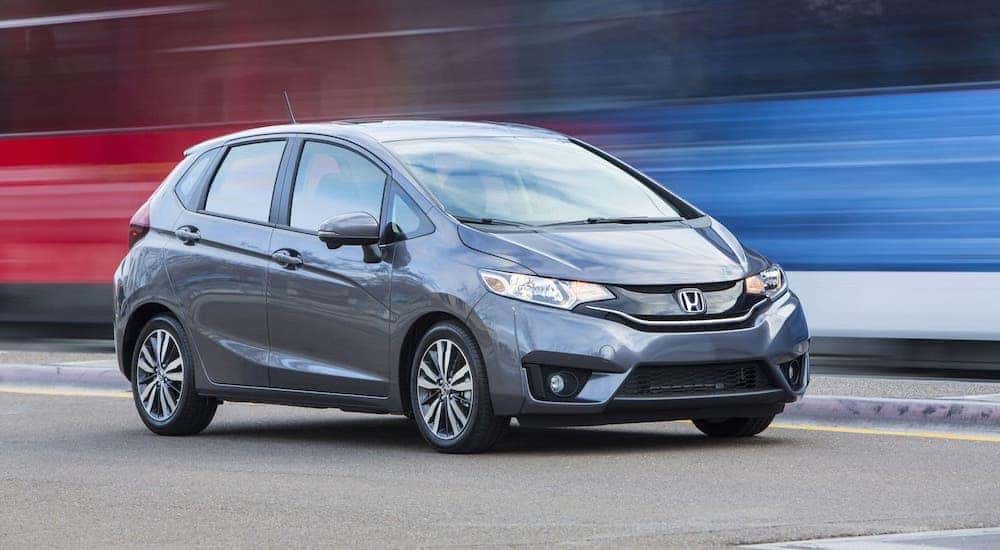 The main reason why the used 2018 Honda Fit has such solid resale value is because of its cargo room. This hatchback offers a surprising 52.7 cubic feet of space once you fold the rear seats down. The Honda Fit also comes with a rear Magic Seat, which can fold in several different ways to optimize cabin space for different types of cargo. The front seats also fold flat to accommodate long items or provide you with a comfortable place to take a quick nap.
Every used 2018 Honda Fit is powered by a 1.5-liter 4-cylinder engine that makes 130 hp and 114 lb-ft of torque with the 6-speed manual transmission. When this vehicle is equipped with the optional continuously variable transmission (CVT), the performance output drops slightly to 128 hp and 113 lb-ft of torque. Another great selling point for this sporty ride is the fuel economy. The manual transmission models get 32 MPG combined, while the CVT models get an incredible 36 MPG combined.
#4 – 2017 MINI Cooper Hardtop
It is no secret that MINI Cooper models are quite pricey for their size. These exotic two-door vehicles retain their resale value for quite a while because they can be a bit difficult to find. They are also really cool and appeal to a specific niche group of drivers. Used 2017 models include some pretty fun standard features, such as Bluetooth connectivity, keyless ignition, automatic climate control, smartphone integration, cruise control, and even a refrigerated glovebox.
Although there are two engine options, the 1.5-liter turbocharged 3-cylinder motor is our favorite. Producing 134 hp and 162 lb-ft of torque, this powertrain can accelerate the car from zero to 60 mph in 7.4 seconds. That's almost as fast as the aforementioned Ford Fiesta ST. With an average fuel economy of 32 MPG combined, it's no wonder why this vehicle doesn't depreciate quickly.
#3 – 2018 Volkswagen Golf
As the most sophisticated hatchback to land on our list, a used 2018 Volkswagen Golf has been described as a mini-Mercedes. This luxurious model comes with high-class features, including a leather-wrapped steering wheel, heated/leather seats with lumbar support, and advanced smartphone integration. Some models even include safety systems such as blindspot monitoring, rear cross-traffic alert, forward collision warning, and automatic emergency braking.
With a 1.8-liter turbocharged 4-cylinder engine under the hood, the Golf generates 170 hp and 199 lb-ft of torque. However, that output drops slightly to 184 lb-ft of torque if you opt for the 5-speed manual transmission instead of the 6-speed automatic. The Golf also has a stellar fuel economy rated at 28 MPG combined.
#2 – 2017 Kia Soul

Even with its controversial appearance, the Kia Soul is one of the hatchbacks that will not depreciate quickly. This boxy model is petite, but it also manages to offer a lot more cargo room than other hatchbacks due to its unique shape. With 61.3 cubic feet of space, this little ride has more cargo room than some SUVs. Some may argue that it is a crossover, but we think it's more of a blend.
There are three engines that vary depending on the trim level. Base models are equipped with a 1.6-liter 4-cylinder motor that makes 130 hp and 118 lb-ft of torque, but the "+" trim is powered by a 2.0-liter 4-cylinder that pushes out 161 hp and 150 lb-ft of torque. Finally, the top-tier "!" trim uses a 1.6-liter turbocharged 4-cylinder engine that generates 201 hp and 195 lb-ft of torque. No matter which powertrain is equipped, fuel economy stays around 27-28 MPG combined.
#1 – 2017 Hyundai Accent
You may be surprised by the top-ranking hatchback on our list. It's the used 2017 Hyundai Accent. This well-appointed model is quite impressive, which is why it doesn't depreciate quickly. Powered by a 1.6-liter 4-cylinder engine with either a 6-speed manual or automatic transmission, this model produces 137 hp and 123 lb-ft of torque, it has one of the best fuel economies at 32 MPG combined.
Equipped with sport-tuned steering, this quiet vehicle is ideal for commuters. The cabin is draped in premium cloth upholstery with Piano Black accents for a sophisticated look. The steering wheel is wrapped in leather, and the 6-speaker stereo system provides high-quality sound.
Sell My Car Today!
Are you ready to sell your car? Our experts here at McCluskey Auto can help you get the most out of your old vehicle. Get in touch with our team to learn more about trade-ins and used car sales. Call, email, or just drop by our Cincinnati dealership today to find out how much your car is worth.