6 Reasons to Use Buy Here, Pay Here to Purchase Your Next Vehicle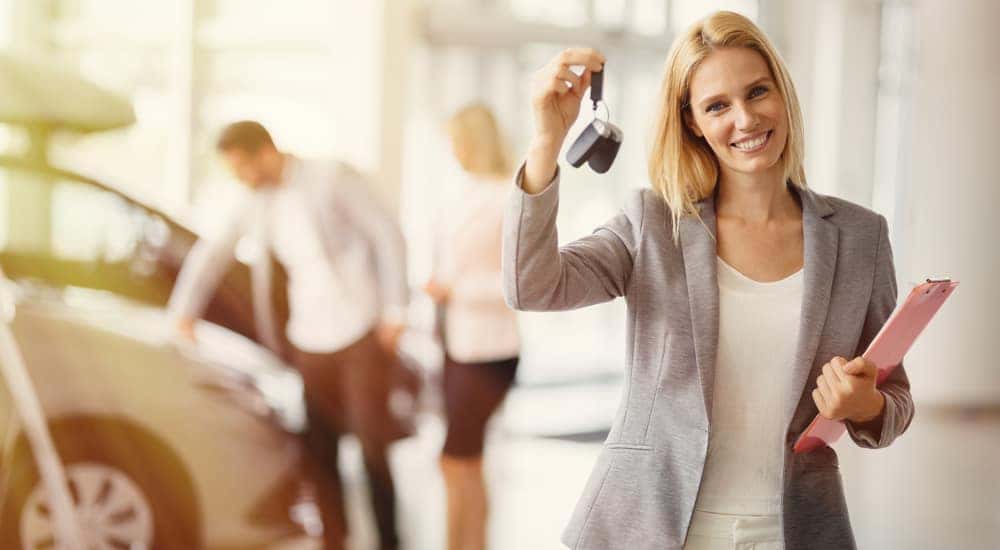 If you have less than perfect credit, you may have had trouble getting a car loan or financing a vehicle. But that isn't helpful. Scraping together the finances you need to pay for a new or used vehicle requires transportation to get to the job that pays for it. At McCluskey Auto we understand, so we want to help you assess your financial situation and help get it back on track. The best thing about using our Buy Here, Pay Here option is how valuable it can be to improve your finances.
We Can Help You Improve Your Credit Score
Repairing your credit is something you should be doing. At McCluskey Auto, we can help you get started. Buy here; Pay Here can help rebuild your credit. We report the payments you make on your vehicle to the credit bureau. This can help get your credit back in good working order. This process is one of the best and fastest ways to boost your credit rating. Once you are confident your credit is improving, it also opens you up to options for better loans and better vehicles.
We Have The Option of Financing Great Vehicles
You might have poor credit, but you might also have some cash to make a down payment. Using anywhere from $500-$1,000 toward a down payment rather than trying to buy used for cash gets you closer to owning an exciting, fun car that you might not have thought was an option.
Just think how much further your money will go if you can put that much towards a car and finance the rest. At McCluskey Auto, we enjoy seeing our customers relief when they know they will be getting a safe and reliable vehicle. Even more, we enjoy the customer's excitement when they learn they can also afford a car that is fun to drive.
We Are Flexible With Trade-Ins
You might not have that much cash to put towards a down payment. Depending on your financial situation you might not have any at all. But that's not really a problem for us. If you have an older vehicle that you want to trade in, we accept those. We can help you assess the value of your trade-in. We can even calculate that amount with any cash you may have to combine both toward your purchase options.
We Can Get You Pre-Approved
So now that you know that Buy Here, Pay Here financing could be an option for you, you might still be wondering how it works. Using the Buy Here, Pay Here option gives customers the option of a "one-stop shop," where they can access their finances and find the car that matches their needs.
With traditional financing, approval isn't always guaranteed. In fact, you might be waiting at the dealership for a while, not knowing if you will be approved for any of the cars you've had your eye on. That could be very disappointing. But with the Buy Here, Pay Here option, the BHPH dealer makes those decisions, and approval is guaranteed. The customer will know immediately what the available lending amount will be. This way the dealer can show the customer what vehicles are available for them to consider. It puts the customer back in the driver's seat, so to speak.
We Can Get You a Flexible Payment Plan
Your Buy Here, Pay Here dealer wants to streamline the process for you and make it as painless as possible. What's more flexible than catering a payment plan to your budget? It could be weekly, semi-monthly, or monthly. You can determine this to all fit around your paycheck, so there are no worries about missing payments.
Buy Here; Pay Here is Highly Regulated
You don't have to worry about any funny business, as this entire option is highly regulated. BHPH dealers are accountable and must comply with a litany of laws and regulations. Here is just a short list: State & Federal Unfair & Deceptive Practices laws, State Usury laws, The Truth in Lending Act, The Fair & Accurate Credit Transaction Act, The Used Car Rule, The Privacy Rule, The Safeguards Rule, The Disposal Rule, The Red Flags Rule, The Risk-Based Pricing Rule, and The Fair Debt Collections Practices Act.
All vehicles are under warranty with plenty of service contracts available. BHPH dealers make it, so these vehicles are regularly sold and are readily available with reasonable price points. BHPH dealers do their best to work with customers in the event that there are any issues with the car, such as a breakdown to get the vehicle repaired, so it is still viable. We appreciate our customers and want to help them as best we can now, so we can continue to help them in the future
Choose McCluskey Auto as Your Buy Here, Pay Here Dealership
At McCluskey Auto, we rise above misconceptions that do not best represent the reputation of the Buy Here, Pay Here option. We want to provide a valuable service to our Cincinnati communities. The National Alliance of Buy Here, Pay Here Dealers and the National Independent Automobile Dealer Association allow us to do our best to serve our customers and ensure they never leave us dissatisfied.
We want to make a promise to our customers by providing this Buy Here, Pay Here service. If you have learned from this post that Buy Here, Pay Here might be an option, if you have had trouble recently with getting financing with poor credit, or have struggled in the past with traditional lenders, come visit us at McCluskey Automotive!
We want to ensure that you have the opportunity to own and drive a wide variety of safe, reliable vehicles in our inventory. We can evaluate your financial situation. We want you to know how much your trade-in is worth, or how far you can get with that down payment you've saved. BHPH financing is available to you.
We are proud to be a Buy Here, Pay Here auto dealership. As a premier dealership serving Cincinnati, OH it is our pleasure to offer our valued customers the Buy Here, Pay Here option when they purchase a car from us.