5 Things to Consider When Getting a Cosigner on an Auto Loan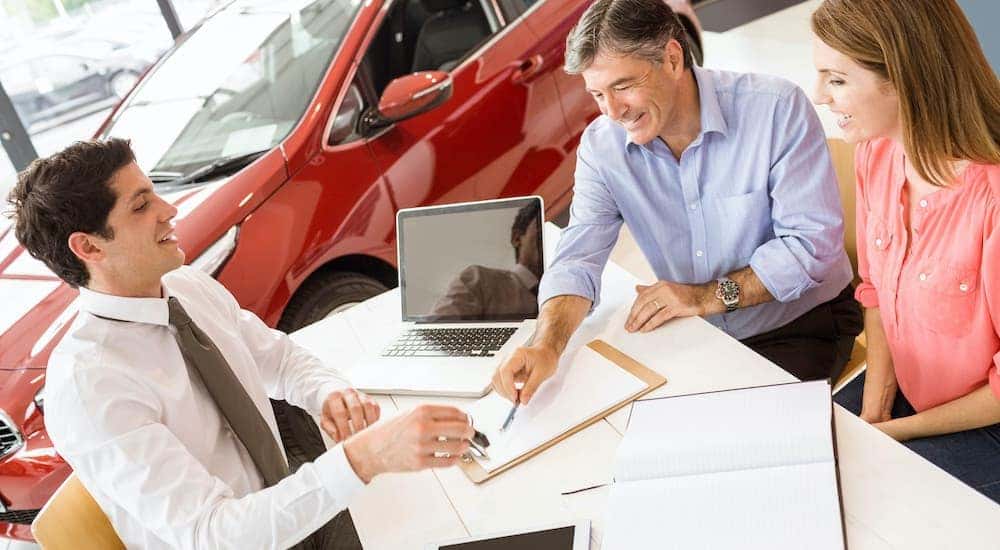 It can be frustrating when your credit isn't the best. Buying a car, home, or any other purchase that requires a credit check can cause a lot of stress, which may lead you to forgo the decision altogether. If you're in need of a new vehicle and you're wondering what your options are when it comes to buying a car with bad credit, you may want to think about finding someone to cosign the loan. This way, you'll be able to afford a quality vehicle while also working on your credit. But this can be risky for all involved, which is why it's important to be prepared and take everything into account before going down this road. Before you get started, here are some of the top things to consider when you are having someone cosign on an auto loan.
#1 – Who Will Be Your Cosigner?
Finding the right person to cosign on a car loan takes some careful consideration, mainly because this decision impacts both you and the cosigner. You want to find someone you trust, above all else, whether this is a family member or close friend who you have a history with that you know well. Having a cosigner on a car loan ties you and this person together for the length of the loan, and you don't want to let them down. You also want to be sure that their financial situation can support your loan terms, which is why it's imperative to choose wisely.
Consider your options, sit down with your potential cosigner, and have a conversation. You may know exactly who you want to ask right away, or it may take you some time to narrow it down. Explain the situation to them and work together to craft a plan for success. Once you find the person you can trust and who believes in you, then you can move on with the process.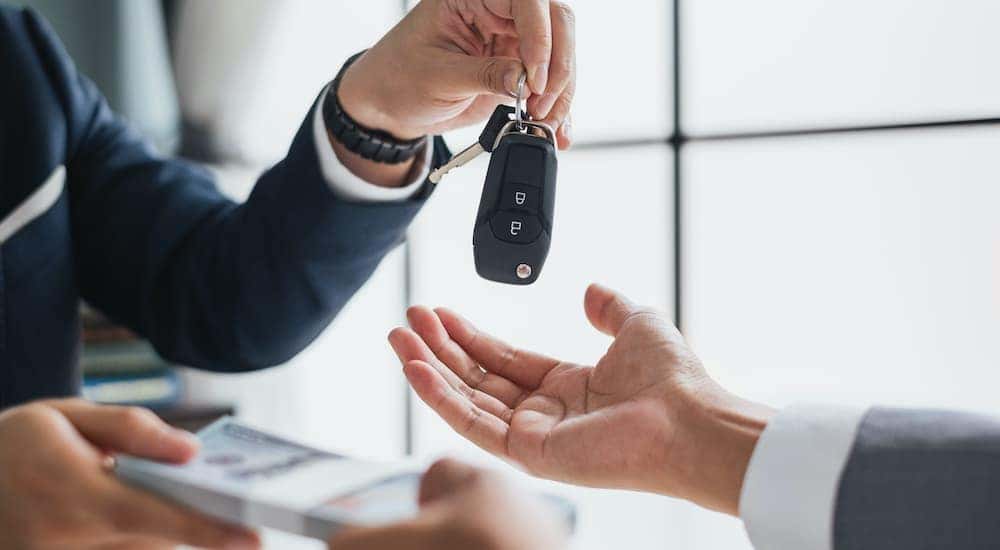 #2 – What Is Your Ability to Pay off a Loan?
It may be a simple thought to find a car, get approved for financing, and drive off into the sunset, but what about those pesky monthly payments? You want to ensure your cosigner that you'll be able to pay on-time payments each month, paying off the loan in the allotted period of time with no issue. After all, failure to pay on time can result in monthly penalties and the entire endeavor negatively affecting your cosigner's credit score. This is the last thing you want to do to someone who is lending a helping hand to get you back on your feet financially.
This is where your conversation should lead next. It's a good idea to be prepared to show your income and expenses to your cosigner so that you can prove that you're able to afford a monthly car payment. Collecting this information before meeting with your cosigner is highly advised so that you're prepared to answer any of their questions. This will also help you figure out what you're able to afford.
#3 – What Is Your Budget?
When you first start thinking about buying a new car, you may not have any idea of what you're able to afford, causing you to gravitate toward options that are well out of your price range, leading to disappointment. This is why it's important to get this detail handled at the beginning before you even step foot into our showroom. Once you get a handle on all of your monthly expenses, as well as your income details, finding a vehicle that can fit into all of this should be your next step. Working with your cosigner on this can help.
Your cosigner can assist you with this by helping you evaluate your travel needs and what you can comfortably afford to pay each month. Remember, you want to be able to make these payments on time every single month, which means having a monthly payment that's realistic is key. Just barely scraping by can lead to missed payments, which can ultimately lead to repossession of your vehicle, as well as a major impact on your cosigner's credit. This is something that you want to avoid at all costs, and sticking to a budget that works for you is the way to prevent this.
#4 – Which Vehicle Should You Buy?
Now that you have all of the major details sorted, it's time to head to our dealership and find a car that meets these requirements. We highly advise that your cosigner joins you throughout the entire process, not just when it's time to sign on the dotted line. After all, they are every bit as connected to this vehicle as you are, and they should be able to guide you, if necessary, to the proper choice. Include them in the process so that they're able to experience the vehicle you're interested in and make suggestions if you need some help.
Remember, stick to your budget here. It can be easy to become mesmerized by the shiny luxury vehicle propped high atop a display in the showroom. This may not be the car for you, so be sure to go into the process knowing what you want in a vehicle, as well as being aware of what you can afford. A reputable dealership like McCluskey Automotive will understand your situation and help you find the perfect car to maximize your travels, as well as fit into your budget with ease.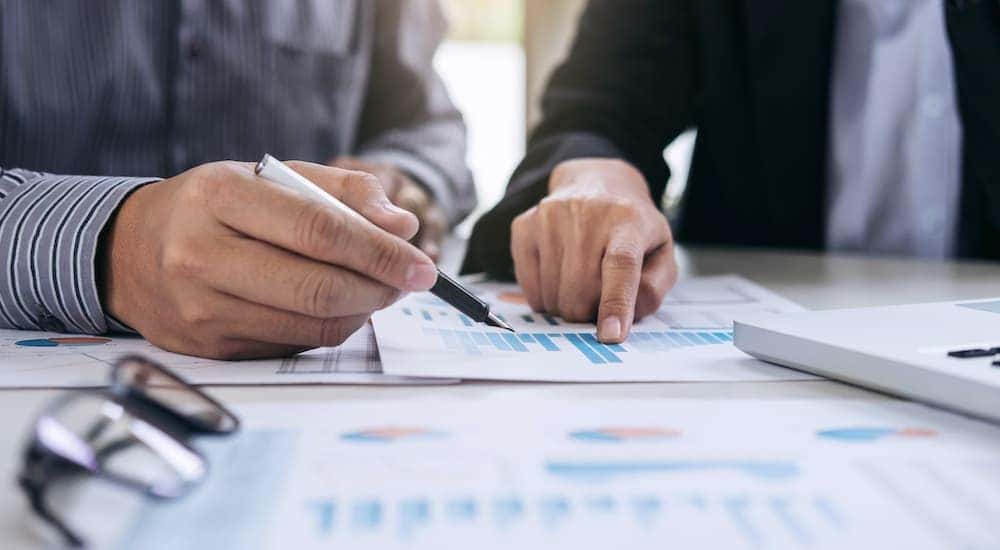 #5 – What Are Your Long-term Financial Plans?
Throughout this process, you want to think about what your plans for the future are and how you're planning on bettering your financial situation moving forward. Your cosigner will want to know that you're working on improving your credit score so that you won't have to ask for their assistance the next time you need to buy a new car. This should be a one-time situation, allowing you to make on-time payments, pay off the loan, and raise your credit score so that when the time comes to shop for a vehicle again, you're ready to go about it on your own.
Everyone needs assistance sometimes, and having someone to reach out to for help is a great feeling. Prove to them that you're willing to put in the work to improve your credit score, and nothing will show this more clearly than by paying off this auto loan on time and in full. This is the perfect time to make a plan for the future, getting your debt paid down and your expenses under control so that your financial future can be filled with success.
Paving the Way for Financial Success
Choosing to have a cosigner on your auto loan can really help you get a jumpstart on creating a financial future that you can be proud of, allowing you to better your credit score and afford better loan terms moving forward. Making on-time payments and paying off this loan will show credit bureaus that you're financially responsible, and it all starts with having someone who believes in you. Here at McCluskey Automotive, we work with customers with a variety of different financial situations, and we seek to help them find the vehicles that offer safety and reliability to their drive because that's what they deserve. If you're in need of a new car and are considering a cosigner, keep these helpful tips in mind so that you'll be on your way to a much better financial situation in the years to come.