5 Reasons Why You Should Buy a Used Chevy Silverado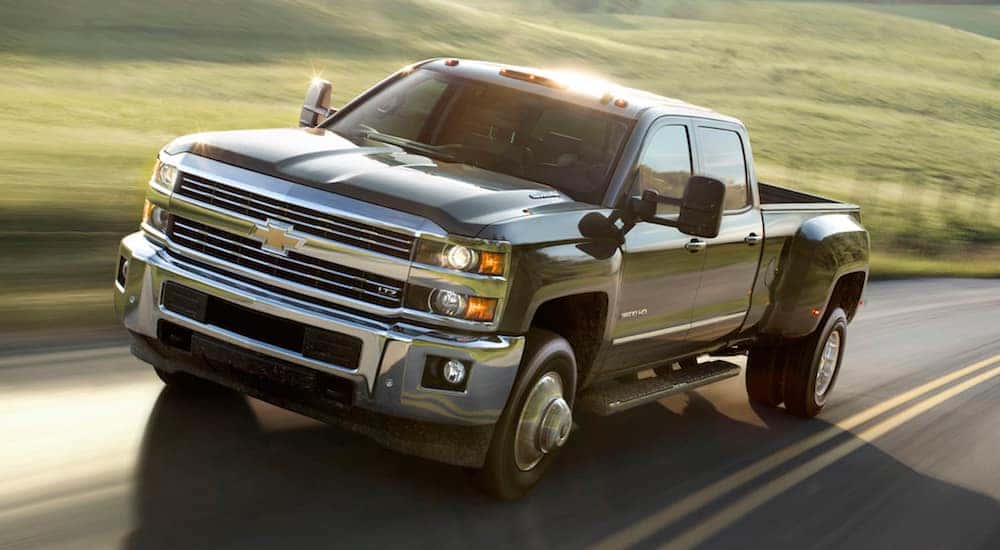 It seems like everyone wants to buy a truck these days. The function and appeal of owning a truck, especially one that has seen a complete design overhaul, might be enough to get you interested too. Did you know that owning a truck can help you do things like haul larger loads, and tow other vehicles? You can even do more with a truck than you typically would with a regular sedan or hatchback. You can obviously haul more, but you can do it in comfort and style.
But you aren't interested in buying new; you're looking to buy used. You'd be surprised at the excellent condition of our used trucks for sale at McCluskey Auto. One that is generating a lot of interest is the Chevy Silverado. The Silverado does seem to have a lot of competition, but it is one of the most popular pickups in the industry. It is award-winning, and it is part of the Chevy brand, which means it's true blue, and it's tough. Especially if you enjoy owning American made cars, that have lots of horsepower, but are still eco-friendly.
Why else is the Chevy Silverado so popular? Here are five reasons why:
The Chevy Silverado is Affordable
There are so many used trucks for sale at an affordable price point, whether you lease or buy. New models of trucks are obviously expensive, but older models are not lacking in regard. Going back as far as 2014, Chevy Silverado has been a particularly outstanding buy.
2014 was the year of the pickup's overhaul. It has so many newer features that Chevy manufacturers use in their newer models. This includes more efficient engines, a higher-quality cabin, and modern safety features, as well as technology that is now standard in newer models. Dropping 250 pounds, it had better suspension than older models and a much smoother ride. You can get all the top features of the 2016 models at a fraction of the price.
Chevy Trucks Maintain High Safety Standards
Chevy has a reputation for being safe. The heightened cabin is designed to enhance this feeling of safety. When driving a Chevy, you feel as though you have a cage of steel keeping you at a safe distance from other drivers. Silverado also has that great visibility that most trucks have but in all weather conditions. Not to mention, the Chevy Silverado is relentlessly tough and has one of the highest crash test ratings.
Silverado Gets Great Gas Mileage
Gas isn't cheap, but the Silverado does a great job of maintaining horsepower while refueling doesn't cost you an arm and a leg. The 2014 Chevy Silverado gets 24 mpg on the highway. That's a competitive number among other truck models on the market.
Silverado Looks Great Inside and Out
2014 was the year of Silverado updates to the exterior, interior and under the hood. The stiffened body structure makes it a tour de force on the road. The LTZ trim has a stitched vinyl dash. It has door padding, chrome-accented buttons, and the MyLink interface, making it one of the more tech-savvy truck models.
Silverado Hauls and Tow with Tons of Power
The 2014 models have new V6 and V8 engines. The Silverado's volume powertrain, the 5.3-liter V8 and six-speed automatic, and a 4.3-liter V6 and a 6.2-liter V8 are available. It has a fuel-saving cylinder-deactivation feature, which will operate aV-8 on just four cylinders.
The Silverado drives car-like on the road, but with a well-weighted steering wheel, you know it's built for hard-cornering. With a firm brake pedal, it has a short 178-foot stop from 70 mph.
The Silverado is very powerful. The 5.3-liter V8 has full 355 horsepower and 383 lb-ft of torque. The 5605-pound Silverado crew cab to 60 mph in 6.7. It gets better. Under hard acceleration, the engine purrs and really lacks any noisiness at all.
Choose McCluskey Auto for Your Chevy Silverado Purchase
At McCluskey Auto, we rise above the competition as we want to provide a valuable service to our Cincinnati communities. We do our best to serve our customers and ensure they never leave us dissatisfied.
We want our customers to know, even if they can't afford to buy new that there are plenty of used trucks for sale on our lot. Including, of course, the Chevy Silverado. Owning a truck is so much fun, but too often people think they are pressed to buy an economy car. They are selling themselves short of a more exciting buying experience.
We guarantee our customers that they will find a used truck that will provide the needs and some of the fun that comes with owning one. We want to help our customers search our inventory for the perfect car for them. The Chevy Silverado is one that we have a lot of in stock, so it's worth checking out.
Flexible Financing Options at McCluskey Auto
If you have had trouble recently getting financing with poor credit and have struggled in the past with traditional lenders, come visit us at McCluskey Automotive. We can tell you about our Buy Here, Pay Here option which can help you purchase an already very affordable vehicle
Do you have an older model you want to trade in? We can evaluate how much your trade-in is worth, or how far you can get with that down payment you've saved.
You might think that buying a truck right now would be a huge investment. Have you considered purchasing a pre-owned truck? There are so many used trucks for sale at McCluskey Auto. Stop in today!