No Matter Your Credit Rating, We Can Finance Your Used Truck Deal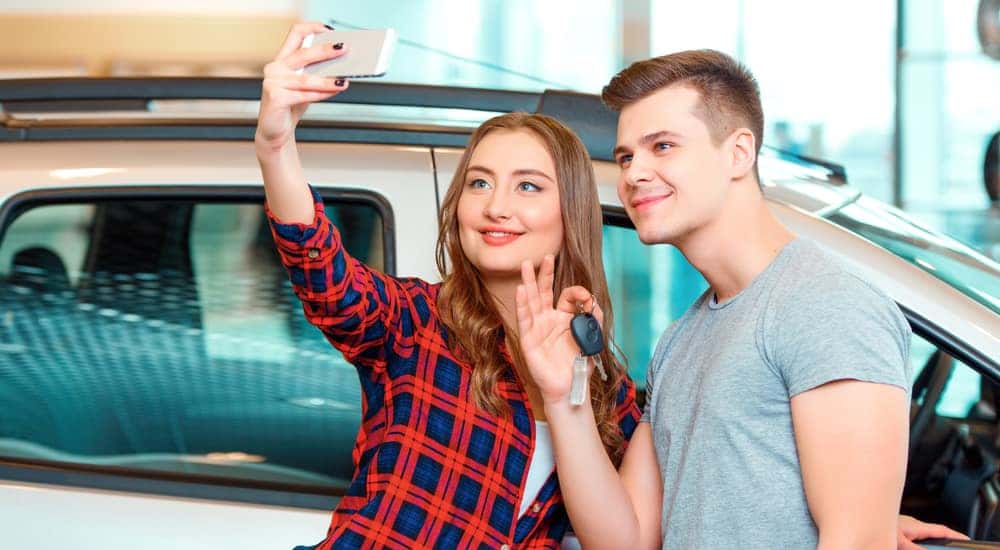 If you're in the market for a used truck but your credit rating is less than perfect, don't worry. Here at McCluskey Chevrolet, we have a number of suggestions and programs that can help you finance your used truck with a less than stellar credit rating.
Before you visit our showroom, contemplate how much you can afford as a down payment on your used truck. The larger the amount of a down payment, the easier it will be to secure financing. Check with your family and friends who have a solid credit rating and see if they're willing to co-sign a loan for you. Let them know that it's not forever; after you've made a certain amount of on-time payments, you can release the co-signer from the loan.
At McCluskey Chevrolet, we offer a Buy Here Pay Here program that works with bad credit buyers to help them purchase a vehicle, regardless of their credit history. How does it work?
This is an excellent alternative method of car financing that puts McCluskey Chevrolet as the loan lender instead of a bank or other traditional financing institution. What makes the McCluskey BHPH program unique is that we guarantee financing, no matter your credit history. We take the time to treat each and every customer with kindness and respect. We listen to each individual situation and base our financing decisions on the individual not a computerized system.
Our Cincinnati dealership has nearly 50 used trucks for sale.  We offer a variety of incentives that include e-prices, a free 24-hour hold, a Carfax Clean Vehicle History Report, and free lifetime mechanical protection on certain used trucks. At any given time, we have a large inventory of used trucks for you to test drive. Here's a select few:
Pre-Owned 2008 Chevrolet Colorado LT
The 2008 Chevrolet Colorado LT is the top-of-the-line trim for this attractively styled, light-duty crew cab compact pickup truck. It's designed with four regular forward-swinging doors and equipped with a standard 2.9-liter four-cylinder making 185 horsepower and 190 pound-feet of torque. The 2008 Chevrolet Colorado features standard antilock brakes and OnStar emergency communications. Drivers have expressed pleasure with its dual-position tailgate that can be secured partially open to better support building materials resting on top of the wheel wells.
Pre-Owned 2009 Chevrolet Avalanche 1500 LT 4WD
If you're looking for a desirable crew-cab pickup for carrying a combination of passengers and cargo—a blend between a SUV and pickup—look no further than our pre-owned 2009 Chevrolet Avalanche 1500 LT 4WD. One of its big draws is its practical convertible midgate configuration. This uniquely flexible midgate design, only available on a few full-size pickups, considerably enhances its functionality. The midgate is a removable partition separating the cabin from the bed. When combined with the watertight, three-panel lockable bed cover, the midgate allows a variety of configurations, including a fully open pickup bed or a fully enclosed dry cargo area.
Its unique design does not stop there. The Avalanche maintains it pickup truck reputation offering a four-door crew-cab configuration except it lacks a true pickup's separate cab and bed design. That's where the SUV blend comes into play. The Avalanche is designed with a one-piece body like a typical SUV.
The Avalanche 1500 is equipped with a number of safety features including an OnStar system and Bluetooth connectivity, as well as a rear back-up camera. Drivers will appreciate its six-speed automatic transmission that helps to improve fuel economy.
Pre-Owned 2004 GMC Sierra 1500 4WD
We're also offering the pre-owned 2004 GMC Sierra 1500 4WD pickup truck. It's been praised for its powerful drivetrain, classic exterior styling, quiet interior cabin, easy maneuverability with Quadrasteer, and newly designed 17-inch wheels.
Pre-Owned 2011 Ram 1500 ST
If you're seeking a full-size pickup truck with a winning combination of strong performance, smooth ride, and a classy cabin, arrange to take a test drive in the pre-owned 2011 Ram 1500 ST. It gives its drivers the best of all worlds. For heavy duty work, its chassis is built strong and it's powered by a V8 engine. Its interior is praised for its design, ergonomics, and materials, providing clever storage spaces and a smooth comfortable ride quality.
The ST trim is the base model and provides drivers with vinyl floor covering, air-conditioning, a 40/20/40-split front bench seat, vinyl upholstery, a tilting steering column, and a six-speaker stereo with a CD player and an auxiliary audio jack.
Pre-Owned 2013 Chevrolet Silverado 1500 Work Truck
The 2013 Chevrolet Silverado 15000 is a full-size highly capable pickup available in a Work Truck base trim level. It is primarily aimed at commercial buyers looking for a basic truck for towing, hauling, and performing various other jobs.
It comes standard with steel wheels, vinyl seating and manual windows and mirrors along with standard air conditioning, cruise control, and an AM/FM radio.
Pre-Owned 2014 Chevrolet Silverado 1500 LT 4WD
When it was unveiled in 2014, the Chevrolet Silverado 1500 LT 4WD half-ton pickup truck had just been redesigned for that model year. It is equipped with revised steering/suspension/brakes, improvements to the cargo box area, and a quieter and more comfortable cab.
Pre-Owned 2017 Chevrolet Silverado 1500
If you're seeking a used truck for your teenage driver or to tow your boat or jet ski, take a close look at the 2017 Chevrolet Silverado 1500. Its standard Teen Driver feature will give parents peace of mind when their teenager takes this truck out on the town.
Another safety perk is its low-speed forward emergency braking system added as part of the Enhanced Driver Alert package. Chevy designers have also equipped the 2017 Silverado 1500 with a capless fuel filler, plenty of small storage spaces for extra cargo, and lots of outlets and USB ports for the family's electronic devices to be charged in the truck. And if you're bringing along your family boat or camping equipment, you'll find the 2017 Silverado 1500 provides generous towing capacity.