McCluskey Automotive for The Best in Certified Pre-Owned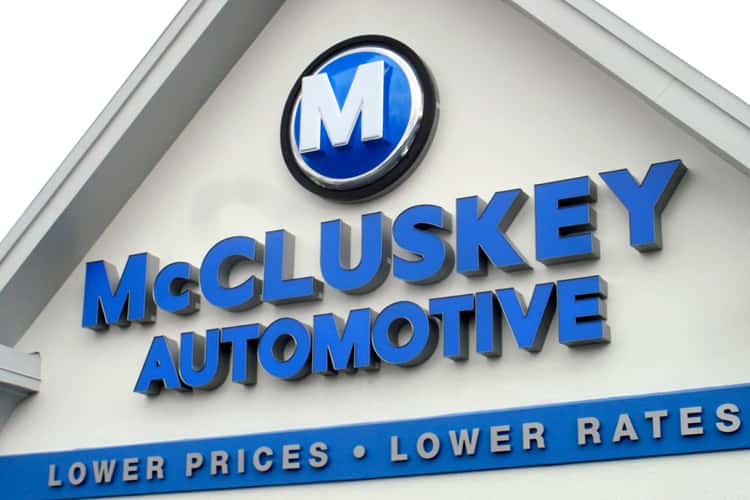 McCluskey Automotive is a better kind of car dealership. We take pride in the service that we provide to the tri-state area and go above and beyond to get you in the vehicle that best suits your needs. If you are in the market for a quality vehicle at a price that is right for you, the selection of certified pre-owned cars that you will find at our dealership is sure to offer you a perfect fit. Our customer service specialists will be happy to answer all of your questions and get you into your perfect certified pre-owned vehicle.
Benefits of Buying Certified Pre-Owned
For people on a budget, new cars can carry expenses that really add up. With higher monthly payments and added insurance costs, a new car can end up costing much more than what is listed on the sticker price. A certified pre-owned vehicle could be a more suitable option for those looking to drive a dependable, yet affordable vehicle. Aside from a lower initial cost, here are a few things certified pre-owned cars offer:
Less Depreciation. From the minute that you drive a new car off of the lot, it begins to lose value. This often makes used cars a better value. While new car buyers can lose thousands of dollars on their vehicle purchase, a person who buys pre-owned will actually save nearly the same amount.
Save on Taxes. Many states make new car buyers pay state sales tax on their purchase. This is not the case when buying pre-owned. This savings can be significant depending on where you live so be sure to add that number to your price comparison research.
Only Pay for What You Need. New car buyers can be bombarded with options. Add-ons, upgrades, detailing packages – all great. However, if you are looking to spend just what you need in order to drive a quality vehicle at a price you can afford, these options only serve to make you spend more money while not adding anything extra to the actual value of the car. When you are buying pre-owned, you may not get as many choices in the details but you can always add whatever extras you may like with aftermarket installations.
A Warranty That Works for You. When buying a pre-owned vehicle be sure to consider the warranty. Some  of the newer pre-owned vehicles come with a warranty that is an extension of the original. Other pre-owned cars offer a purchase of their own warranty. Depending on factors, such as how long you plan to drive the vehicle, whether it will be your main or extra vehicle, and what each warranty covers, should all be considered at the time of purchase. Our customer service specialists can help you decipher the warranty that best suits your needs without having to pay extra for features you will most likely never have to use.
What Advantages Do Certified Pre-Owned Vehicles Offer Buyers?
When you purchase a certified pre-owned vehicle, you want to be sure that you are getting a great deal. You also want to be sure that you are buying quality. Certified pre-owned vehicles go through many checks before they are made available for sale. These inspections assure that the car you drive is a high-quality vehicle. So what do you get when you buy a vehicle that is certified pre-owned?
A Complete Inspection. Every certified pre-owned vehicle must go through a complete inspection before it is placed on the market for sale. In order to pass this inspection, all aspects of the vehicle are inspected. A few of the checks performed by a mechanic are verification of the age and mileage limits of the vehicle. Cosmetic interior and exterior checks are performed, as well as engine, transmission, ventilation, heating, battery, and other operational systems and parts. During inspection, all aftermarket add-ons, if permitted, will be inspected to ensure that they do not compromise the safety, emissions, or operation of the vehicle.
Repair of Any Damaged or Worn Parts. When you buy a certified pre-owned vehicle you are purchasing a car that is basically "like new." During a full inspection of the interior and exterior of the vehicle, as well as an inspection of aftermarket add-ons, any issues that arise must be addressed before a car can be certified pre-owned.  Any damages or worn parts that were found on the vehicle during the inspection have been fixed or replaced. The result is a car that is very close to "new car" standards, but without the high price tag and extra expenses that new cars can carry for the buyer.
A Better Value. When a quality vehicle with a value price tag is what you are looking for, a certified pre-owned car delivers. Along with the assurance of a complete inspection, the confidence that your vehicle and all of its parts are performing at an optimum level, and the option of a warranty for further security in case of any incidences, you can also be assured that you are paying only what you need to be driving your vehicle
The Big Picture of Certified Pre-Owned Vehicles
Of course new cars are great and for some buyers they can be the right choice. But, if you are looking to stick to a budget and still want to drive a quality, reliable vehicle,  buying certified pre-owned is a great option. It's important to look at the big picture when it comes to making a big investment like a car purchase. When you are researching remember to consider value, depreciating costs, taxes, as well as any other additional fees that may accompany your purchase. By choosing a certified pre-owned vehicle you could be saving yourself a lot of money while still maintaining the confidence that you are driving a vehicle that is like new.