How to Sell Your Car ASAP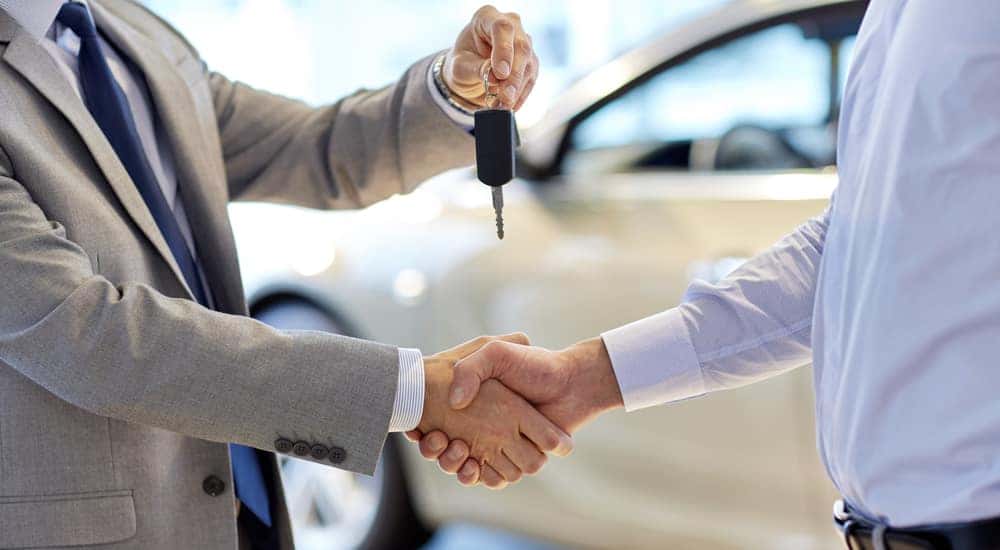 There are a variety of circumstances that may force you to sell your vehicle as soon as possible. This is easier said than done, as selling a car isn't a simple task. These ordeals often take months to complete, and trying to expedite the process may not necessarily work in your favor.
If you've recently thought to yourself that it's "time to sell my car," you'll want to continue reading our guide, where we'll maximize the chance that you will sell your vehicle quickly. We'll provide pointers for selling your car on the open market, and you should hopefully secure a deal in no time…
Understand the Value of Your Vehicle
Customers aren't going to have much patience for a flip-flopping seller. They're going to want as many specifics as possible, especially when it comes to the car's value. You're going to want to have established an asking price for your vehicle, and you may displease a customer by initiating a bidding war.
Of course, you're still going to want to secure the best possible deal for your car. That's why you should refer to a number of car-selling tools prior to putting your vehicle on the market. Several websites will provide fair used car values, and you can even refer to previous and similar sales on eBay.
It's important to realize that if you're looking to sell your vehicle as quickly as possible, you might have to eat a bit of money. By pricing your car competitively, you're more likely to generate some interest. Just make sure that you're not giving your car away… you still want fair value for the ride. Remember that potential buyers are going to haggle over a price regardless of your pre-established value, so it's better off to aim a bit high.
Prepare Your Vehicle
You're going to entice potential buyers by displaying a clean vehicle. Customers may be turned off by a messy interior or a salt-stained body. By simply vacuuming the vehicle and taking it through a car wash, you'll make the ride a lot more presentable.
Some sellers go as far as hiring a cleaning service for their interiors, and some even pursue detailing work. These are probably unrealistic options if you're looking to move the vehicle quickly, and if you can do an adequate cleaning job yourself.
At the very least, you should assure that several crucial aspects of your vehicle are operating properly. In particular, the engine should at least be competent, as you may find yourself earning less for the vehicle if the motor isn't working. The air conditioning/heater are also essential features, and any bizarre noises may cause a prospective buyer to pause.
Make Yourself Available
This is one of the most overlooked aspects of selling a vehicle. If you want as many potential customers as possible, you're going to have to be relatively flexible with your schedule. You're going to have to work around your potentials customers' available time, and you shouldn't expect them to work around yours. There are endless options out there for car buyers, and they can simply move on if they're unable to view your vehicle.
Now, "being available" doesn't mean carving out a five-minute window and quickly meeting with the customer. They're going to want to give the car a test drive, and you should really adhere to their "demands" if you hope to sell that car quickly.
This means you'll also want to be prepared to sell the vehicle when you're showing it to prospective buyers. Have the title (and any accompanying paperwork) ready to go, assuring that you can finalize that deal as soon as possible.
Advertise
No one is going to know that your car is for sale if you don't advertise… and we're not talking about putting a 'For Sale' sign on your window. We mean posting on CraigsList or purchasing an ad in a newspaper. You can even utilize social media, posting your vehicle listing to any of your sites.
These advertisements could play a significant role in how many customers inquire about your car. You'll want the accompanying photos to highlight the best attributes of your vehicle, and you'll want to assure that the pictures are flattering. When you're describing the vehicle in the text of the advertisement, make sure you solely focus on the vehicle's best qualities.
You can also make the advertisement eye-catching or humorous, which will at least generate some clicks on your post.
Other Options
There are several alternative options, meaning you don't have to stress as you attempt to quickly sell your vehicle…
There are plenty of businesses out there that will be interested in purchasing your vehicle. A dealership may be willing to take on your car, regardless of the condition, if they believe they can make some money off of it. However, you'll have to remember that these dealerships may not offer as much money as you could get from an individual, private buyer.
Furthermore, if you're going to be pursuing a replacement for your current ride, you could consider trading it in. You'll often secure a much better deal from a dealership if you use those earnings towards another one of their cars.
If you simply want to get rid of the vehicle, you could consider donating. This will eliminate all of the stresses that accompany selling a vehicle, and you may even find some tax-deductible opportunities out there. Plus, doesn't it feel good to know that your car is going to a good cause?
Can you just simply not afford the vehicle anymore? Visit a local bank and explore whether it's beneficial to refinance your vehicle. While you may find yourself with a higher interest rate, the loan period will be elongated, giving you significantly more breathing room and lower monthly payments.
Easy, right? Of course, we say that with sarcasm, as selling a vehicle still takes plenty of time and effort. But, by following the pointers above, you should be able to sell your vehicle as quickly as possible.