3 Ways to Sell Your Car: Pros & Cons of Each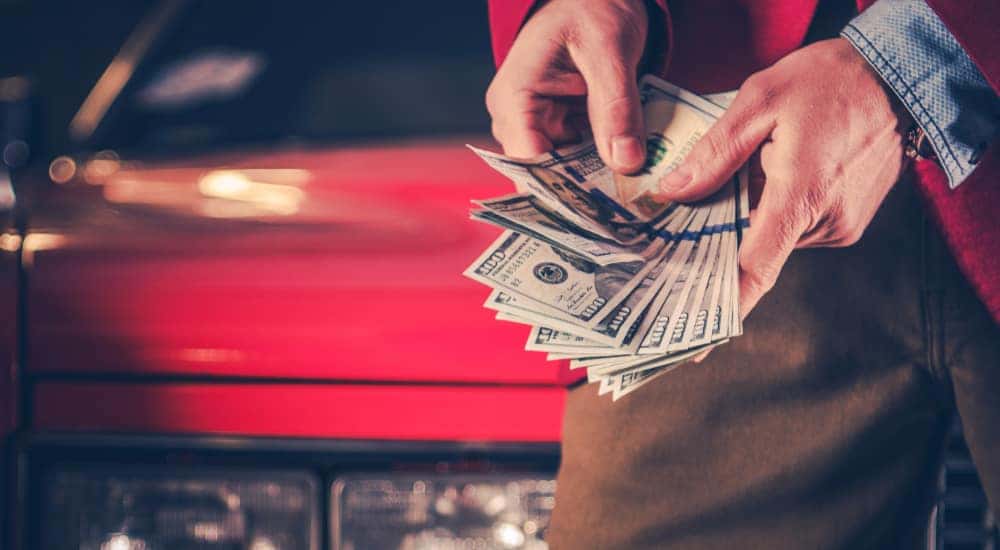 It's hard to believe that there was once a time when a person had to actually put a sign in the window of their car, park it on a corner, and cross their fingers that they were home when a potential buyer called. While this car selling practice is still used from time to time, the vast majority of used car sales are either dealt with online, or at a dealership. If you have recently had the thought, "Man, I really need to sell my car," but are completely lost on to how to actually begin the process, you aren't alone. Hundreds of people across the country are in your shoes, and rather than discover less time-consuming routes in order to sell their vehicle, they resort to the "fingers-crossed" approach.
Don't Wish on a Shooting Star: Discover Actual Ways to Turn Your Car into Cash
You have made the decision to sell your current vehicle, and a quick internet search yields thousands of options. From opinion pieces, to ads promising to buy your car, to third party websites looking to make money off your used vehicle – the options seem endless. Rather than sift through the pages of what may or may not be useful information, check out the basic options you have to choose from when you go to sell your car.
Option 1 Selling Privately:

The Positives: After doing some quick digging into the value of your current car, you have determined that you will get the most money out of your vehicle if you sell it privately. This epiphany will more than likely be short lived, not because you don't have the ability to sell your car, but because it takes a lot more work than you may think.
The Negatives: If the car you want to sell is your primary source of transportation, then sticking it on the side of a visible intersection with a FOR SALE sign in the window is an unlikely option. You can post it online with a classified site, but these are often less reliable and leave you open to scammers. If you do successfully hear from a potential buyer, then you are tasked with carving time out from your busy schedule to meet in person. This can prove to be a worthy use of your time if your potential buyer turns into a definite one, but there is no way to know until you actually put the time and effort in to meet.
Tips for Success: If this option is still one that intrigues you, be sure to overestimate the amount of time you will spend marketing your vehicle, and meeting with buyers. It is also wise to expect at least one potential buyer to simply not show up, an unfortunate, but likely scenario. It is important to protect yourself, your car, and, of course, your finances. Bring a friend with you when you show your vehicle, and offer to meet buyers in the parking lot of the local police station. In the age of the Internet, you really can never be too careful. It is a good idea to ask for cash, or at the very least, a certified check from a bank.

Option 2 Trading it In:

The Positives: If you are in the market for another vehicle, whether it be new or used, trading your current vehicle in at the dealership you will buy from can be a stress-free way to take away the burden of finding a buyer. This two birds, one stone option is an especially nice one if you need a car to replace the one you are trying to sell.
The Negatives: If you are opting to trade your vehicle in for another one, you will be on the hook to buy from whatever dealership you bring in your car to sell. This may seem like a no-brainer, but is still a point worth noting. Another potential negative worth mentioning is that you will get less money for your car if you go this route, as opposed to selling it privately.
Tips for Success: If you decide to trade your vehicle in to a dealership when you buy your next car, be sure to know what your car is worth. Be ready to negotiate if you need to, and also make sure you bring the title of your vehicle with you to the dealership. Before you head in to the dealership closest to your house, head online and investigate their online inventory. Make certain that the dealership has the vehicle you are interested in, because if they don't, you will have wasted a lot of time and energy.
Option 3 Selling to a Dealership:

The Positives: This is a great option if you are on the fence between selling privately, and trading your car in for another one right away. Dealerships that offer this type of program, such as McCluskey Automotive, will appraise your vehicle while you wait, and hand you a check if you accept their offer. No strings attached and no games. Best of all, you get a great price for your car, without having to spend endless hours marketing and meeting buyers.
The Negatives: If you want to sell your car for cash on the spot, there really are no negatives to selling it to a dealership. They not only buy your car from you, they get to do all of the heavy lifting that accompanies selling a car. Because of this, you will get less than you would from a private seller, but no amount of money can buy back the hours lost trying to sell your car.
Tips for Success: Not all dealerships will offer you cash for your car, so it is important to call ahead or do some digging to find out whether or not they offer such an incentive. Be certain that you feel comfortable with the dealership, and don't ever feel pressured to sell your car or buy a new one in return.
Sell McCluskey Your Car TODAY
McCluskey Automotive is the top rated dealership in the Cincinnati area for buying your car, so the best tip we can give you, is to head on down for a quick and easy appraisal. If you like what we have to offer, you can sell us your car today. If you don't like our offer, simply start back at option one. No harm, no foul. And best of all – your entire day won't be wasted. Give us a chance, and we will give you a check for your car today.