7 Tips to Help Make Selling your Used Car a Breeze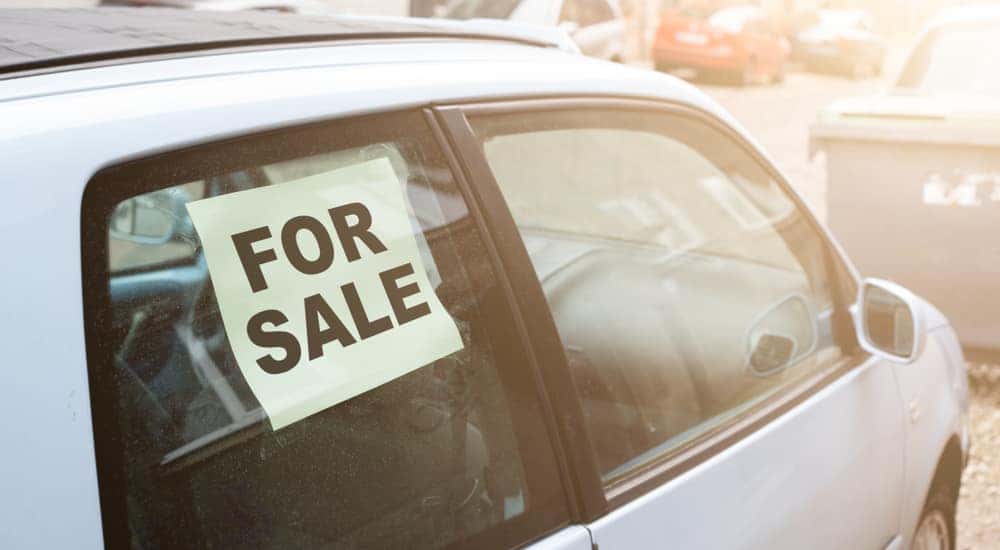 Buying a new car is usually pretty fun. For the buyer, it's cleaner, more stylish and, often, more efficient machine that can turn your everyday driving from a chore into something you really love to do.
If, however, you can bear to pry your eyes off your new vehicle's fancy new amenities, premium features, and sleek updated design, you may end up having your glance fall on the one left behind – your previous car, now used and unwanted.
If you didn't trade in your used vehicle to purchase a new one, but now it's time to part ways, you might be asking yourself "How can I sell my car today, without taking a total hit in price?"
With these seven simple tips, you too can get that used car off your back at a good price, and with the confidence of a deal well-forged.
1. Clean it for Curb Appeal
Obviously, first impressions matter – a lot. If the first thing a customer notices when they look at your used car for sale is the dirt, scratches, or stains – interior or exterior – chances are, they will be a lot less motivated to buy at all, let alone give a good price.
Doing something as simple as giving your used vehicle a good once-over with soapy water, interior cleaner, and maybe some touch-up paint can end up being worth a lot more in the final sale price.
2. Do Price Research
Never go into a negotiation blind, especially when modern tools like the internet make being knowledgeable so much easier. Shop around and look at what other sellers are asking for the same vehicle near you.
Chances are, your customers are going to be shopping around as well. If your prices are competitive with other offers, your chances of a good sale increase greatly. And, by knowing generally how much your used vehicle is worth, you guarantee yourself a fair asking price as well to make sure you get everything your vehicle is worth.
3. Advertise Efficiently
It's the 21st century, and social media is a powerful outreach tool. Don't be afraid to put your used vehicle out there on the web, using every tool from photo galleries to hashtags to get word of your sale to as many people as you can. The more lines you put out there, the better your chances of connecting with a good buyer. And, most importantly, this kind of advertising costs you nothing.
And that's not to say you shouldn't use traditional advertising methods as well. A lot of used car buyers continue to find good deals through classified ads, posters, and even by a simple sign on the windshield. Whatever you can do to connect with potential buyers, do it – the more you reach, the better your odds.
4. Have a Mechanic Inspect It
Having proof that your used vehicle is in good working condition can save you money in the thousands in a final sale. If you can show a potential buyer recent receipts from a full workup from a mechanic, that buyer will be able to walk away from the deal confident that the car is not a lemon and was in fact worth the investment.
While the cost of repairs can be expensive on a used car, you can often recoup those costs in the sale of your car. Think of it as a kind of insurance for the buyer, since used cars often come with no warranty. If you are confident the vehicle is in good working order, then so will your buyer.
5. Be Open to Showing Your Car
To be a good salesperson, it's important to be willing to let people come and see the vehicle for themselves. You wouldn't buy a car without seeing it and taking it for a test drive first, and neither should the buyer of your used car.
It can be inconvenient for those who work or have busy schedules, but by being open with showing your vehicle you greatly increase your chances of finding a serious buyer willing to meet your asking price.
6. Consider Selling to a Dealer
In some cases, selling to a used car dealer may actually be a better option than trying to sell on your own. In many cases, the dealer has the expertise and reputation required to get a used car into the hands of a new owner, which can sometimes be a long a difficult task for an owner trying to sell alone.
Selling to a dealer is often an easy experience, as their inventory is readily available for you to inspect for price comparison. As with any buyer, however, you should be firm about getting the full value of your car, or the same value in a trade.
7. Don't be Afraid to Negotiate
No matter who you're dealing with or what kind of used car you're trying to sell, it's never a good idea to simply take a bad deal in the interest of offloading an old vehicle. You as the seller have a right to negotiate and get what you think your vehicle is worth. If your research is solid and you can prove the legitimacy of your asking price, then as a good negotiator you should be able to find a compromise that makes everyone happy.
That being said, it's important to be open to reducing your price to meet your buyer, and so that's where the finesse of negotiation comes in. It's a good idea to initially ask for more than you expect to get with the expectation of lowering it some, but if you post it for too high a price you could scare off some potential buyers who may not realize you are willing to negotiate. Be open about your desire to work with a buyer and be tactful when discussing price with a customer – that way, everybody gets what they deserve.
With these basic guidelines in mind, we hope the sale of your next used car goes swimmingly. With luck, you'll have the confidence to tell yourself "I'm going to sell my car today," – and you might just be right.