Dig Out of Debt with a Buy Here Pay Here Loan from McCluskey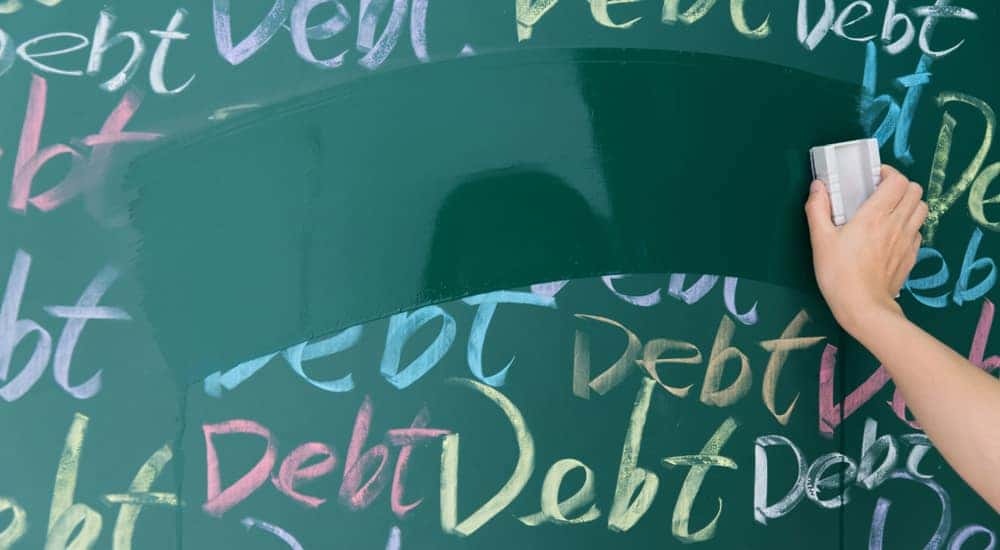 Getting buried under a mountain of debt can seem impossible to escape. Even those with the best intentions end up being refused when they try to get a credit card, loan, or even open up a bank account. The sad fact is, building credit back up requires individuals to get loans and credit cards, and if they are unable to obtain these fundamental building blocks, their credit will never be restored. This vicious cycle is not only a ridiculous one, but leaves those with poor credit feeling defeated in the worst possible way. Now that we have covered the bad news, the good news is that it is easy begin restoring your credit with a buy here pay here financing loan. Whether this is your first time hearing this term, or if you are cautiously familiar with it, we are here to set the record straight.
What is Buy Here Pay Here Financing?
A buy here pay here loan is one given directly to an individual from an automotive dealership. These loans exist as a way to help drivers who are down on their luck get back behind the wheel of their very own vehicle. When others turn you away, a buy here pay here dealership like McCluskey is guaranteed to tell you "Yes."
Buy here pay here is a great way to get into the vehicle you need to get to and from work, get the kids off to school on time, and rebuild your credit – all at the same time. If you are one of the many defeated drivers who have been consistently told "no" when applying for auto loans, this likely sounds too good to be true. Rest assured, buy here pay here financing is as achievable as we say, and not as bad as you may have heard.
Why This Type of Loan Gets a Bad Reputation
In the past, buy here pay here financing received some negative connotations. The truth of the matter is, buy here pay here loans exist to help those who cannot otherwise be helped. They offer a solid, concrete plan to pay down a vehicle loan quickly while rebuilding credit at the same time. Because of the high-risk nature of these types of loans, drivers who take advantage of this great resource will end up paying higher interest rates over other traditional auto loans.
On the flip side, drivers who have nowhere else to turn, are able to drive home in their very own vehicle and have the opportunity to turn their financial world back around. For every single negative comment or experience with a buy here pay here car loan, there are dozens of positive ones.
Another reason why buy here pay here loans have received bad press is because not all dealerships operate as ethically as they should. Less than stellar dealers get buyers into a buy here pay here situation, and don't report their on-time payments to the correct credit bureaus. As a result, all of the hard work and on-time payments made by the driver go essentially unnoticed by those organizations that matter most. Drivers are still behind the wheel of a reliable car, but they are not actively improving their credit score – a fact that many people don't realize until it is too late.
Why You Should Give Buy Here Pay Here a Chance
Buy here pay here dealerships that operate ethically and morally are an excellent option for drivers who have bad credit. Finding a reputable dealership that offers in-house financing through a buy here pay here system is easier than you may think. Dealerships, such as McCluskey Automotive, have hundreds of positive reviews from actual customers who were able to turn their lives around with a buy here pay here loan. After securing reliable transportation and making regular on-time payments with the buy here pay here program at McCluskey Automotive, you will have no problem getting back on your feet and switching over to a traditional loan with lower interest rates, much sooner than you may think.
Taking the First Step
The first step in the buy here pay here financing process is arguably the hardest one to take. Physically walking into a dealership to start the process can elicit feelings of fear, embarrassment, and stress. With a reputable buy here pay here dealership like McCluskey, all of those negative feelings can be left on the bus you took to get here. McCluskey Automotive accepts everyone into their program, and guarantees financing, regardless of your credit score. Sitting down and discussing your options doesn't have to be scary, because the only thing you will be leaving with is a vehicle of your very own – and hopefully increased confidence in your future successes.
The word "No" is never spoken at McCluskey Automotive, so rather than dreading that awful word, you can relish the fact that you are guaranteed that beautiful three-letter-word you have been waiting way too long to hear – YES!
Your Financial Future is Up To You
Whether you come down to McCluskey and inquire about the highly regarded buy here pay here financing program, or you decide to go another route altogether – it is important to know that your future financial success is entirely yours to achieve. You have more control than you think and it all starts with taking that first, all-important step.
Securing your buy here pay here loan and driving home in your new-to-you car is only the first step in the process. Making regular on-time payments, taking care of your vehicle, and continuing to take steps to rebuild your credit, are all ways to ensure that your financial future is as bright as possible.
Don't wait another second! If your credit score is less than stellar, and you have exhausted your options to help rebuild it, then come down to McCluskey and speak with a knowledgeable and understanding team member. We are here to help, and take great pride in having the ability to help you accomplish a goal that will allow you to set yourself up for the utmost success in future endeavors.