Did We Just Change What it Means to 'Buy Used'?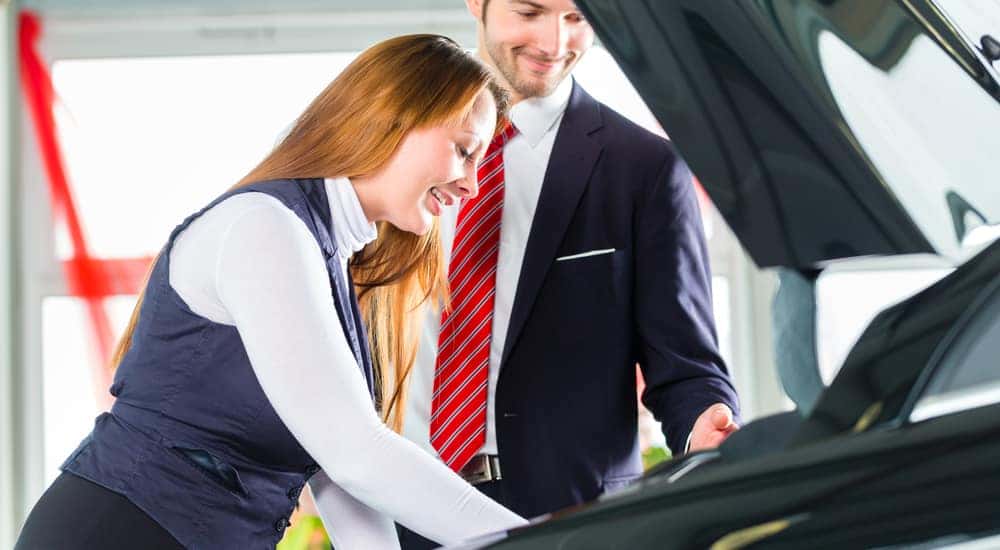 When deciding to purchase a previously owned vehicle, your expectations of satisfaction will either be met, exceeded (or missed entirely) depending on who you do business with. The simple fact is that not all used car dealers are created equal.
Look closely, and you'll find that the differences present themselves in any number of areas. From selection to service, pricing to culture, there are so many things that an informed consumer should take into consideration. With that in mind, it's surprising that so many car buyers still favor proximity (above all else) when selecting a dealership.
At McCluskey Automotive, we aspire to exceed every one of your expectations. We invite you (once more) to look closely so that you can appreciate what makes us different from other dealerships. While we have hundreds of new, pre-owned and GM Certified vehicles in our inventory at all times, we welcome the opportunity to help you find the perfect pre-owned vehicle for you unique demands of your lifestyle. Why? Because…
Buying Pre-Owned is a Smart Choice
While the choice of buying a new or pre-owned vehicle is a personal one, there are a number of arguments in favor of the latter. Among them is the simple fact that, by considering a pre-owned vehicle, you empower yourself to get 'more car for your money'.
This comes down largely to the reality of depreciation. Purchasing a new vehicle exposes you to the lion's share of depreciation. Occurring across the first five years of a vehicle's life, and beginning the moment you drive off the dealer's lot, a new vehicle loses its value quickly. In fact, the initial departure from the dealership results in the car losing approximately 11% by the time that its rear tires meet the street. This means that, if you paid $30,000 for a new car, it would be worth around $27,000 if you turned right around and tried to sell it.
Purchasing a pre-owned vehicle means that you've allowed the previous owner to shoulder that depreciation. A three-year-old vehicle, for example, will have depreciated approximately 46%. This means you could acquire the same vehicle, for significantly less. It also empowers you to purchase higher trim levels, that you may not be able to afford in a new vehicle.
With that in mind, we applaud anyone considering the purchase of a pre-owned vehicle. Our responsibility comes in offering you the best possible selection.
Extensive Inventory
While our diverse inventory is recognized among the best in Cincinnati, we have to admit: we think it stands up very well against that of almost any other dealership. Consisting of a wide variety of makes, models, years and trim levels, our goal is to craft an inventory that caters to drivers from all walks of life, and to all budgets.
And if we don't have the vehicle that you're looking for, we are more than happy to offer a nationwide for that vehicle. If there is a specific make, model, year, trim level (or even paint color) we will do everything possible to find what you're looking for.
Quality First
Selection means nothing if a dealership's 'extensive inventory' is inconsistent in terms of quality. From our accessibly-priced offerings to higher-end vehicles, you can rest assured that buying from McCluskey Automotive comes with confidence.
Because guaranteeing reliability and safety shouldn't be a selling point for a dealership, it should be a base expectation for any customer.
Your Time. Your Terms.
Taking great pride in our selection, we invite you to explore it further. And where better place to do it than right here, at mccluskeyautomotive.com. From the comfort of your own laptop, tablet or phone you can explore our inventory, with thorough profiles for every vehicle on our lot.
As valuable as both are, this means more than offering a thorough photo gallery, or a breakdown of manufacturer specifications. It means providing our valued customers with every tool and resource needed to buy with confidence.
Right off the bat, consider the value of a free CarFAX vehicle history report, made available with a click, or the swipe of a finger. This allows you to explore each vehicle's history, ensuring that you can make an informed decision on any vehicle that you're considering.
From there, our Shopping Tools are designed to help you determine if a vehicle is the right fit for you (and your budget). Whether you'd like to value your trade-in, calculate your payment or schedule a test drive, these tools are here so that you can make your decisions on your time, and on your terms.
Other dealers might prefer the opportunity to pressure you into purchasing one of their vehicles; we'd simply like the opportunity to help you buy the car that you want.
Unparalleled Customer Service
That's a lofty claim, we know…but providing the best possible service should be the cornerstone of any dealership's approach. Without it, there would be no chance of creating lasting relationships, and there may nothing more important to McCluskey Automotive than our relationships with our valued customers.
And our customers are valued whether they're well-financed or credit-challenged. Customers from all walks of life are welcome here and can expect to be treated with respect; because everyone deserves a relaxed, no-hassle car buying experience.
Find Out For Yourself
Everyone here at McCluskey hopes that you will take us up on our invitation to explore our inventory online, and get an understanding of what we have to offer. But we also hope that you visit us so that you can experience our service first-hand.
Whether you are buying new or pre-owned, we are committed to creating a car-buying experience, unlike any other dealership. But if you are looking for a pre-owned vehicle, we are here to make sure that you don't have to settle. Why? Because you're making a very intelligent investment, and at McCluskey Automotive we want you to enjoy a strong return on your investment.