Credit Challenged? We Can Help…..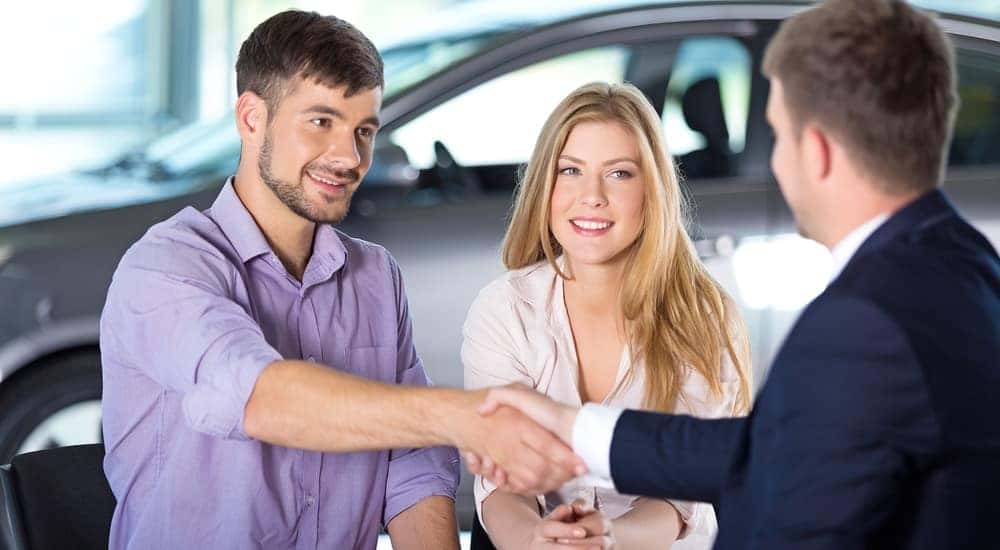 Welcome to McCluskey Automotive! Out of all of the Cincinnati buy here pay here car lots, we are the only name you need to remember! When it comes to bad credit car loans in Cincinnati, we have been helping drivers get behind the wheel of new cars, trucks, and SUVs for decades. Our entire team of hardworking staff is dedicated to getting you the best possible deal on a great used vehicle, regardless of your credit situation. That's right, we can guarantee that you will be approved to purchase a vehicle, and drive off the lot today.
At McCluskey Automotive, we hate hearing from our customers that they were turned away somewhere else because of bad credit. In today's economy, having poor credit is commonplace, and we want to help. That's why we have created an instant way to get pre-qualified for a car loan, before you even step onto our lot! Come in with confidence, knowing that you CAN purchase the car you need to get to work, drive the kids to school, and get your shopping done. 
Bad Credit? No Problem!
What exactly is this "buy here pay here" system you keep hearing about? McCluskey Automotive has adopted this unique structure here at our dealership, to help ALL of our customers get behind the wheel of the car they have been dreaming of. Just because you have less than stellar or poor credit, doesn't mean you don't deserve the chance to get back on  your feet. Check out what McCluskey Automotive, as a Cincinnati buy here pay here car lot, can do for you!
Peace of Mind. With buy here pay

here, you don't need to be worried that you won't qualify to purchase a vehicle. McCluskey Automotive guarantees that everyone who walks through our

doors, will qualify to purchase a new car. Skip the dealerships that leave you feeling unnecessarily embarrassed. Bad credit happens. We understand that, and we can help.
Get the Transportation You Need. Maybe you found a road-side dealership that can cut you a great deal on a less-than-perfect car. Maybe you are considering it. The fear of breaking down, towing costs, and repairs, can end up leaving you worse off than before you bought that "great deal." McCluskey Automotive is a local dealership with a shining reputation. We stand behind the vehicles we sell, so you can rest easy knowing that the vehicle you purchase from us – will get you where you need to be going, without any hiccups.
Fast Service. Get approved, get your loan, and drive off the lot – immediately. With buy here pay here, there is no waiting on the approval from a bank. We approve you right here in house

. Get the vehicle you need, today!

Rebuild Your Credit. A buy here pay here car buying situation can actually help to improve your credit. That's right – improve.  McCluskey Automotive realizes that it is impossible to rebuild your credit without even having a chance to do so. Buy here pay here financing is one of the best and fastest ways to improve a credit rating. 
If having peace of mind, driving a reliable vehicle, and getting to drive away in your new vehicle today – all while rebuilding your credit – sounds good, then give us a call! McCluskey Automotive is the best Cincinnati buy here pay here lot, and we will treat you the way you deserve to be treated, every single step of the way. 
Convenience
Remember how we mentioned that you can get instantly pre-qualified for your new-vehicle purchase? By filling out a simple form on our website, you can be immediately qualified for your buy here pay here loan. Not only do you come into McCluskey Automotive knowing that you qualify for a loan, you come into our dealership knowing exactly how much you qualify for. You can even peruse our online inventory, so you know the kind of vehicles we offer that are within your budget. 
Speaking of convenience, while you can view our entire inventory online 24 hours a day, seven days a week, we also offer great hours for you to come down and check things out in person. Open seven days a week, McCluskey Automotive is putting our customers first in every possible way. Other Cincinnati buy here pay here lots have limited hours, and are closed on Sundays. What good is having a great inventory of vehicles, if you can never see them in person? Being closed on Sunday never made sense to us, so that is why we are open every day of the week, and we have extended hours during the week.
We are open Monday through Thursday from 9:00AM until 9:00PM, Friday and Saturday from 9:00AM until 6:00PM, and have hours on Sunday from 12:00PM until 5:00PM. 
Arguably more convenient than our hours, is our location. Located at 9024 Colerain Avenue in Cincinnati, OH, McCluskey Automotive is directly off of highway 126 and interstate 275. Whether you live right here in Cincinnati, or across the state line in Kentucky, our dealership is easy to find, and easier to get to.
Used Inventory 
Purchasing a used vehicle from McCluskey Automotive is not like buying from a road-side lot, or from a private owner. We stand behind every vehicle we sell, and our long-standing presence and reputation in Cincinnati, can help assure you that we will be here for many, many years to come. Those other dealerships may disappear when you need them most, or won't offer you any kind of warranty with their used vehicles. Not McCluskey Automotive. We have an extensive lineup of quality pre-owned vehicles to choose from, in nearly every make and model. 
McCluskey Automotive is dedicated to providing our customers with the best quality pre-owned vehicles on the road. That's why we go to great lengths to ensure that every vehicle we sell, is in great working order, with no mechanical issues. Just another way that McCluskey Automotive is providing even more peace of mind.
When rebuilding credit with a buy here pay here loan, it is important to get a vehicle that is within budget. On our website, we have an entire page dedicated to pre-owned vehicles on our lot for under $10,000. Whether you want a car, truck, SUV, crossover, or hatchback – McCluskey Automotive has it in stock. Drivers can choose from Chevrolet, Ford, Nissan, Toyota, and many more quality name brands – so whatever you prefer, we have it! 
Bottom Line
If you have poor, bad, or no credit at all, don't get coerced into a sketchy deal from a fly-by-night dealership. Come into McCluskey Automotive, where you can rebuild your credit with a quality, pre-owned vehicle, and a guaranteed loan. No more explanations, no more hearing the word "No," and no more relying on other people for rides. All you have to do, is fill out a form, check out our website, and come in. If you have questions before you are ready to purchase, give us a call at 513-421-1111. Let us help put your mind at ease, so you can move on in your new-to-you car as soon as possible.  Come into the best Cincinnati buy here pay here lots, McCluskey Automotive, today.