5 Reasons to Rebuild Your Credit with a New-to-You Car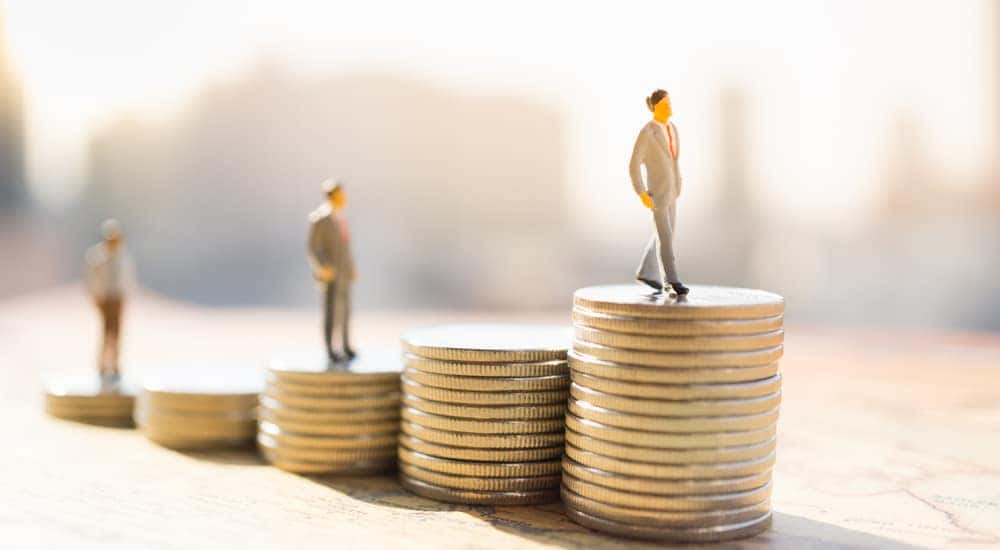 No one wants to admit hardship, especially when it comes to personal finances. In order to begin rebuilding after an unfortunate financial situation, it is imperative to reach out for help. Whether that is from a trusted friend, a financial advisor, or family, the first step in rebuilding is to talk it out. The second step, is to take action. One of the easiest and fastest ways to begin rebuilding, is to obtain a car loan with bad credit.
It's NOT Impossible
Before you click on that upper right "x," hear us out. If you are reaching out for a car loan and currently have less than exemplary credit, then you already know the reality of your situation. Hearing "No" from car dealerships again and again can be defeating, upsetting, and let's face it – embarrassing. It is important to realize that while you may have fallen on hard times, it is not impossible to get a car loan with poor credit.
Certain dealerships specialize in offering loans to individuals looking to rebuild their credit and get back on their feet. Too many people get stuck in the cycle of needing a job, but also needing transportation to get to and from their place of employment. Without a reliable car, employers are less likely to hire, leaving the person right where they started. Buy here pay here dealerships exist to help people break that cycle, rebuild their credit, and start over.
If all of this sounds appealing to you, continue on. If you have heard of buy here pay here dealerships but aren't sure if they are the right fit for you, keep reading. The reality is these dealerships have helped countless individuals, such as yourself, begin the life they have been dreaming of.
What is a Buy Here Pay Here Loan?
A buy here pay here dealership offers drivers with poor or no credit, the chance to get behind the wheel of their very own car. These dealerships offer in-house financing, and a large selection of quality pre-owned vehicles for purchase. They work with individuals to rebuild their credit, and do so in a way that gives them flexibility and freedom for future endeavors.
Buy here pay here dealerships have not always been well received, due in large part to shady business practices by a few less-than-ethical dealerships. Just as one bad apple shouldn't spoil the whole bunch, a few bad buy here pay here dealerships should not sway people away from the help they need to purchase a vehicle. There are more good examples of these dealerships than bad, so before you dismiss this type of loan, check out some of the benefits below.
Five Reasons To Rebuild with a Buy Here Pay Here Loan
Explore five reasons why buy here pay here dealerships can help you rebuild your credit, and take control of your financial future once and for all.
Finally Hear that Three Letter Word –

That's right, Y-E-S! If you are sick of hearing "No" from cheap suits that don't understand your situation, then consider an auto loan from a buy here pay here reputable dealership. Individual dealerships that operate buy here pay here programs are always guaranteed to say "yes," because they do the lending themselves. Banks are not involved, and waiting to hear whether you are approved or not is not necessary. Buy here pay here dealers work with you directly, to get you the car you need for the life you want to live.
Drive Home the Same Day –

After working out the details, you will more than likely be driving your new-to-you car home that same day. The same dealership that offers you the loan for the vehicle, will also hand you the keys after signing on the dotted line. No waiting, no uncertainties. You can go in with the confidence that you will be driving home in a car that day, without being told "No," or made to feel inferior.
Easy Payments –

At a buy here pay here dealership, you make car payments directly to the dealership. Typically these occur on a bi-weekly basis, which means you will be able to rebuild your credit faster than a traditional car loan. Every on-time payment you make to the dealership is recorded on your credit report. If you make two payments per month, your credit score will see significant improvement over a relatively short amount of time. While your credit score won't be perfect overnight, a buy here pay here loan is a good way to start heading in the right direction.
Gain Confidence –

There are few experiences more demeaning for consumers then going into a dealership to purchase a car, just to be told you "can't." On the other end of the spectrum, there are few things more empowering than walking into a dealership, and being told that you CAN purchase the vehicle you need. What may not seem like a big deal to some, is actually a very real accomplishment, and something to be proud of. A buy here pay here dealership provides drivers with the confidence needed to get back on their feet, and rebuild their credit for future financial security.
Be in Control –

With a car loan on bad credit, you won't only be in control of your future financial success, you will also be in control at the dealership. You will be able to help dictate the terms of your loan, and have a say in the type of vehicle you want to purchase. By having this control, you are more likely to drive away satisfied, and happy with the outcome of your dealership experience.
Don't waste another second worrying about how you will get to work, or how the kids will get to school. Take advantage of these dealerships that have been created to help people who need it, create a solid future for themselves. It is possible to get a loan with bad credit, and drive away in a new-to-you car TODAY. Head to your local reputable buy here pay here dealership and see for yourself how easy, convenient, and POSSIBLE it is to secure a good car loan with poor credit.