Get Back on Track with McCluskey Buy Here Pay Here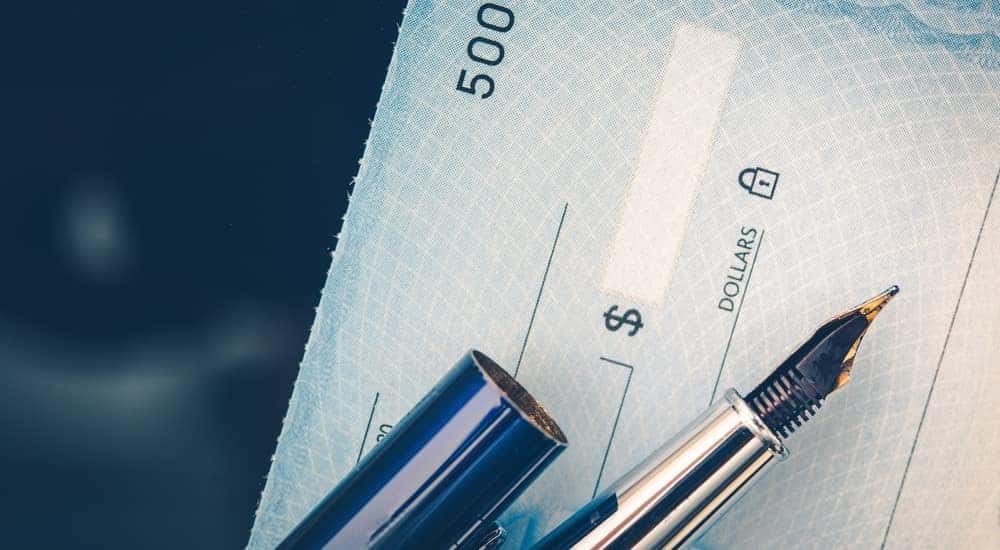 Have you been turned down from car dealerships because of your poor credit? Perhaps you've even been treated differently at these dealerships because of a lack of credit history. When you visit us at McCluskey Automotive, you will never be turned away because of your poor credit.
We offer buyers the chance to buy here pay here in Columbus. This means we finance your ride in addition to selling you a vehicle. We're in the market to help people, especially those that have found themselves out of luck because of bad credit.
McCluskey Chevy wants to help get you in a vehicle. Our financing team makes a decision based on your personal situation, rather than using an automated system. We understand that each person is different and we want to help you feel welcome and honored at our dealership where everyone is guaranteed financing.
Here's what we offer when you buy here pay here with us at McCluskey.
A Huge Selection of Cars
At McCluskey Chevrolet, we believe that buying a car with bad credit shouldn't mean you're limited on selection. Even if you don't have bad credit, we'd love to finance your ride and help you find the perfect Chevy for you.
We have hundreds of used vehicles of all types, from cars and trucks to crossovers and SUVs. Our range of prices helps accommodate just about any budget. We're a GM-certified dealer that takes pride in selling vehicles that have been gently used. Certified technicians at our dealership thoroughly inspect your car before it goes on the lot.
When you shop with us, you'll never be limited due to selection. We talk with you about your budget as well as what your options are. We can give you a great deal, financing, and selection all in one place—this is what's great about buy here pay here at McCluskey.
You won't have to compromise on selection when you shop with McCluskey. Come in and let's talk about your budget, as well as your options for financing. When you need a reliable ride, you can trust McCluskey to be the one to help.
Never Be Turned Down
We work with buyers who have bad credit because we believe that everyone should be able to purchase a reliable vehicle, regardless of their credit history. For those who have great credit scores to those who are struggling, McCluskey Chevy is committed to helping everyone.
That's why we guarantee financing to every shopper. Our vast selection of cars gives you the choice of car you want within your budget. If you're unable to secure financing through other lenders, come and see us. We can help you secure a vehicle even when you've been turned down by an outside lender.
Whether you have no credit or just bad credit, our dealership provides you with the financing you need to buy a car. We help you through the process to make your dream of a vehicle become a reality. At McCluskey Chevrolet, our focus is on helping people, not just selling cars.
Not only will we never turn you down because of your credit, but you'll also be treated with the respect you deserve. Everyone deserves to have a reliable and safe car. We want you to be treated like we want to be treated at our dealership.
The Chance to Improve Your Credit
When you've been turned down time after time by lenders for automotive loans, mortgages, and other financing options, it can feel impossible to improve your credit. When lenders won't give you the chance to improve your situation, it's easy to feel stuck in a rut.
Since McCluskey guarantees financing for every driver, we can help you improve your credit and get you out of the rut you're stuck in. Even if your loan comes at a higher rate, simply making the payments on time will help improve your credit standing.
This could be your chance to get back on track with your credit. When you finance with us, you have a unique opportunity to prove to creditors that you're responsible when it comes to paying your debts, making you a good candidate for future loans. Improving your credit can help you secure future loans with lower rates more easily.
With the chance to improve your credit score and get into a great vehicle, what more could you ask for? Our friendly staff and impressive selection are here to erase your car buying worries and make financing your next ride easy with us.
Come and See for Yourself
At McCluskey Automotive, we go above and beyond to help you. We believe people shouldn't be treated differently just because of their credit score. We want to help people get into a car without having to be turned down by creditors.
That's why we allow every buyer the opportunity to gain access to reliable transportation and improve their credit score with our in-house financing. You're not just another number or a car sale to us at McCluskey. We take the time to get to know you and provide you with the best options that'll work for you.
All you have to do is go online and fill out our credit approval application. This way, you can avoid a long wait and let us evaluate your situation. We never turn a car shopper away just because of their credit score. We genuinely want to help you get into a reliable vehicle and improve your credit situation.
Are you tired of being turned down and not having a car? Come and get the financing options you need at McCluskey Automotive. We've been in business for decades helping people just like you get into a car with secure financing.
We're located at 9024 Colerain Avenue in Cincinnati. You can stop in and see us during our regular hours or give us a call at (855) 622-5875. We look forward to helping you finance and get into your next vehicle.