Buy Here Pay Here Columbus Ohio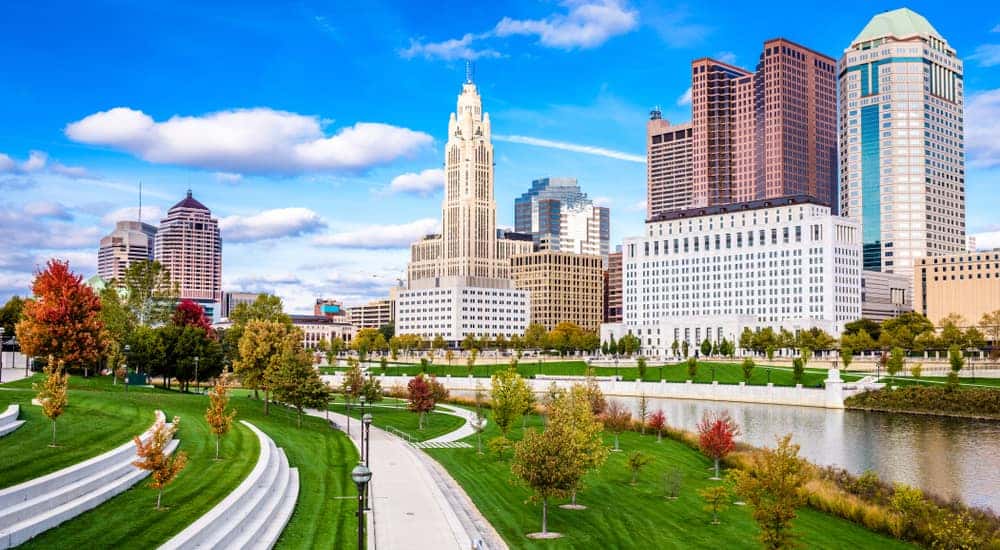 The inability to secure traditional financing towards the purchase of a vehicle can feel like a dead end. But considering that over 88% of car buyers require financing in order to purchase a vehicle, it's a problem that might be more common than you think. Why?
Did you know that nearly three-quarters of American households claim to live paycheck-to-paycheck and that nearly half have less than $500 set aside for unexpected emergencies? With that in mind, it's easy to see how easily financial stability can be compromised in today's world.
So what options are available to those with challenged credit? One of the most commonly used comes in the form of Buy Here Pay Here dealerships. These are dealerships where, in addition to selling you a vehicle, the dealer assumes the role of the lender as well. The convenience comes in the ability to make payments directly to the dealer, providing you with a true one-stop shopping experience. The added benefit is that buying from a Buy Here Pay Here dealership can be the first step in repairing one's credit.
When in search of Buy Here Pay Here Columbus Ohio car buyers need to look no further than the McCluskey Automotive Group. But before making such a decision…
Is a BHPH Dealership Right For You?
For those with challenged credit, the answer is often a resounding 'yes'.
That said, any consumer considering a BHPH dealership should confirm that their credit is as challenged as they may believe it to be. A common misconception held by potential auto loan applicants is to assume a lack of eligibility based on a failed attempt to obtain a mortgage. The difference between a 30-year mortgage on a $250,000 and financing of a $15,000 vehicle over 5-years is significant. Obviously, the former places the lender at a higher risk, so it's understandable that their criteria for approval of a home loan will be more stringent than with an auto loan.
At McCluskey Automotive, we guarantee to finance because we believe that every customer deserves reliable and quality transportation. If you've been unsuccessful securing financing elsewhere, we invite you to speak with us. You are more than just another customer, and your worthiness is more than just a number.
The McCluskey Difference
It's important to recognize that not all BHPH dealerships are created equal. Differences in selection and practices can determine your level (or lack of) satisfaction.
With that in mind, it is important that prospective buyers perform their due diligence. Over time there have been reports of BHPH dealerships with less than reputable practices. That said, it is unfair to apply such a negative reputation to the industry as a whole because modern practices are designed with consumer protection in mind. By acting as a finance group, BHPH dealers are regulated by countless state and federal regulations.
A reputable dealer sells with integrity, offering quality vehicles and fair interest rates while acting within the agreed-to terms of the purchase. At McCluskey Automotive, we encourage you to set aside any preconceived notions about what to expect, or what you deserve.
Extensive Inventory
One such misconception is in regard to the selection of vehicles. Challenged credit should not limit you to unreliable cast-offs or otherwise less-desirable vehicles. Offering some of the widest selection of pre-owned and certified Chevy, Buick and GMC, McCluskey is committed to offering you more than any other dealership.
Quality Customer Service
The same applies to service. We value our customers indiscriminately and work tirelessly to offer them the honesty, integrity, and support that they deserve. Our level of service has nothing to do with credit-worthiness and is driven by our desire to earn the trust of every one of our customers.
In that regard, serving our customers with challenged credit provides us with a unique opportunity…an opportunity to help.
Repairing Your Credit
The first step on the road to credit recovery is through diligent on-time payments, assuring the credit bureau of your creditworthiness. This reveals another difference between Buy Here Pay Here dealerships.
While regulations have made great strides to eliminate such practices, there are BHPH dealers that fail to report your on-time payments to the credit bureau. This means that any effort to repair your credit are going largely ignored.
At McCluskey Automotive, we believe that you should be rewarded for your reliability. We are committed to reporting your payments with the same diligence you use in making them. We know that this vehicle is more than just transportation, it's the first step towards your long-term financial goals (which we would love to help you achieve).
Start Today
How easy is it to get started on your journey? Easier than you might think, considering that you're already visiting us online!
Visit our Financing tab, and take a moment to fill out our guaranteed credit approval application. Bypass transitioning approval processes with can be lengthy and tedious, our fast approvals can get you behind the wheel of your new vehicle faster than you thought possible.
Dedicated to Helping You
Choosing the right Buy Here Pay Here dealership can empower a customer to take a powerful step towards reclaiming their independence and healthy financial standing. But a partner such as McCluskey Automotive takes great pride in creating an enjoyable experience for credit-challenged individuals to enjoy their experience.
In fact, that's McCluskey's mission. By offering an extensive selection to choose from, superior customer service and an assurance of reported payments McCluskey sets themselves apart from other BHPH dealers. And with guaranteed financing, they are able to ensure that every prospective buyer is able to enjoy the convenience and freedom that comes with car ownership.
Because that is what we do best. Our commitment is to you, to meet your needs and to helping you achieve your goals. Give us the chance to earn your trust. We guarantee your satisfaction and hope you'll give us the opportunity to help you again, and again.