Toy Gun Gets 5-Year-Old Suspended?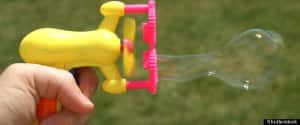 Our country is dealing with some pretty heavy issues right now. Gun violence has leapt to the forefront of our public consciousness and there's no sign it's going to subside any time soon. With everyone thinking about it so often, it's no surprise that the punishments for gun-related incidents are especially austere, but how far is too far? Let us here at McCluskey Automotive, your home for Buy Here Pay Here in Cincinnati, tell you one strange story.
A five-year-old girl in Mount Carmel, Penn, was suspended from school after she claimed she was going to shoot her friends and herself…with her Hello Kitty bubble gun. The gun is just a simple bubble wand, shaped roughly like a gun, that shoots clouds of bubbles when you pull the trigger. When school officials got word of what she said, she was suspended for 10 days. We here at your home for Used Vehicles in Ohio think the punishment is a little over the top.
In addition to the suspension, the school officials also labeled the girl a terrorist threat. The girl's mother complained the the school's principal, but was only able to get the punishment reduced to two days of suspension. That wasn't enough, and now they are seeking a full expungement of the suspension from their daughter's record as well as a full written apology.
What do you think about this issue? Is the school right to address anything gun-related this seriously, or are they being overcautious to the point of ridiculousness?