The Best Places to Celebrate New Year's Eve 2020 in Cincinnati
Ring in the New Year with Cincinnati's finest at the best local events and parties! Stay up late singing Auld Lang Syne as midnight strikes and ushers in the year 2020. Whether you're searching for a fun party with the kids, a social event on the water, an exciting live show or an elegant night on the town, Cincinnati has a lot to offer on this momentous holiday.
Family-Friendly Events
The New Year's Blast at Fountain Square is back again with music, games and a dazzling midnight fireworks display. The ice rink is open all day, starting at 9 am, and music on the main stage begins at 8 pm. The New Year's Blast is an excellent opportunity to gather downtown on 5th and Vine Streets to enjoy a fun time out that's suitable for all ages. This local tradition is free. Dress warm and bring some extra cash for food, drinks and ice skating while you're there.
You can also take your kids to enjoy the Oakley Family New Years Eve. This event starts a little bit earlier (usually at 7 pm) and doesn't quite last till midnight. It's a fun way to kick off the night before heading elsewhere or to celebrate with the kids before heading back home to bed. It's located at the Geier Esplanade on Madison Road and includes fireworks, entertainment, and refreshments.
In addition, the Cincinnati Zoo and Botanical Garden invites "party animals of all ages" to join the 10th annual Happy Zoo Year from 5-9 pm. The Madcap puppets will be putting a show of Winter Wonders, and there will be an early fireworks countdown for those who aren't interested in waiting up until midnight. The PNC Festival of Lights, costume characters and party favors are sure to make this a memorable event. Simply pay for standard zoo admission and join in the festivities.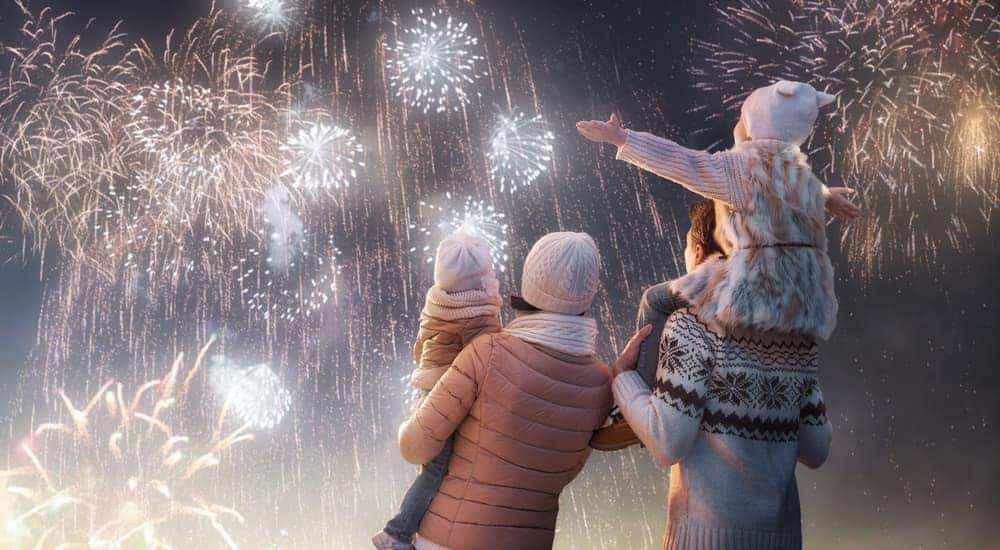 Sail Into New Years Eve on the Water
The BB Riverboats New Year's Eve Cruise lets you say hello to 2020 on the Ohio River. Board the boat at 8 pm and cruise from 9 pm-1 am. Enjoy a full buffet, complete with three different entrees to choose from, a midnight champagne toast and lively entertainment. End the night with a second buffet of late night snacks and grab a party favor to take home to remember your night. Last year, there was a lunch buffet and daytime celebration geared for kids as well. While it's not clear whether or not this will be offered again, it's something to keep an eye out for if you're interested.
Buy Tickets for an NYE Concert
Looking for a different type of New Year's Eve event? Check out the Cincinnati Pops Special at the Music Hall on Elm Street in Cincinnati. This National Historic Landmark has been part of Cincinnati's cultural scene since 1878. Experience the fantastic sound of our local, talented orchestra, featuring guest vocalists. Hear classical favorites as the music moves you into the New Year.
For more of a hard rock vibe, you could opt for the Mustang Sally show at the Overdrive in Celina, Ohio. This country-rock band is in town from Nashville to put on an exciting show. Roomer's Catering in St. Henry has a dinner buffet available beforehand, or you can just show up for the concert at 9:30 pm. Tickets are available for standing room or reserved seating. Doors open at 8 pm for free gaming and a DJ before the band. Sausage and sauerkraut will be served at midnight. A shuttle will be available to the Roomer's Westlake Hotel Villas. If you want to book yourself a room for the end of the night, make sure you do so before they fill up.
Drink, Dance, and Dress to Impress
If you're looking to welcome 2020 in style, look out for advance tickets for the hottest upscale events. Event announcements happen all the time, and tickets don't last long. New Year's Eve at the Madison Event Center is the perfect excuse to shop around for a new outfit and a pair of dancing shoes. Located on Madison Avenue in Covington, Kentucky, the Madison Event Center features multiple DJs with different styles of music. Party hop from floor to floor as you enjoy appetizers, drinks, and a midnight snack. For a VIP ticket, you can also partake in the dinner buffet and an upgrade to top shelf liquor. Don't wait until the last minute to purchase tickets; they have been known to sell out quick.
The Ashford Acres Inn in Cynthiana, Kentucky (about an hour from Cincinnati) is hosting a Roaring 20's Party for New Year's 2020. Tickets are on sale now and only $30. This includes food, music, dancing, and a photo booth to memorialize your fabulous 1920's attire, so put on your flapper dress with a feather headband or your best zoot suit and tophat! There's a full cash bar and a live viewing of the New Year's Eve Ball Drop. The party starts at 8 pm!
Watch for a Repeat of Last Year's Events
Several bars and pubs will be hosting events for New Years Eve 2020. Although the information is not yet available for many venues, there is sure to be no shortage of live music, DJs, dancing and bottle service in Cincinnati. It's never too early to keep your finger on the button, so you don't miss out on the best events in town. Some of last year's top events included the Rheingeist NYE, where a DJ and a band provided entertainment in the taproom and the event space lounge. The theme was vintage film noir, with cocktails, beer and wine served all night.
There was also the Carnival New Year's Eve event at the Netherland Plaza Continentelle Ballroom. This South American and Carribean Party offered Hors D'oeuvres, a midnight toast, cash bar and of course, a DJ playing Latin Pop. Last year guests were encouraged to come in costume based on the theme of the night, or at least to dress in formal attire. Whether the theme changes or stays the same for 2020, the party at the Netherland Plaza Ballroom is sure to be a hit.
At Igby's on 122 East 6th Street, an "Elegant Affair" was put on to ring in the New Year. Advance tickets were only $30 with VIP bottle service reaching over $500 depending on the package. A DJ got the party started at this 21+ event and cocktail attire was a requirement. While there's no sign yet of what's planned for 2020, the elegant backdrop of this restored, historic restaurant would make for another very special New Year's Eve.
Schwartz's Point Jazz and Acoustic Club hosted a classy New Year's Eve event with a Paris theme. Live jazz and a champagne toast complemented the buffet dinner last year. Funky live music was also available at MadTree's New Year's Eve Party, with local bands and a midnight breakfast buffet. The Jack Cincinnati Casino Event Center provided dancing and a VIP Cabana Package with specialty seating. Finally, the Mount Adam's Pavilion New Year's Eve Ball was another fun event that had two DJs and hours of excitement for party goers. Whatever's on tap for 2020 in Cincinnati, let's hope this year has as much, if not more, fantastic live shows, beautiful venues, and memorable events to choose from.