Looking for Used Cars in Columbus, Ohio? Here's One Car to Consider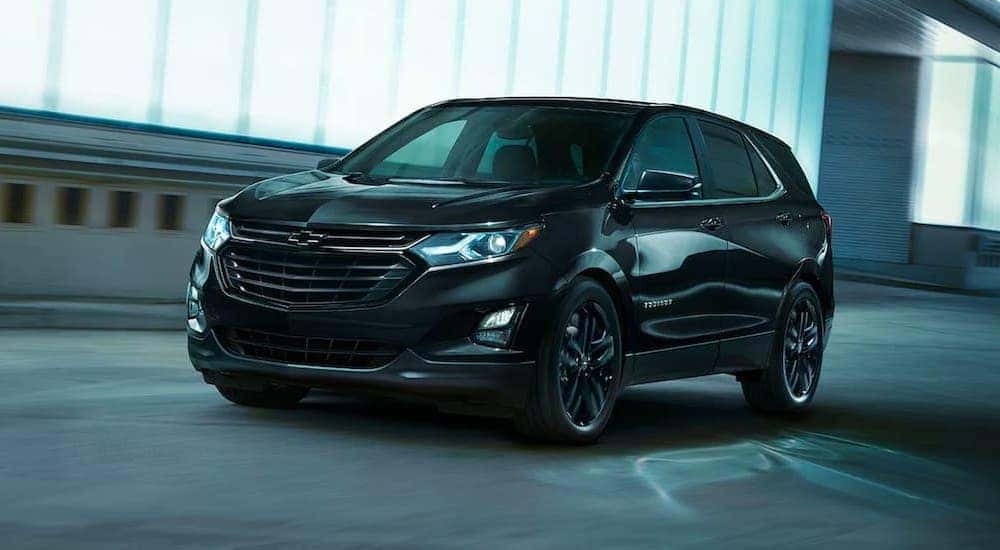 We'll get right to the point. If you're searching for used cars in Columbus, Ohio, you should consider the Chevy Equinox. For years the Chevy Equinox has been a favorite among drivers and critics, and today this compact SUV remains one of our top picks for used cars. With advanced safety features, intuitive multimedia to keep your passengers entertained, and impressive capability for an SUV of its size, the Chevy Equinox is a used vehicle that is sure to suit your every need. With three generations to choose from, featuring several engine options and room for customization, this is a used SUV that will leave drivers with all the choices they're happy about. So, without further introduction, here is what you can expect to find in a used Chevy Equinox.
The Chevy Equinox
Are you looking for more room than your typical sedan? Maybe some towing power too? Then the Chevy Equinox might be the perfect option for you. This compact SUV seats up to 5 passengers comfortably and can tow an impressive 3,500 lbs when properly equipped. Drivers looking for used cars in Columbus, Ohio, will find the Chevy Equinox in both front-wheel drive and all-wheel drive, as well as a variety of 4-cylinder and V6 engine options. When it comes to safety and entertainment, the Chevy Equinox offers advanced technology in both departments onboard its more recent models.
Overall, the Chevy Equinox is a family-friendly, capable SUV with all the latest safety, entertainment, and convenience features drivers prioritize. Spanning three generations, the Chevy Equinox is sure to have a model year that meets all of your expectations for a used car in Columbus, Ohio. If you need help sorting through all the options, just give us a call or drop by our showroom, and the friendly team here at McCluskey Automotive will help you out.
First Generation: 2005-2009
When the Chevy Equinox first made its debut, it was praised for its cargo versatility, customization options, and the option of either front-wheel drive or all-wheel drive. In 2007, the Chevy Equinox received a redesigned interior, as well as an upgrade to its handling and steering. Drivers searching for used cars in Columbus, Ohio, can easily find a first-generation Chevy Equinox available with safety features like side curtain airbags and an electronic stability system. For the 2008 model year, drivers may also stumble across the Chevy Equinox Sport edition, which features an even more powerful V6 engine and impressive handling.
Second Generation: 2010-2017
For the second generation of the Equinox, Chevrolet refined this compact SUV's overall appearance and increased its onboard technology to include features such as a touch screen display, backup camera, navigation, Lane Departure Warning, Forward Collision Warning, and a power liftgate. Fuel efficiency on the Chevy Equinox also improved, offering a combined 26 MPG for the front-wheel drive models, though the available V6 engine offers significantly more power. You'll find the second generation Chevy Equinox available with impressive features like a 4G LTE WiFi hotspot, the MyLink entertainment system, and a forward and backward sliding second row.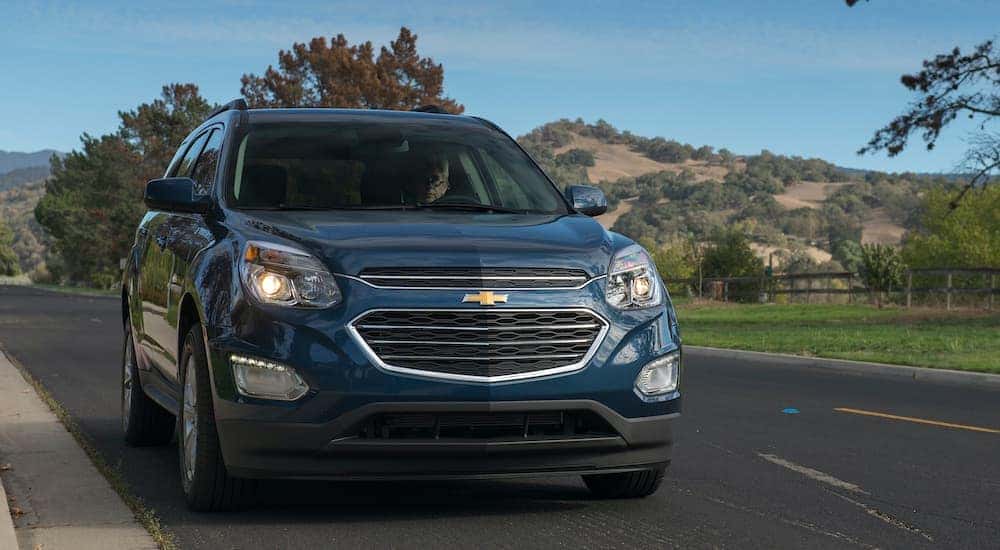 Third Generation: 2018-Present
Currently, the Chevy Equinox is in its third generation. As SUVs continue to gain popularity among drivers, Chevy has put a great deal of energy into continuing to improve the overall design of the Chevy Equinox. For this reason, the 2018 Chevy Equinox received a total redesign and now features an even more compact and lighter build. The Equinox is still available in both front-wheel or all-wheel drive and maintains its capabilities while improving its onboard technology.
Despite its smaller build, the Chevy Equinox still has impressive cargo space at 63.5 cubic feet, with the rear seats folded down. New entertainment features include Apple CarPlay and Android Auto, as well as a more intuitive multimedia system and larger touchscreen display. A 1.5L or 2.0L turbocharged gasoline engine is available, and there is even a 1.6L diesel option that gets an exceptional 32 MPG combined. Of course, all three engine options are available with either front-wheel drive or all-wheel drive, providing you with even more choices to build the perfect SUV.
Who Should Consider the Chevy Equinox?
This versatile compact SUV is the ideal vehicle for a variety of drivers and lifestyles, but let's break it down a bit more. Here are a few reasons to consider the Chevy Equinox as your next vehicle:
More space than a full-size sedan
Perfect for towing light equipment
Seats yourself and 3-4 passengers comfortably
Safety and entertainment technology is great
There is a variety of engine options
It's a smaller, compact SUV
As you can see, there are many reasons to add the Chevy Equinox to your list of top contenders in the used car search. From your typical weekend adventurer to a small growing family, the Chevy Equinox is a great fit for many people and lifestyles. But is it the right fit for you? To accurately answer this question, you'll have to visit your local dealership, like McCluskey Automotive, to figure it out.
What If the Equinox Doesn't Fit You?
If a Chevy Equinox doesn't quite fit your lifestyle, don't worry – Chevy has plenty of alternatives. Generally, if the Equinox doesn't fit their needs, we see customers gravitate towards either the Chevy Traverse midsize SUV or the Chevy Trax subcompact SUV. However, those are far from the only used Chevy models that you will find at our dealership, and you can explore everything from sedans to pickup trucks when you visit McCluskey Automotive. If a Chevy SUV isn't your style, just visit us, and we will help you track down the perfect used model for your needs. Whether that perfect vehicle turns out to be a powerful Chevy Silverado 2500 or a sleek Chevy Camaro, we are here to help.
The Chevy Traverse
While the Equinox is Chevy's best-selling SUV and tends to fit the needs of almost every SUV buyer, some drivers just need more space. That's where the Chevy Traverse comes in. This midsize SUV is noticeably larger than the Equinox and even has a third row of seats but remains more manageable and more affordable than the full-size Chevy Tahoe. If you have a larger family or simply find yourself in need of more cargo space, then the Chevy Traverse is a great place to start. Thanks to its more powerful V6 engine, a used Traverse can even tow up to 5,200 pounds, making it a decent alternative to a pickup truck for light trailering.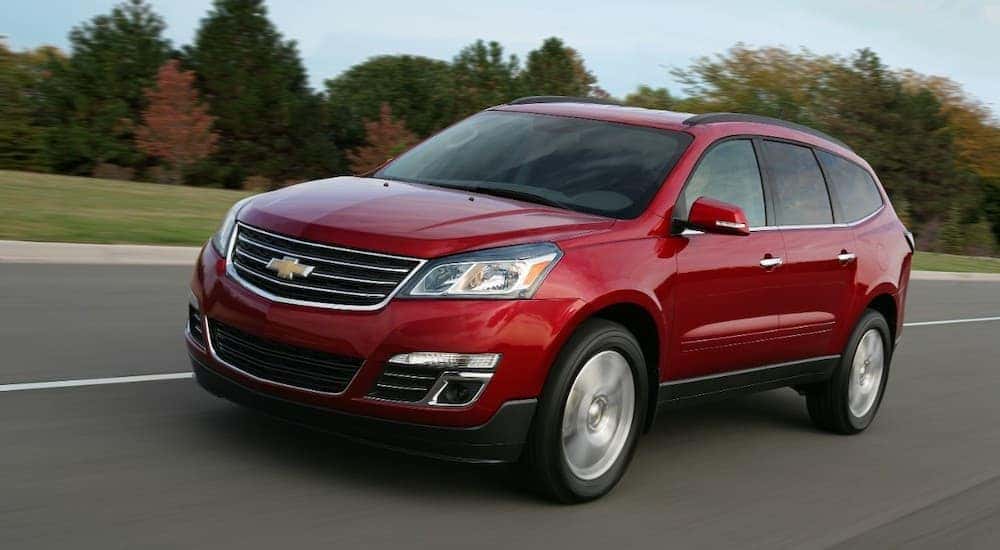 First Generation: 2009-2017
The first generation of the Chevy Traverse was introduced a year before the first redesign of the Chevy Equinox and is a contemporary of the second-generation Equinox. While the larger and more powerful Traverse is naturally a bit more expensive than an Equinox of the same model year, you can expect a similar feature set. It is a comfortable vehicle overall, with a good selection of modern features for a slightly older used SUV.
The third-row seats may be a little cramped, but the first and second rows are extremely comfortable – especially if you find a used model with the optional second-row captain's chairs. This option reduces total seating from eight to seven but is a must-have if you are regularly carrying adults or older children in the back. It is also an option that is not available on the Equinox and goes a long way towards making the Traverse the more comfortable choice, even if you don't need more than two rows of seats.
The maximum cargo capacity of the first-generation Traverse is an impressive 116.4 cubic feet, and you even have 68.8 cubic feet with passengers in the second row – that's more than a second-generation Equinox offers in total. The standard 3.6L V6 engine provides 281 horsepower and 266 pound-feet of torque with the single exhaust or 288 horsepower and 270 pound-feet of torque with the dual exhaust. Either way, this SUV is responsive on the highway and can comfortably tow light trailers.
Second Generation: 2018-Present
The fully redesigned second generation of the Traverse arrived alongside the redesigned third-generation Equinox in 2018. This is a sharp-looking and modern vehicle inside and out, providing you with a comfortable and stylish ride at an affordable price. In addition to the SUV's good looks, it saw some significant mechanical upgrades, including more efficient and more powerful engine options. However, cargo space and maximum towing went down somewhat, so a used first-generation Traverse may be the better pick if you are looking for a more utilitarian vehicle.
If you need a comfortable family vehicle, however, a used second-generation Traverse is the way to go. Like the third-generation Equinox, these SUVs are filled with modern technology, including an up-to-date infotainment system with a digital touchscreen, Apple CarPlay, and Android Auto. Additional amenities, such as a standard push-button start and a hands-free power tailgate, help make the second-generation Traverse a great buy on the used market.
When it comes to performance, this model offers the choice between an efficient 2.0L turbocharged four-cylinder and a powerful 3.6L V6. The V6 brings 310 horsepower and 266 pound-feet of torque, giving it a noticeable edge over even the more powerful first-generation V6 option. The 2.0L Turbo only has 257 horsepower, but with a fuel economy of 22 MPG combined, it makes a great choice for drivers more interested in saving money at the pump than high-speed thrills.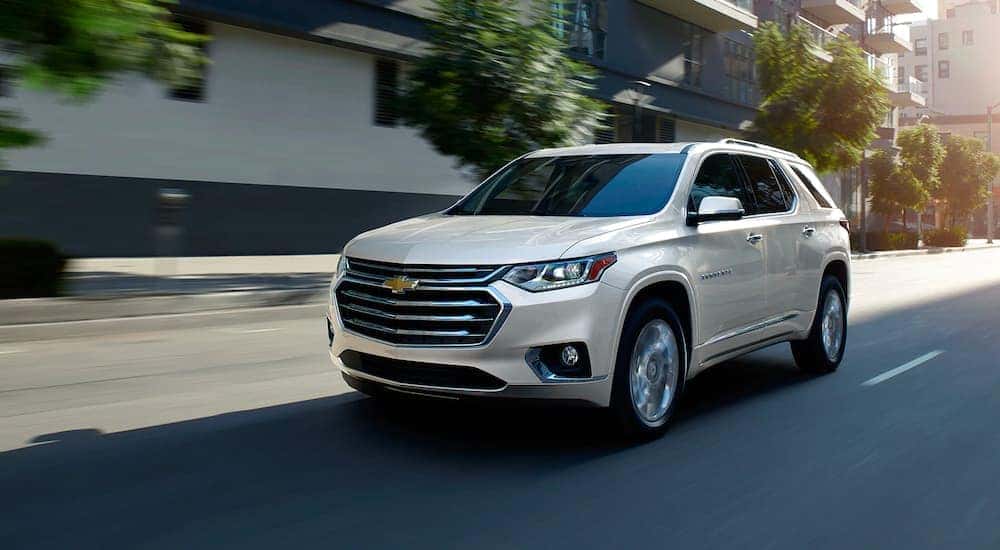 The Chevy Trax
While a used Chevy Traverse is the perfect midsize option for drivers who find the Chevy Equinox to be too small, some shoppers have the opposite problem – they think the Equinox is too large. You may desire the bad-weather performance and more functional cargo space of an SUV but usually find yourself driving alone or with only one passenger. In that case, the popular Chevy Trax is the way to go. This subcompact design is more nimble, more efficient, and more affordable than the Equinox, winning the praise of city drivers and commuters across Columbus.
Unlike the Equinox or Traverse, the Trax was first introduced in 2014 and has only had a single generation. However, this generation came with plenty of modern features right from the start, and the less complex selection makes shopping for a used model much simpler. Making your job even easier, the Trax has only ever been offered with a single engine – a surprisingly capable 1.4L Turbo. That means your only job is tracking down a used Trax with the right trim, options, and color.
Probably the most important choice you will need to make is whether to go with front-wheel drive or all-wheel drive. Front-wheel drive is a bit more efficient, getting up to 29 MPG combined, but all-wheel drive provides superior traction in rain, snow, and ice. But with either option, you are getting a real SUV with good ride height and plenty of cargo space. In fact, with 48.4 cubic feet of cargo space and the large rear liftgate, you can fit virtually anything you will need to transport.
The base Trax LS comes standard with plenty of modern features, including a 7-inch touchscreen with Apple CarPlay and Android Auto, as well as a 4G LTE WiFi hotspot. However, opting for the higher LT or LTZ trims brings even more luxuries. Whether you are interested in fog lights, heated seats, a power sunroof, or a Bose sound system, you can find a used Chevy Trax that offers all the features you need to enjoy every drive. Unless you absolutely need the extra cargo and passenger space offered by a larger SUV like the Equinox or Traverse, there is little reason not to check out more affordable and efficient options like the Chevy Trax.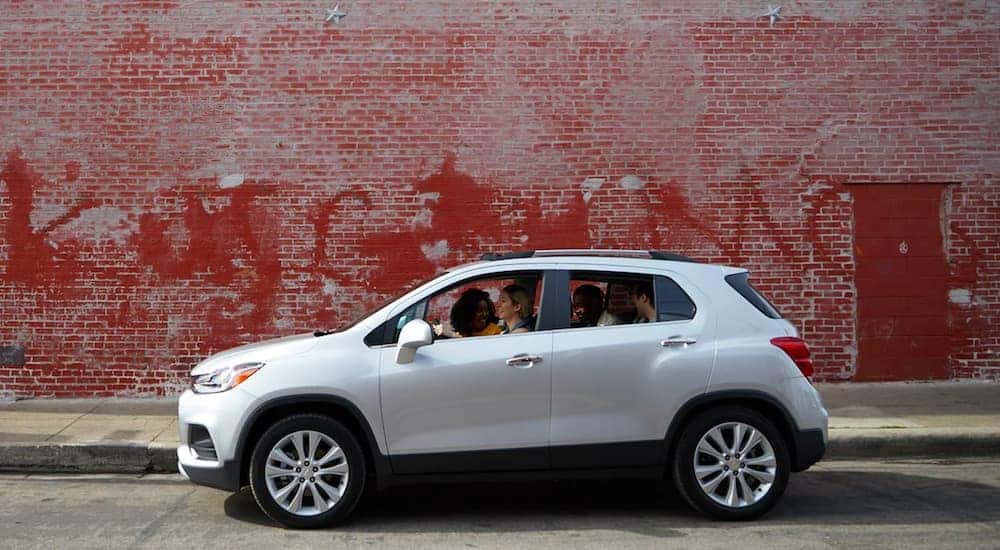 Choose a Chevy for Your Next Used Car
The Chevy Equinox, Traverse, or Trax could be the perfect car for your needs, lifestyle, and even budget. However, to truly decide whether or not one of these Chevy SUVs fits into your life, you'll have to see it in person and take it for a test drive. At McCluskey Automotive, we have countless used Chevy car, truck, and SUV models on our lot, and we are eager to show them to you. No matter what safety, entertainment, or convenient features you're searching for, we'll have a vehicle that meets all your requirements. The three models we described today are all high-quality SUVs and some of our top picks for used cars in Columbus, Ohio. However, they are far from the only used Chevy options we offer.
On our lot, you will also find affordable used trucks like the Chevy Silverado and Chevy Colorado – two vehicles that workers across America count on every day to get the job done. If you want the best features of both a truck and an SUV, check out the rugged and luxurious Chevy Tahoe and Chevy Suburban. These full-size body on frame models can handle anything while carrying the whole family in style. For something more efficient and affordable that will save you money commuting around Columbus, consider a used Chevy sedan like the Malibu, Impala, Cruz, or Spark. These reliable cars can always be counted on to get you to your destination.
When it comes time to purchase your next Chevy, you can feel confident that the finance team at McCluskey Automotive will do everything it can to secure you the financing you need. Are you stressed about poor credit? With our finance team, there's no need to worry. Our experts are trained to utilize every resource available to them to get you into the car you need. We work with all types of credit and budgets to get every single one of our customers the vehicle that they deserve. If you have a trade-in to put towards your purchase, then we will make sure you get a competitive price for it.
After your purchase, your relationship with McCluskey Automotive continues with our high-quality service center. We are already ready to handle your maintenance and repair needs and will do so with the highest quality factory parts. So, come down to McCluskey Automotive today and take one of our high-quality used cars, trucks, or SUVs for a spin. We're sure that by the end of the test drive, you'll want to take it home with you!