Full-Size vs Mid-Size Trucks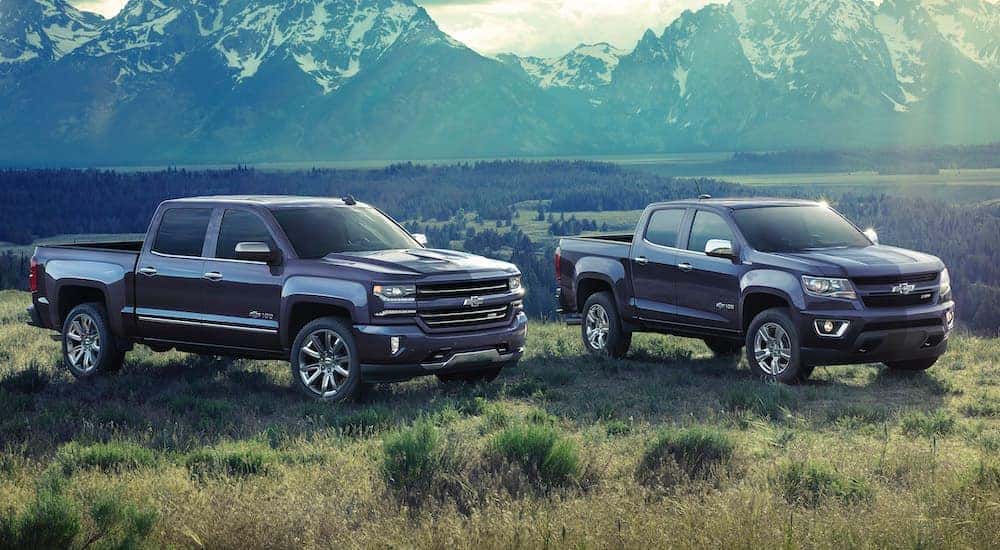 Owning a truck is an attractive prospect to a lot of drivers. The ability to haul around a lot of cargo or tow something heavy comes in handy compared to the limitations of most sedans and SUVs. However, modern trucks are expensive. That is why so many people choose to check out used trucks for sale when they're looking for a vehicle that is both highly capable and affordable at the same time.
If you have never been behind the wheel of a larger vehicle, then you are in for a surprise. While some assume that a large full-size pickup is a behemoth to drive on the road, modern trucks offer a lot of maneuverability for their size. Chevy trucks, in particular, are no slouch in the speed department either. The truth is modern trucks offer a lot of the same conveniences and capabilities as smaller vehicles.
While it is difficult to go wrong when choosing any kind of truck, one thing plagues many potential truck owners: full-size vs midsize. The size will influence how it performs and handles on the road. It will also determine how much cargo you can realistically haul or tow in a single trip. The right choice depends on your particular needs, so here is a brief look at the differences and important factors you should think about.
Full-Size
Full-size trucks are no doubt the most common trucks on the road, outperforming most car and SUV models each year. It is easy to see why a full-size pickup is an attractive option for many customers. The full-size frame offers the most options, cargo capacity, performance, and more. When nothing but the best will do, full-size is the way to go.
Full-size trucks are designed to be the most versatile and adaptable. That is why you will find a number of different cabin and bed lengths to choose from when purchasing a new full-size truck. Cabins come in single-row, four-door, and in-between varieties that can provide you with exactly how much room in the rear you need for passengers or equipment. Similarly, bed lengths often vary from five to eight feet. For both choices, cabin and bed, the longer you go, the less maneuverable the truck will be.
Full-size trucks often come with the most engine options as well. It is common to find a number of different engine types ranging in size from four to eight cylinders. Some engines are geared towards better fuel efficiency, while others come with higher torque for better hauling capabilities. Alternative fuel options, such as diesel and ethanol, are also available for customers who want something different from gasoline. Best of all, major brands like Chevy and Ford are working on hybrid and all-electric pickup options that will provide even more variety for the consumer.
When you're thinking about a full-size truck, it's important to understand the major differences between it, a midsize pickup, and other vehicles. Beyond specifications, the real difference comes in the form of the feel of the vehicle. Maneuverability and overall handling characteristics are where new truck owners have to adjust to feel comfortable with their new ride. Longer trucks will require more turning space in general. Longer lengths can also affect the suspension and feel of the truck. However, all it takes is a little bit of time and practice to get used to a full-size truck. When you get the feel of it, you will be able to enjoy the full capabilities of the vehicle from the comfort of a luxurious interior.
We said "beyond specifications" a moment ago because while the maneuverability and overall ride feel of your truck are certainly worth considering, the specs are also very important and deserve their own consideration. From the outside, just looking at them, midsize and full-size trucks can appear pretty similar: they have the same overall design, with the full-size models simply being larger. But in terms of the kinds of capability they have to offer, you're looking at significant differences between them.
In particular, towing and payload capacities are important to a lot of truck owners, and with good reason. Half the fun of owning a truck is being able to load it up with a bunch of stuff in the bed or pull a trailer or camper behind you. Whether you want a truck for work, play, or both, the capabilities of that pickup really are important and will make a big difference in your overall experience with your truck.
And this is where a full-size model simply can't be topped. Due to their large frame, full-size trucks can deliver truly incredible payload and towing capacities (remember that "payload" refers to all of the weight on the truck itself, including passengers and cargo, while "towing" is weight pulled behind the vehicle). Let's look at a couple of different options you might find when looking at various used trucks for sale:
2012 Chevy Silverado

Maximum Towing: 10,700 lbs
Maximum Payload: 1,940 lbs

2016 Chevy Silverado

Maximum Towing: 12,000 lbs
Maximum Payload: 2,260 lbs

2020 Chevy Silverado

Maximum Towing: 13,400 lbs
Maximum Payload: 2,250 lbs
While these numbers are not the only thing that matters, they give you a pretty good sense of just what kind of towing capacity you can find on a full-size truck. But they also help highlight something else that's very important when looking at different used trucks for sale: the model year and other details really matter. As you can see, over a period of eight years, the maximum towing capacity of the Chevy Silverado increased by nearly 3,000 lbs. That can make a huge difference if you have a large trailer or camper that you want to hook up to your truck.
One of the major reasons for this is that each of those three models in the above example comes from a different generation for the Silverado. So research really is important as you consider whether a full-size or midsize truck is right for you – not only in terms of the differences between these sizes and models but even the various model years you'll find. It can seem like a lot of work, but the more you know ahead of time, the easier it will be to get the right model with the features and performance you really need.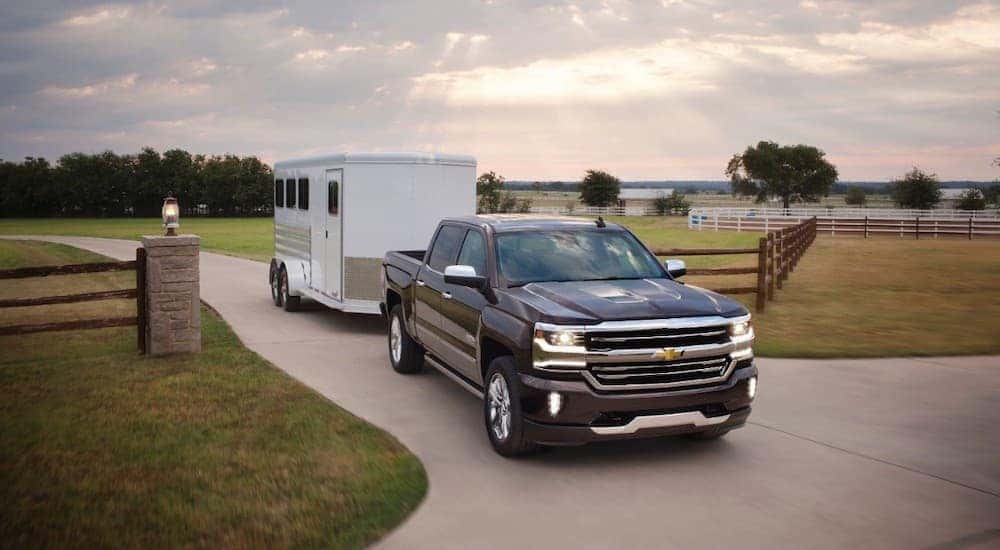 Midsize Trucks
Back in the day, full-size trucks were a lot smaller than they are today. As time has gone on and trucks have gotten bigger, there have been some customers who miss the maneuverability, fuel efficiency, and speed of the smaller, older versions. This is where midsize trucks come in. A midsize truck bridges the gap between full-size pickups and smaller vehicles, recapturing the capabilities and feel of old truck models.
A midsize truck is perfect when you want the feel of a car with the capability of a full-size pickup. Needing more cargo space and hauling capacity requires the same design as a full-size vehicle. When an SUV won't do, a midsize truck is a perfect option to have the best of both worlds: a small presence on the road, better handling characteristics, and a good amount of passenger and cargo room.
The range of choices in midsize trucks depends on the particular manufacturer. Chevy, for example, offers plenty of engine and trim options in the Colorado. This model is a popular choice for many professional workers wanting a reliable commercial vehicle. It is also a good contender for an off-roading platform given the number of modifications owners can easily make on a small budget and the availability of the impressive ZR2 Off-Road trim.
The best thing about a midsize vehicle is the smaller learning curve owners go through when adjusting to the feel of it. Since it is smaller, its turning radius is more similar to a car or SUV. When you get behind the wheel of a midsize truck, you will find the interior to be car-like as well. This all means you can realistically drive a midsize pickup without having to adjust your driving style from the very start.
Of course, with that smaller size also comes some very important capability differences compared to a full-size option. It really just comes down to simple physics: the design and weight of a midsize model mean it will never be able to handle the kinds of payload and towing that a larger, full-size used truck for sale can deliver. You can still get excellent capability with a midsize model, don't get us wrong, but the numbers will just never reach the same high-end as with a full-size truck. For example, let's take a look at Chevy Colorado models from several years:
2012 Chevy Colorado

Maximum Towing: 6,000 lbs
Maximum Payload: 1,440 lbs

2016 Chevy Colorado

Maximum Towing: 7,700 lbs
Maximum Payload: 1,580 lbs

2020 Chevy Colorado

Maximum Towing: 7,700 lbs
Maximum Payload: 1,578 lbs
Once again, the model year has an impact on the kind of overall power and capability you can get in a midsize truck, just like with a full-size model. So, even though we're repeating ourselves a little bit here, it really demonstrates just how important it is that you consider everything about the used trucks for sale you find and that you're interested in. However, with the Colorado, there has been one generation from 2015 through 2021, so there are fewer differences here than we saw in the Silverado. With these numbers, you can also see how a midsize model like the Colorado stacks up against the Silverado 1500 from those same years.
Clearly, the Silverado offers you a lot more towing and payload capacity than a midsize model like the Chevy Colorado can manage. Depending on what you're looking for from your truck, this can be a huge consideration that you really need to keep in mind while looking at different used trucks for sale. After all, if you know that you regularly need to be able to pull 8,000 or 9,000 lbs of weight behind your vehicle, then a midsize pickup is pretty much out of the question.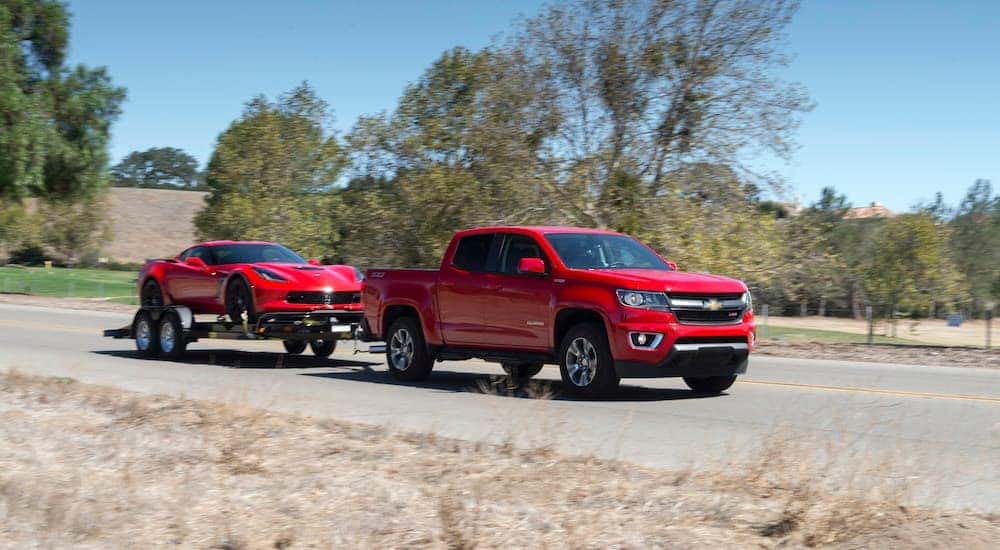 Knowing Which To Choose
How do you know which to choose when you want a new or used truck? That choice comes down to personal needs and preferences. Both full-size and midsize trucks can handle a lot of common tasks and challenges. The only major difference is whether you need larger size and greater capabilities or better fuel efficiency and easy handling.
And this is exactly what we saw above when we looked at the specific numbers for the kind of payload and towing capacity these trucks can manage. Even though we only looked at three specific years of two different trucks, this is going to be essentially true no matter what used trucks for sale you're looking at. We kept things simple with just two examples, but even if you're interested in other full-size models like the GMC Sierra, Ford F-150, or Ram 1500 pickup, you'll see similar numbers. There will be some differences, of course, but full-size models will give you the best payload and towing capacities, with newer models often delivering the best performance overall.
The same holds true when looking at midsize trucks from different manufacturers too. If you look at specs for the GMC Canyon, Ford Ranger, or Toyota Tacoma, you will see the same sort of pattern with better performance in more recent years. And these midsize trucks will all fall behind full-size options in terms of power, performance, and their capability for towing and payload. But this isn't inherently a negative thing; it simply means more options for you when you're shopping and looking at different used trucks for sale at a dealership.
If you want a true truck experience, something full size is the way to go. Better hauling and trailering alone will open up many doors for you that are not possible with smaller vehicles. On the other hand, a midsize truck is for you when the car-like experience is necessary. A smaller adjustment period goes a long way to enjoying the truck.
All of this information that we've covered has also left out one final but very important consideration: price. Although this will vary depending on the model year, trim level, options, and engine in a truck, for the most part, a midsize pickup will cost you less than a full-size model. That impressive power, performance, and muscle come with a higher price tag, which is a major reason why a lot of people really like and actually prefer midsize trucks.
The smaller size can make them ideal in a lot of situations – a midsize truck is certainly easier to navigate through crowded city streets and can be better for maneuvering in tight quarters when going off-road. But the lower price is a huge draw for a lot of our customers, and it's something to keep in mind. There can be exceptions to this, of course – a midsize option with all of the bells and whistles might cost more than a baseline full-size work truck with only the standard equipment – but it will usually hold true. Full-size trucks cost more when they're sold new, and even with depreciation, they tend to still be more expensive on the used market.
Still, don't know which to choose? Let McCluskey Automotive help you decide by checking out our inventory or speaking with a qualified staff member. We are here to help so you can easily make the right decision in no time at all. So call or come visit us at McCluskey Automotive today, and we'll help you find the perfect truck with everything you need.