Fat Cat on New Years Diet?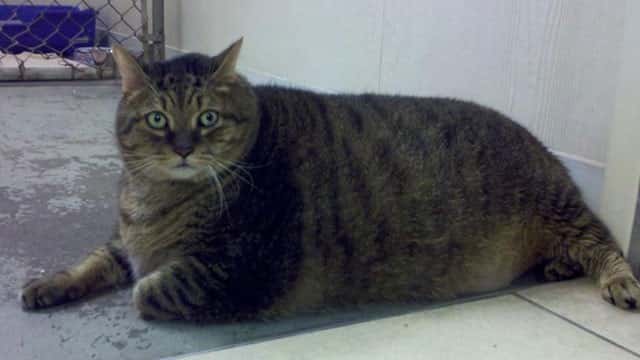 Apparently New Year's resolutions are no longer limited to the human race. Tiny Tim, the adorably obese feline, has vowed to continue his weight loss plan. Okay, so maybe his owners put him on a strict diet, but wouldn't shedding extra pounds be unbelievably easy if you had someone controlling your caloric intake and teaching you to resist your debilitating snacking tendencies? We here at McCluskey Automotive, your home for Cincinnati Ohio Used Cars, sure think so!
This preciously rotund kitty has already dropped 20 percent of his body weight in the past year and is on the right track to being the svelte and willowy cat he has always dreamed he could be. Gone are the days of sleeping in the pantry and grazing during the night. This 9 year old darling of a cat was abandoned last year and now permanently lives at the Southside Place Animal Hospital. When he first arrived to the clinic, "Because he was so huge, he had trouble walking, he had trouble standing," said Southside Place Animal Hospital manager Debbie Green.
We here at your home for Used Cars in Cincinnati Ohio are pleased to say he has come quite a long way! Despite suffering from arthritis, enjoys scampering around and socializing with the clinic patrons. In addition to this activity, he has his daily 50 foot walk from his room to the clinic for meal time.
He started this difficult journey tipping the scales at 36 pounds. Although the doctors have deemed him healthy after getting down to 28.6 pounds, this pussycat still has quite a few more pounds to shed before being able to live up to his name. Let's all hope that he's better at sticking to his sensible meal plans than most New Year's dieters are.