Can You Count on a Small SUV to Tow Your Trailer?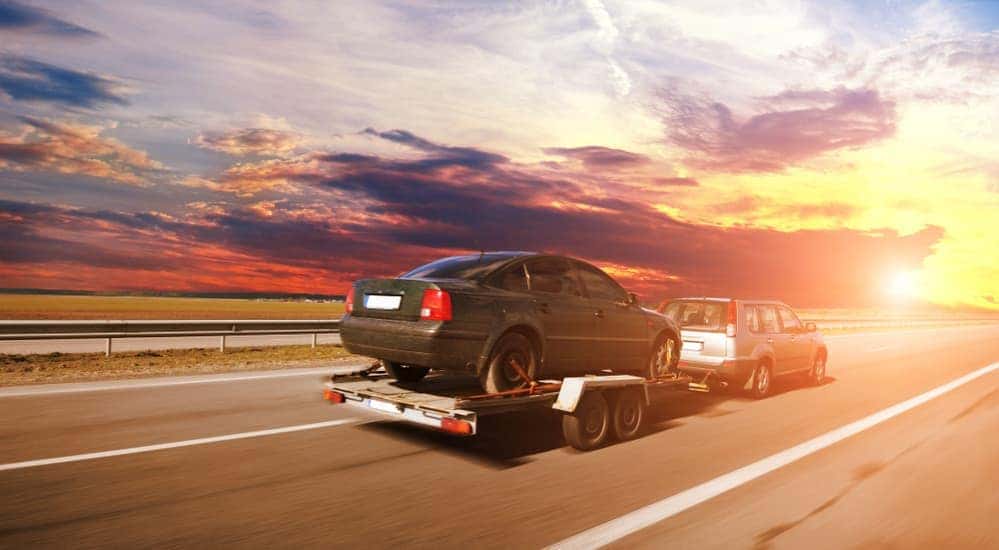 Drivers have increasingly made the SUV the most popular motor vehicle on the road today. One of the major reasons is that the SUV is extremely versatile. You can get the passenger space of a passenger van, the cargo space of a van, the ruggedness of a pickup truck, and the creature comforts of a luxury sedan, all combined into one vehicle. Each of the other four vehicles may excel in one area, such as the luxuriousness of a sedan, but there is only so much stuff you can fit in a car's trunk. Similarly, vans have plenty of interior space, but they are probably the least enjoyable vehicle to drive. As for pickup trucks, automakers have been making their cabins more comfortable, but there is only so much space you can add to a crew cab without taking away from the payload bed. The SUV solves all of these issues, and adds the ability to tow trailers to the equation. This is certainly the case with respect to the midsize and full-size SUVs. But the question then arises, how much can a small SUV tow? The answer may surprise you. Small SUVs may not be able to tow the heavier trailers like their bigger siblings. Nevertheless, they can be used in this regard. At McCluskey Auto, we have the experience to answer your questions like these when you purchase a used car, truck, or SUV. We offer quality used cars that are low mileage, affordably priced, and recent model years. We have always put our customers first, so come in to see the difference for yourself. We are conveniently located at 9024 Colerain Avenue and 8525 Reading Road in Cincinnati, OH.
How Towing Capacities are Determined
When you are about to use your vehicle for towing, it is crucial to know the weight of the trailer as well as the limits of your vehicle's capacity. This is especially so for a small SUV. While many manufacturers publish a maximum towing capacity for their vehicles, it is still important to do some of the math for yourself.
There are a number of factors that are used to determine towing capacity. For example the size, type, horsepower, and torque of your engine influence the ability to tow trailers. In general, low RPM (revolutions per minute) torque is more important than raw horsepower in determining towing capacity. In addition, frame design, axle ratio, tire and wheel load ratings, transmission type (manual versus automatic), brake size and type, the suspension system, and drive type (i.e., rear-wheel, front-wheel, and all-wheel) can also have an impact on the vehicle's towing ability.
Finally, your vehicle will be able to tow a heavier load on a flat road than on a steep incline.
Within these factors are a number of key things to remember. All vehicles have a gross vehicle weight rating, which is the total amount of weight the vehicle can tolerate, consisting of passengers, cargo, components, and accessories. In addition, they have a gross combined weight rating, which combines the gross vehicle weight rating with the total weight of the trailer and its contents. In general, rear-wheel drive vehicles will have higher towing capacities than four-wheel drive versions of the same vehicle, because the latter tend to be heavier, increasing the gross vehicle weight while reducing the portion of the gross combined weight allocable to the trailer. Also, automatic transmissions tend to better for towing than manual transmissions, as they can be automatically downshifted to increase torque, which improves towing capacity. With this in mind, automatic transmissions with more gear speeds are better suited to the task of towing. This is why many pickup trucks will feature 10-speed automatic transmissions. In addition, manufacturers often offer special trailering packages for an added expense that can boost the towing capacity of a specific vehicle.
Choosing the Right Trailer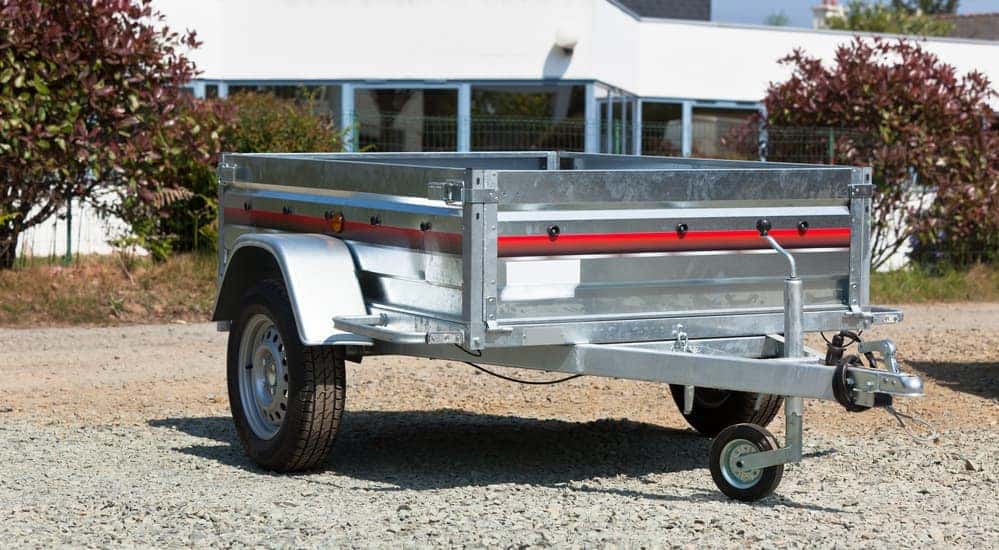 One other factor is crucial in towing: make sure you choose the right trailer for the task. An aluminum boat trailer may work for some crafts, but others may require a heavier fiberglass trailer. Also, gooseneck trailers increase the towing capacity, but can only be used for vehicles with high towing capacities and the ability to install the hitch, like full-size pickup trucks. Finally, you will need to know the gross weight of the trailer, as well as the item that will be placed upon the trailer. It is all well and good if you have a fiberglass boat trailer that weighs 570 pounds. However, do you know how much the boat that is being placed upon that trailer weighs? If you are not sure, you had better check before hitching it to the back of your vehicle. Sadly, the internet is filled with pictures of epic fails involving folks who simply hitched a loaded trailer to the back of their vehicle without first checking on the gross trailer weight, and then on the gross combined vehicle weight rating of their car, truck or SUV.
Small SUV Towing Capacity
Small SUVs can actually be pretty adept at towing trailers. For example, the Chevy Trax, the manufacturers compact SUV, can tow up to 3,500 pounds. This seems to be the standard for many small SUVs, including the Ford Escape, the GMC Terrain, and the Jeep Wrangler. One of the highest ratings is the all-wheel drive Kia Sorrento, which has been rated to tow up to 5,000 pounds. Not all were created equal when it comes to trailering. The popular Honda CR-V has only been rated to tow up to 1,500 pounds, making it a less appealing option for camping trips. That is why it is vital to check the manufacturer's towing capacity rating for your compact SUV before you hitch up that trailer.
If you do not have the owner's manual to your small SUV, then you can always go to the manufacturer's website and download a copy. This may be the case if you are buying a used, pre-owned or certified pre-owned compact SUV, as the prior owner may have lost the original owner's manual. Also, many owners are no longer giving printed copies of owner's manuals but rather offering a link for a downloadable version in an effort to reduce printing costs, as well as the environmental impact associated with publishing manuals.
Many of the most popular compact SUVs do not come with a standard towing hitch. Instead, manufacturers tend to include them on an optional trailering package for an additional price. One of the advantages of buying a used, pre-owned or certified pre-owned small SUV is that it may already have the towing hitch and other items needed for trailering. In addition, you will probably not have to pay as great a premium for a used compact SUV with a trailering package as you would for a new one. This is fairly standard for buying a used vehicle, as you tend to get more for your money when you buy used. Furthermore, the used compact SUV has already been road tested for towing, and you can check reviews and driver comments online to see how these vehicles have faired when called upon to tow trailers.
As has been shown, small SUVs can pull a decent sized trailer, as long as you have the right vehicle with the correct setup. Always make sure you know your vehicle's towing capacity and the weight of the trailer and its contents that you are planning to tow. If you're ready to check out some small SUVs, give our knowledgeable sales department a call or visit today!
---
Updated 3/19/2021
Seven Used Small SUV Models to Look For
Knowing which small SUVs will be happy pulling a trailer can be difficult. Unlike full-size SUVs and pickup trucks, small SUVs often do not have their trailering capacities widely published. Further, a lot of websites that you will find have dangerously inaccurate information about towing. One thing to watch for is sites advertising the higher towing figures of European versions of the vehicles, which are equipped with different hitch styles than the American versions.
To make things easier for you, our experts have put together a handy towing guide for some of the most popular small SUVs that you will find on the used market. We included several different styles of small SUVs from a wide variety of different brands, giving you plenty of options to choose from as you seek the perfect vehicle for your lifestyle.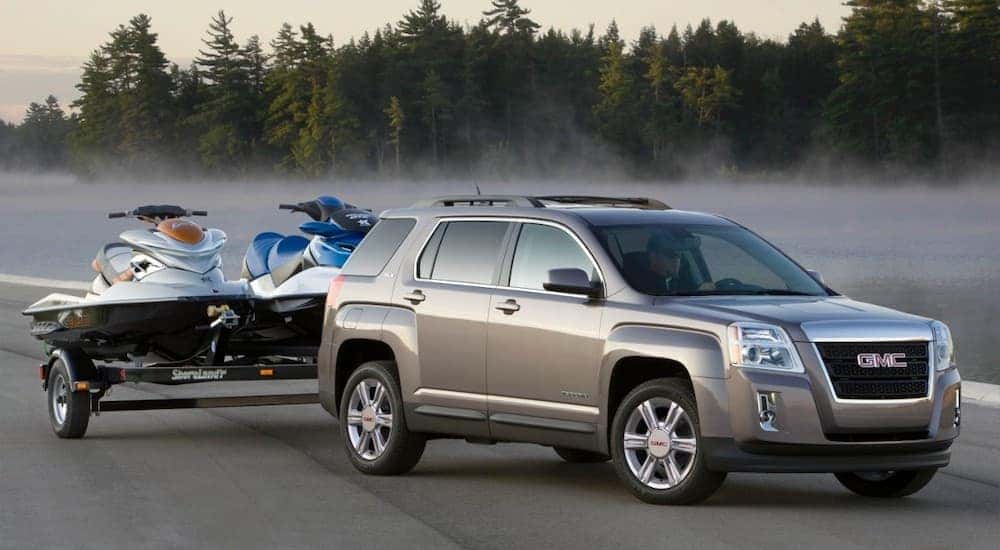 2018-2021 Ford Ecosport
Few subcompact SUVs have the power and stability required to tow a trailer safely. While you may be tempted to hitch up a small trailer anyways, it is always best to stick to factory recommendations. Fortunately, there are a few subcompact models that can pull a trailer without a problem. Foremost among them is the Ford EcoSport.
First introduced to the American market in 2018, the EcoSport has been offered with two different engines. If you find a used model with the standard 1.0-liter EcoBoost three-cylinder, then you will be able to tow up to 1,400 pounds. That is already rather impressive for such a small vehicle, but the optional 2.0-liter four-cylinder engine has an even better maximum tow rating of up to 2,000 pounds.
While you won't be hauling a boat or a horse trailer, the EcoSport is a great all-around option if you are looking for an affordable and efficient way to pull a small camper, a jet ski, or another light load. When you are not towing, you will even be able to benefit from an excellent fuel economy of around 28 MPG with the base engine and 25 MPG with the four-cylinder. What more could you ask for in such a petite package?
2015-2021 Jeep Renegade
Another popular subcompact SUV model that defies expectations when it comes to towing is the Jeep Renegade. Like the Ford EcoBoost, the Renegade is offered with two engine options. However, in this case, they are both four-cylinders, and they both offer the same 2,000-pound maximum tow rating. So whether you are looking at a Renegade with the base 2.4-liter engine or the turbocharged 1.3-liter option, you will have enough muscle to handle light towing safely.
But the Renegade is not just one of the rare subcompact SUVs that can handle a trailer – it also offers real off-road capabilities. If you want to take some four-wheelers or dirt bikes off the beaten path for an afternoon of adventure or tow a camper to a wilderness campsite, then the Renegade is for you. Just look for the Trailhawk trim, which can be easily identified by its red tow hooks and Trail Rated badging. In this quirky little SUV, you will be able to go anywhere with your trailer in tow.
2013 – 2021 Subaru Crosstrek
A third option in the subcompact SUV class that you might be able to find on our used car lot is the Subaru Crosstrek. Based on the extremely popular Subaru Impreza hatchback, but with better ground clearance and off-road performance, the Crosstrek is a unique vehicle. Unlike the other options on this list, it also comes standard with Subaru's impressive Symmetrical All-Wheel Drive, and many used models will also offer X-MODE for handling low-traction situations.
There are three powertrain options that you might find when looking for a used Crosstrek. The base 2.0-liter boxer engine and the optional 2.5-liter boxer engine are both rated for a maximum towing capacity of up to 1,500 pounds. While that is not quite as good as the EcoSport or Renegade, it is still a remarkable amount for a nimble and practical vehicle. However, the Crosstrek Hybrid is only rated to tow 1,000 pounds, so you will have to stay away from the more fuel-efficient option if you are concerned about being able to hitch up a trailer.
2010-2017 Chevy Equinox and GMC Terrain
While there are a few used subcompact SUV options that will let you tow safely, none of them have particularly high maximum tow ratings. However, looking at the slightly larger compact SUV models will allow you to pull some significant weight without worry. The first up on our list is the highly popular Chevy Equinox and its upscale cousin, the GMC Terrain. The second generation of these two compact SUVs offered some serious towing in an affordable package.
Like most SUVs, these two models offered a pair of engine options. The base engine is a 2.4-liter four-cylinder generating 182 horsepower. This is not a bad engine if you are looking for an efficient commuter. However, it comes up short when it comes to towing, with a maximum tow rating of just 1,500 pounds. But if you can find a used second-generation Equinox or Terrain with one of the optional V6 engines, that figure will go up significantly.
The original 3.0-liter V6 offered in the 2010 to 2012 model years provided a capable 264 horsepower, but this was replaced in an even more powerful 3.6-liter option for the 2013 to 2017 model years. The latter option will give you better acceleration on the highway and an overall more satisfying driving experience. However, both V6 options provide the same maximum tow rating of 3,500 pounds. So if your primary concern is towing, do not be afraid to pick up an older V6 model to save some money.
2013-2019 Ford Escape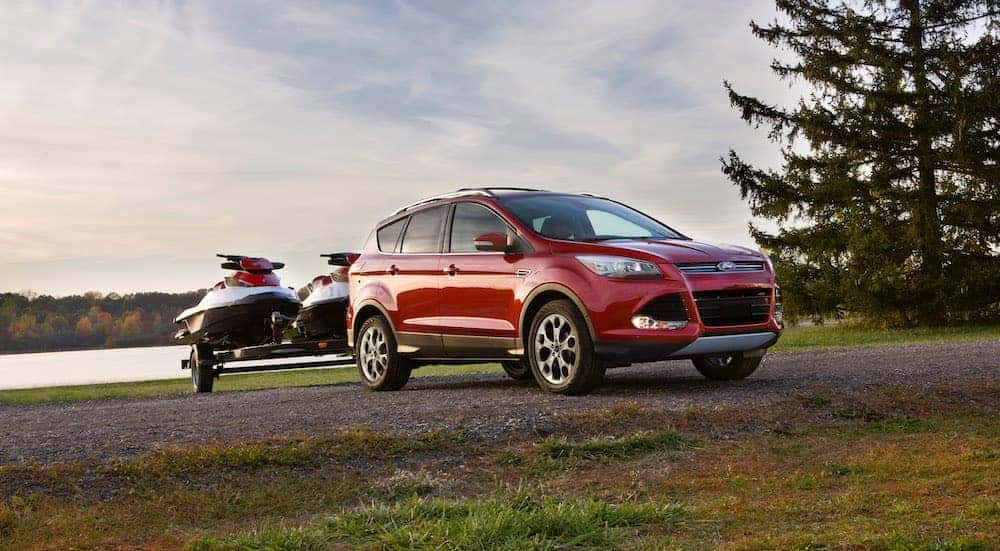 A used third-generation Ford Escape is another great option if you are looking for a compact SUV that can pull a trailer safely. It offers the same 3,500-pound trailering rating as the second-generation Equinox and Terrain, splitting bragging rights evenly between America's two top brands. However, with three different engine options available, finding a used Ford Escape for towing can be a bit more involving.
The base 2.5-liter four-cylinder engine is the most affordable option, but it provides the lowest maximum towing capacity at just 1,500 pounds. You should also steer clear of the 1.6-liter EcoBoost engine if you are looking for an SUV that can tow, as it is limited to only 2,000 pounds. However, the optional 2.0-liter EcoBoost is rated to tow an impressive 3,500 pounds. Even more impressively, this turbocharged engine has a combined fuel economy rating of 24 MPG combined. That is a significant step up from the 20 MPG combined of the thirsty V6 engines found in the second-generation Chevy Equinox and GMC Terrain.
2014-2021 Jeep Cherokee
While the Ford Escape, Chevy Equinox, and GMC Terrain are all great options for towing, our favorite small SUV is the Jeep Cherokee. This compact model has it all: powerful engines, unique styling, luxury features, off-road capability, and plenty of towing. Further, the "KL" generation has been on the market for a while now, making it a very affordable option for nearly any budget.
The KL Cherokee hit the market in 2014, replacing the boxy Jeep Liberty with a sleek modern vehicle bearing a name that Jeep first introduced back in 1974. The older models had two different engine options: a 2.4-liter four-cylinder and a 3.2-liter V6. The base four-cylinder provides a fairly average maximum towing capacity of 2,000 pounds, but the optional V6 takes that up a notch with a maximum tow rating of no less than 4,500 pounds. That is better than some midsize SUVs and makes the Cherokee a simply unbelievable option.
In 2019, Jeep added a third engine option. This 2.0-liter turbocharged engine lowers the maximum towing rating to a still impressive 4,000 pounds but boosts fuel economy from the 23 MPG combined of the V6 to 26 MPG combined. That's actually better than even the base four-cylinder and makes the turbo a wonderful compromise if you want both efficiency and towing. Finally, just like the subcompact Jeep Renegade, the Cherokee offers enhanced off-roading in its specialized Trailhawk trim. With off-road badging, tow hooks, skid plates, and more, a used Cherokee Trailhawk is the perfect compact SUV for drivers with a taste for adventure.