10 Best Used SUVs for Multiple Driver Types

There are three main reasons that people like to drive SUVs. They're spacious, they're tow-capable, and they're easier to see out of and feel safe in. But how do you pick the best used SUV on the market when there are so many potential options? What combination of these is most important to you? This is why it's important that you visit McCluskey Chevrolet, your Cincinnati used car dealership that you know you can trust to sell you a good used SUV model that meets your specific needs. Because the truth is that there isn't one brand or model that's "better" than another. It's all about what you need from your SUV particularly that matters. That's why we've got highlights on 10 SUV models that are worth taking for a spin.
#1. The Jeep Wrangler
The Wrangler is a great SUV option for off-roaders, as well as for those who like to feel extra safe when it comes to the vehicle structure. While driver assist and safety features are great at helping to prevent accidents, the quality of your vehicle matters most when those accidents do unfortunately occur. We like the Wrangler because of how durable it is built. In fact, the most recent generation of Wranglers (2018 to present) are made up of over 80% high-strength steel materials. This includes the Wrangler's roll bars, which also help make it a safe model in case of rollover accidents.
That durability trickles over into this model's off-road readiness. When you really want something that can take you off-pavement, the Wrangler Rubicon is the best-equipped option. It comes with additional off-roading materials such as larger tires and skid plates. Plus, it uses the Rock-Trac system, which makes it even better at rock climbing than any other Wrangler trim out there. The SUV you need for off-roading is hands-down the Jeep Wrangler.
#2 & 3: The GMC Yukon/Yukon XL
When you've got a large family to take care of, and you like to go camping or head out to the lake, then the GMC Yukon is the model for you. The fourth generation models (2015 -2020) seat up to 8 passengers and offer up to 94.7 cubic feet of cargo space. In addition to this, when you equip the Yukon properly with a trailering package, they can tow up to 8,400 pounds which is possible with the 5.3-liter V8 engine option.
Despite its larger size, the Yukon XL models actually tow roughly 8,100 pounds maximum. However, it has up to 121.7 cubic feet of cargo capacity. So, when you need size, opt for the XL, but if towing is more important than passenger and cargo space, the regular Yukon is a great choice. Either route you go, these make the perfect travel SUVs for large families.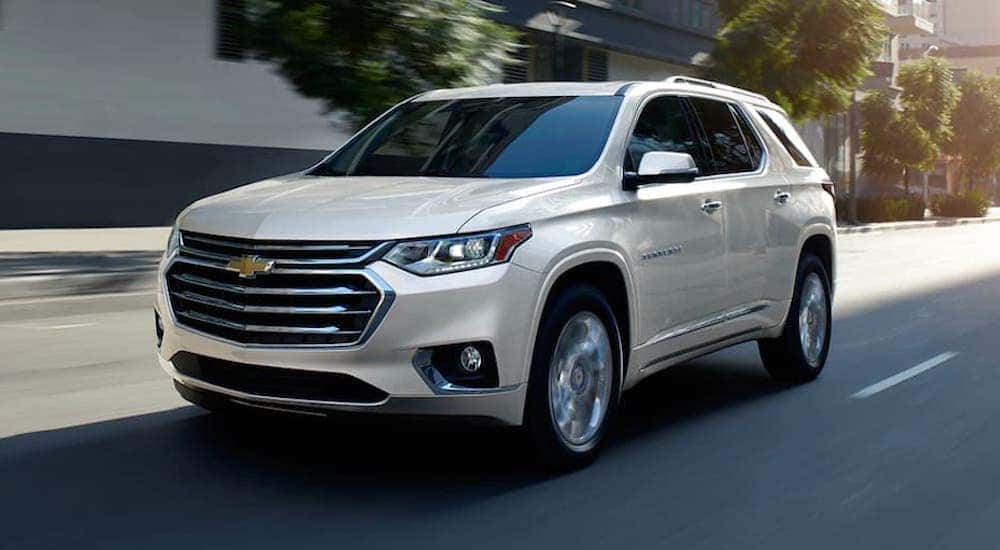 #4. The Chevy Traverse
Let's say you don't want to feel cramped, but you don't want a vehicle so large that it's difficult to navigate. When that's the case, look into a used Chevy Traverse. The third generation models (2017 – 2020) provide up to 98.2 cubic feet of cargo space and can seat up to 7 passengers. This model can tow up to 5,000 pounds when you add on a trailering package. This is more than enough to haul a fishing boat or off-roading vehicle. However, they only tow up to 2,000 on their own, so make sure your model is properly equipped before pulling a large load. You'll also love this model because of its safety and tech features which include Teen Driver mode and Apple CarPlay/Android Auto. The Traverse is yet another great family SUV option.
#5. The Ford Escape
Need something cheap and small? The Ford Escape is a great option for you. The fifth-generation Ford Escape is your best bet. Since it's smaller, it gets better fuel economy, landing up to an estimated 33 miles per gallon on the highway. Plus, despite its small size, it can still fit up to 65.4 cubic feet of cargo space. It comes with Start/Stop engines which also contribute to its good fuel economy, and you'll get all the expected tech features such as an infotainment center and Apple CarPlay/Android Auto. This model is great when you need more space than what a car offers, but it's not so large that you're paying a lot for your fuel.
#6. The GMC Acadia
The third-generation Acadia (2016 – 2019) is a great full-size SUV for luxury drivers. GMC is known for its ability to make affordable yet high-quality SUV models and the Acadia is no exception to the rule. It's quite spacious, seating up to 7 passengers and holding up to 79 cubic feet of cargo. Although it's a smaller SUV than the Yukon, it can still tow up to 4,000 pounds when properly equipped. Like any good luxury SUV, it comes with a remote vehicle start, heated and ventilated seating, and LED headlights.
#7. The Chevy Equinox
Affordability, you say? The Chevy Equinox is heading your way! This model is a great option no matter which generation you choose. However, we recommend a second-generation model such as the 2015 Equinox. This is because you can purchase one of these for under $13,000, and it still has an available rear entertainment system for the kids, and it has available all-wheel drive for backroads and poor weather conditions. Additionally, its cabin is quieter than most models, thanks to its noise-absorbing design. For cheap and comfortable travels, the Equinox is a good choice.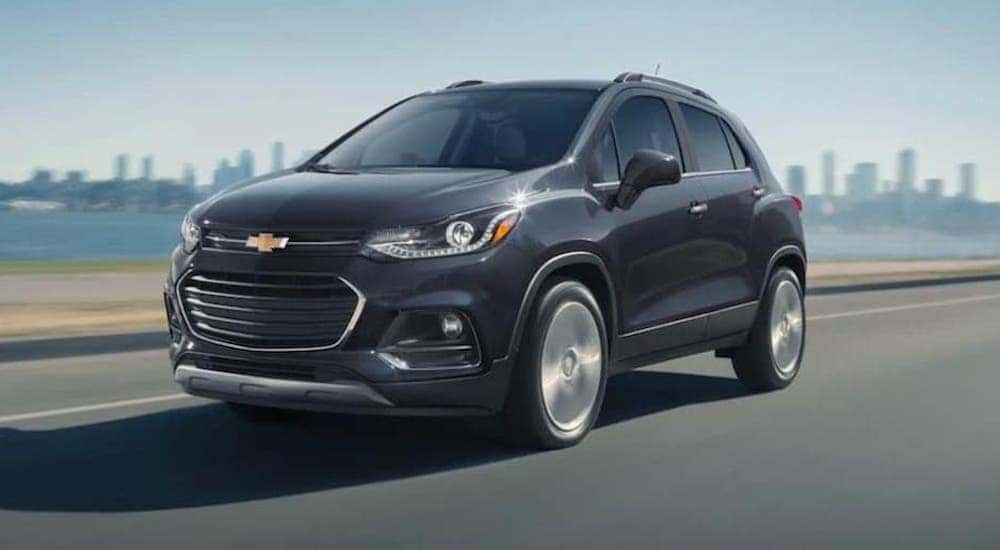 #8. The Chevy Trax
Crossovers and SUVs come in all different shapes and sizes, and the Trax is a great example of one that's like an extended version of a car. We recommend looking for a second-generation Trax (2017 – 2019). This compact SUV is tiny, but it offers much more cargo and passenger space than your average car. It's also fuel efficient enough to earn a best-in-class fuel economy rating, getting up to 30 miles per gallon on the highway. It also comes with great tech features, such as Apple CarPlay, Android Auto, and even a Wi-Fi hotspot. Overall, this model is the perfect compact SUV option.
#9. The Buick Envision
GMC is the perfect balance between casual and luxury models. We've looked at plenty of Chevy options, but what brand is luxurious yet also affordable? This is where Buick comes into play. More specifically, the Buick Envision. The second-generation (2018 – 2020) offers a high-quality interior that doubles as more eco-friendly. Human-made leather and wood accents give this model a luxurious appeal at a much more affordable price. Plus, it includes all the great modern tech features such as Apple CarPlay and Android Auto, and it has up to 57.3 cubic feet of cargo space at its mid-size level. To get a little bit of affordable luxury, check out the second-generation Buick Envision.
#10. The Honda CR-V
One of the most loved SUV models out there is the Honda CR-V. But, this model has been around for a while, so we specifically recommend checking into the eight-generation CR-V (2016 – 2019) to get the most tech benefits. This model can get up to an estimated 33 miles per gallon on the highway and 27 MPG in the city. It offers up to 75.8 cubic feet of cargo space, and it comes with several driver assist features. These include Stop and Go Cruise Control, Lane Departure Warning, Blind Spot Mitigation, and much more. When you want both fuel efficiency AND space, the CR-V is a great used SUV option.