5 Used Cars to Navigate Winter Safely Without Breaking the Bank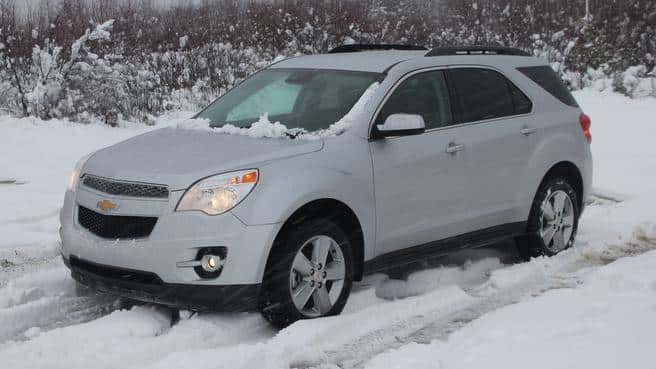 While we aren't necessarily prone to the worst winters here in Cincinnati, they certainly can make for dicey driving conditions from time to time, transforming important tasks like driving to work each day, into a real challenge when the weather goes south. Not everyone is in the position to run out and buy a brand new car that can navigate through snow-covered streets safely, but thankfully, there are great options for Cincinnati used cars that are affordable, dependable, and available at McCluskey Automotive, right here in The Queen City.
Bad Credit? Don't Compromise Your Safety Because of It
It's a sad world we live in, when drivers here in Cincinnati are forced to drive an unsafe car through the city streets this winter because local dealerships don't want to take on a bad credit car loan. McCluskey Automotive is not like other local dealerships, and that's a good thing. The name that buyers can lean on when they are facing credit crises and financial misfortune, McCluskey Automotive not only guarantees financing on a used car, but is also able to ensure that you can choose a used vehicle that will keep you safe on the road this winter season.
Rather than subject yourself to another season of uncertainty and fear every time a fresh coat of powder falls on the streets of Cincinnati, consider purchasing a winter-ready vehicle from McCluskey Automotive, for under $5,000. A high quality, capable vehicle does not have to carry a high-end sticker price, and you shouldn't be subjected to further financial turmoil in order to stay safe. Let's explore a few of the many options of winter-ready Cincinnati used cars, at a price point that won't send you over the edge of your comfort zone.
Chevy Equinox:  Chevy's midsize SUV is a great one for buyers in the used car market. Featuring all-wheel-drive capability, coupled with the heavier weight of an SUV, this bowtie brand vehicle is sure to keep you safe on icy roads this winter. Versions of the 2006 Chevy Equinox, equipped with all-wheel-drive and higher mileage, can easily end up costing you well under $5,000. While high mileage is not always appealing to Cincinnati used car buyers, don't let it deter you from finding a great vehicle that can keep you on track this winter season. Vehicles with high mileage can still be exceptional options, especially if they were well cared for by previous owners. At McCluskey Automotive, all of the used cars for sale come with a Carfax vehicle history report, so that you can determine whether or not the 2006 Chevy Equinox you are considering meets your criteria. High mileage can be scary, but when it comes with a Carfax clean vehicle history report, it can be a great way to keep the sticker price down, and your wallet happy
Chevrolet Blazer: This particular SUV is no longer produced new, but is a great vehicle for used car buyers on a budget. Featuring four-wheel-drive capability, and all of the prowess that it entails, a Chevy Blazer makes a great used SUV that can tackle winter driving with ease. Because it is no longer made by Chevrolet, Cincinnati used car buyers can expect to find a quality pre-owned Blazer from this model year, for under $5,000. Proving once again that you shouldn't have to sacrifice your safety for money, the 2004 Chevy Blazer may be the perfect solution to your current vehicle problems.
Ford Expedition: This model from Ford is one of the most capable four-wheel-drive SUVs manufactured by the brand. Featuring a powerful V8 engine, a capable four-wheel-drive system, and plenty of enhancements that lend themselves to creature comforts and amenities, the Ford Expedition makes for a great used car that will get you through this upcoming winter, and continue to serve you after. The Ford Expedition is known as being one of the most sought after used SUVs on the market, due to its long lasting capability and performance. The truck-based SUV has been in production since 1997, which means that there are plenty of pre-owned options to choose from, some of which are under $5,000. To keep a good balance between newer amenities and a low price point, buyers should check out versions of this SUV from the early 2000s, such as the 2003 Expedition.
Mazda Tribute: Zoom through snow-covered Cincinnati streets this winter in a crossover SUV from Mazda. The Tribute may not be available new any longer, but that doesn't take away from the fact that this crossover is both affordable and capable. Offering all-wheel-drive capability, a standard anti-lock braking system, and a fully loaded interior, the Mazda Tribute is still a great option for Cincinnati used car buyers. To keep the price point under the $5,000 mark, be sure to look out for versions of this crossover from the early 2000s.
Hyundai Santa Fe: The last model on our list of winter ready vehicles for under $5,000 is the Hyundai Santa Fe. This five-passenger crossover SUV from the Korean automaker boasts all-wheel-drive capability, and plenty of gumption to get you from one destination to the next safely, even in white-out conditions. The Santa Fe has been manufactured by Hyundai since 2001, giving used car buyers plenty of great options at low prices. Choosing an older model year that has high mileage is your safest best to ensure maximum savings, without needing to sacrifice capability.
Take One Home Today
McCluskey Automotive here in Cincinnati, has been the top choice for used car buyers in the tri-state area for decades and for good reason. We have a full inventory of high quality used cars, trucks, and SUVs, ranging in price, capability, and standard features. Specializing in auto loans for individuals with poor credit, McCluskey Automotive is here to help you when you need it most. Don't leave yours and your families safety up to chance this winter in a car that can't keep up with the rapidly changing weather here in Cincinnati. Used cars for under $5,000 are available right here at McCluskey Automotive, and all you need to do is come down and explore your options with us, today. Come down and see us before the first snow falls this season, and safeguard yourself for years to come. We hope to see you soon!